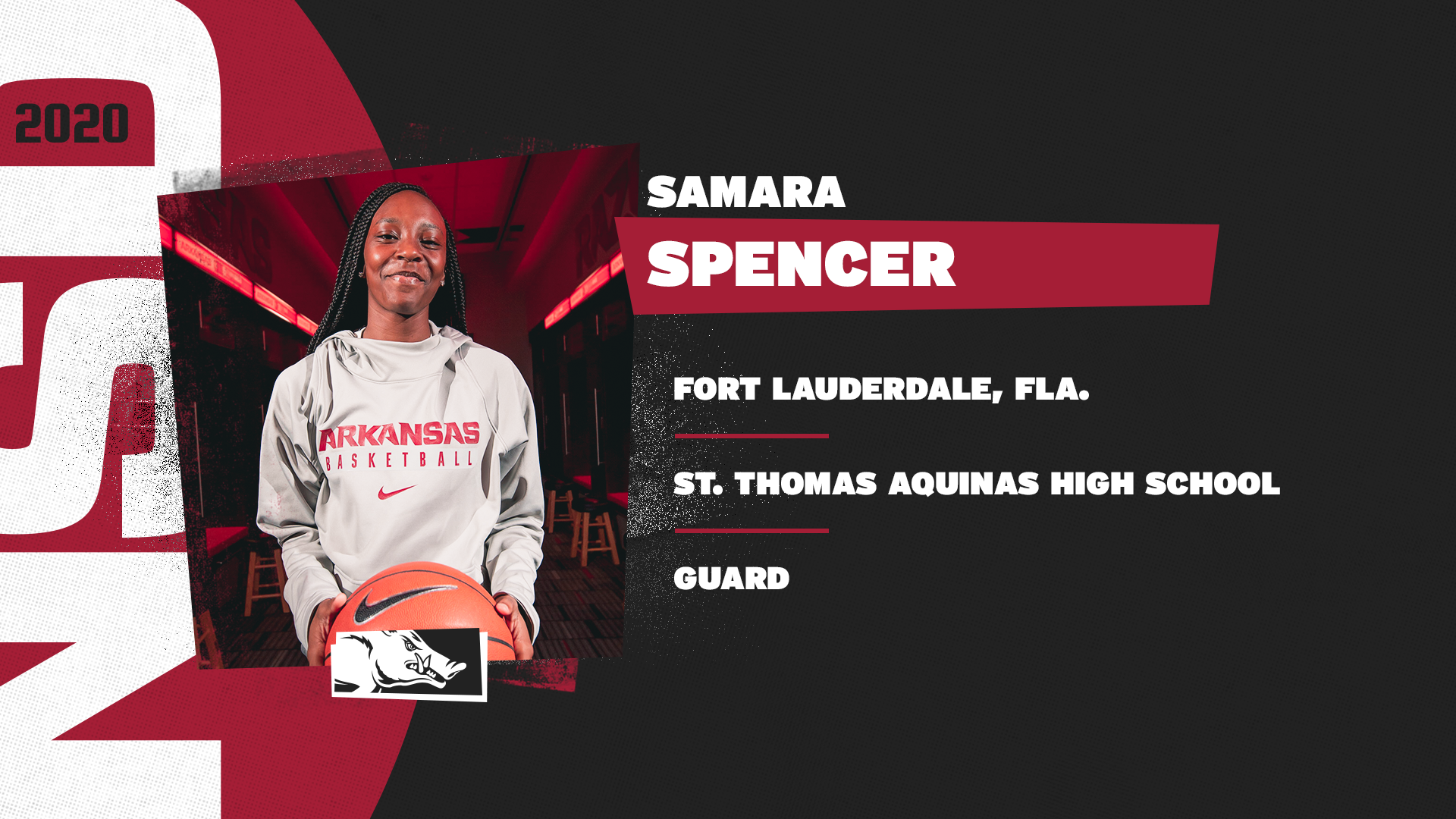 #SigningStories: Samara Spencer
Samara Spencer | G | 5-9 | Fort Lauderdale, Fla. | #72 In Class (BlueStar)
Her Signing Story, as told by Coach Neighbors: 
Ever since the events of 9/11, we have noticed that most recruits sign with schools that are either a tank of gas or a direct flight away from home. Like all things in recruiting, it's not an exact science. One thing that becomes an absolute if you recruit out of your area, though, is that it's 100 percent due to a strong relationship. One that is built over time, and full of trust. Fortunately for us, that is exactly what we have with Obel Cruz, Miguel Diaz, and Paul Torres of the Miami Suns, one of the original grassroots girls summer programs built to focus on growing opportunities for aspiring hoopers.
Prior to the spring evaluation period of 2019, Associate Head Coach Todd Schaefer got a phone call from Diaz about a new player in their organization. We had always told them to call us on players that fit our system and might be open to leaving the south Florida area. The Miami Suns coaches felt strongly that this player and her family would strongly consider Arkansas. Coach Schaefer arranged his fall evaluation schedule to see her at the Nike EYBL event. It was immediately evident that 20 years of friendship had helped develop a sense of what were looking for: a threat to score from deep, from the midrange and at the cup; the ability to guard four positions; a family support system that stressed academics; and the ability to be coached.
Through a series of spring phone calls, we turned a relationship with her coaches into a relationship with her and her family. After a summer of following her all over the country, we offered her. With that, her mom arranged a visit to campus for a September football game. There was an instant connection between her and our program. With that comfortable feeling, and having been to Fayetteville, Samara Spencer committed to being a Razorback.
The Accolades: First-Team Broward County (2020) | Broward County FAB 5 (2020) | Inside Exposure All-Tournament Team (2020) | Second Team Broward County (2019) | Second-Team All-Area (2019) 14 PPG, 6 RPG, 3 APG in EYBL Season 
The Coaches: Obel Cruz, Miguel Diaz & Paul Torres, Miami Suns | Oliver Berens, St. Thomas Aquinas