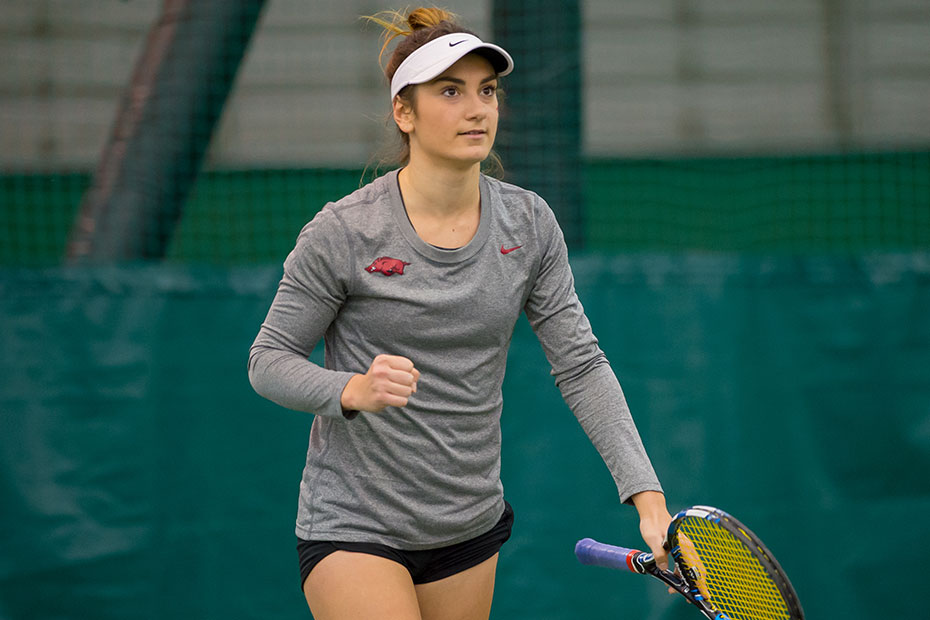 Singles Play Powers Hogs To 4-1 Win At Missouri
COLUMBIA, Mo. – Spurred by a dominant singles effort, the No. 33 Arkansas women's tennis team defeated No. 60 Missouri 4-1 in Columbia, Missouri Saturday afternoon. Due to rain in the area, the match was played indoors at the Green Tennis Center, which features four competition courts.
The win upped the Razorbacks' record to 7-6 overall and 1-2 in Southeastern Conference action. The Tigers fell to 12-4, 0-3. Arkansas now holds a 6-4 advantage in the all-time series.
Missouri came out strong in doubles, winning on all three courts for the first point of the day. Tigers Bea Machado Santos and Brianna Lashway took a 6-1 win over Razorbacks Yuliya Lysa and Agne Cepelyte on court one. Missouri's duo of Cassidy Spearman and Brittany Lashway followed with a 6-3 victory over Arkansas's Mia Jurasic and Ana Oparenovic on court three. Court two was suspended with Tigers Kelli Hine and Clare Raley leading Razorbacks Makenzie Craft and Flavia Araujo 5-3 at that point.
But singles play was much different. The Razorbacks jumped out to a one-set lead in all four matches and would ride those leads to victories. In fact, Arkansas captured all eight sets contested en route to the 4-1 overall match win.
Lysa beat Missouri's Brianna Lashway 6-1, 6-1 on court two to move the Razorbacks level with the Tigers 1-1. Oparenovic followed with a 6-4, 6-3 victory over No. 98 Santos at the top spot. The win marked the freshman's second-straight singles victory over a ranked opponent. From there, Arkansas extended its lead 3-1 when Hudson downed Missouri's Hine 6-3, 6-3 on court three. Needing just one point to take the overall match, Craft shut the door on court four by delivering a 6-3, 7-5 triumph over Missouri's Spearman. At the clinch, play on court five was suspended, with Jurasic and Missouri's Raley tied 3-3. Court six had not begun play.
"You always thought we could lose a very loud doubles point in that four-court indoor facility and come back stronger than ever singles," Arkansas women's tennis head coach Michael Hegarty said. "I'm so excited for this team in playing so well and getting that done. Competing in that facility is a challenge. The longer a match goes, the trickier it can get. So this was a fine result for us."
Arkansas returns to action March 18, welcoming No. 46 Alabama to Billingsley Tennis Center. First serve is set for noon.
MATCH RESULTS:
Singles Competition
1. Ana Oparenovic (ARK) def. #98 Bea Machado Santos (MIZ) 6-4, 6-3
2. Yuliya Lysa (ARK) def. Brianna Lashway (MIZ) 6-1, 6-1
3. Shannon Hudson (ARK) def. Kelli Hine (MIZ) 6-3, 6-3
4. Makenzie Craft (ARK) def. Cassidy Spearman (MIZ) 6-3, 7-5
5. Brittany Lashway (MIZ) vs. Mia Jurasic (ARK) 3-3, unfinished
6. Clare Raley (MIZ) vs. Sasha Shkorupeieva (ARK) unfinished
Doubles Competition
1. Bea Machado Santos/Brianna Lashway (MIZ) def. Yuliya Lysa/Agne Cepelyte (ARK) 6-1
2. Kelli Hine/Clare Raley (MIZ) vs. Makenzie Craft/Flavia Araujo (ARK) 5-3, unfinished
3. Cassidy Spearman/Brittany Lashway (MIZ) def. Mia Jurasic/Ana Oparenovic (ARK) 6-3