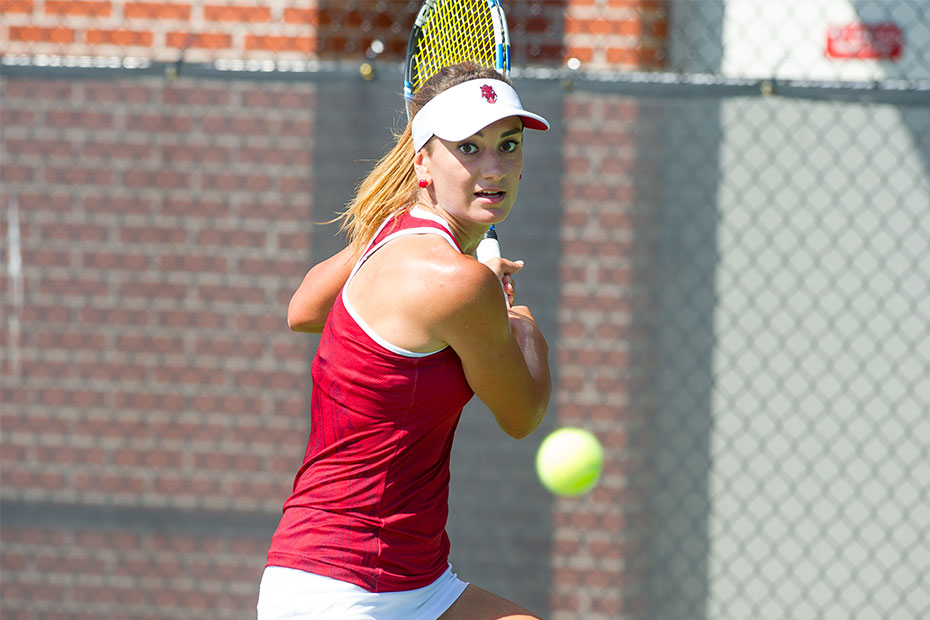 Singles Sweep
STILLWATER, Okla. – A flawless showing on the singles court highlighted the first day of action at the ITA Central Regional Championship for Arkansas women's tennis.
The Razorbacks went a perfect 3-0 in singles play, while also picking up a pair of doubles victories to finish an overall 5-1 on the day.
Makenzie Craft and Ana Oparenovic teamed up and got things started for the Razorbacks in doubles play. The senior-freshman duo downed Wichita State's Stevens/Guidetti, 8-2 in the opening round but suffered an 8-4 setback in the second round to Minnesota's Mozia/Merzbacker.
After earning an opening-round bye, the No. 11-ranked pair of Yuliya Lysa and Shannon Hudson defeated Minnesota's Vujic/Bergman, 8-4, to move on to the round of 16 on Saturday.
In singles action, No. 96 Hudson tallied the first of three Razorback straight-set victories, defeating Saint Louis' Verginie Tchakarova, 6-1, 6-3. Craft followed suit, downing South Dakota State's Beatriz Souza, 6-2, 6-0, while Oparenovic capped the day with a 6-3, 6-3 victory over Wichita State's Guilia Guidetti.
"Today was almost ideal in our preparation and execution," head coach Michael Hegarty said. "A few points here and there in doubles and we would have had a very clean day. Tomorrow will provide great opportunities for all four players."
The Razorbacks return to the court tomorrow for two rounds of singles action.
For more information on Arkansas women's tennis, follow @RazorbackWTEN on Twitter.
@RazorbackWTEN Results:
ITA Central Regional Championships
Stillwater, Oklahoma
Michael and Anne Greenwood Tennis Center
October 15, 2015
Doubles
Round of 64:
Craft/Oparenovic (Arkansas) def. Stevens/Guidetti (Wichita State) 8-2
Round of 32:
Lysa/Hudson (Arkansas) def. Vujic/Bergman (Minnesota) 8-4
Mozia/Merzbacker (Minnesota) def. Craft/Oparenovic (Arkansas) 8-4
Singles
Round of 128:
Yuliya Lysa (Arkansas) BYE
Shannon Hudson (Arkansas) def. Tchakarova (Saint Louis) 6-1, 6-3
Makenzie Craft (Arkansas) def. Beatriz Souza (South Dakota State) 6-2, 6-0
Ana Oparenovic (Arkansas) def. Guilia Guidetti (Wichita State) 6-3, 6-3