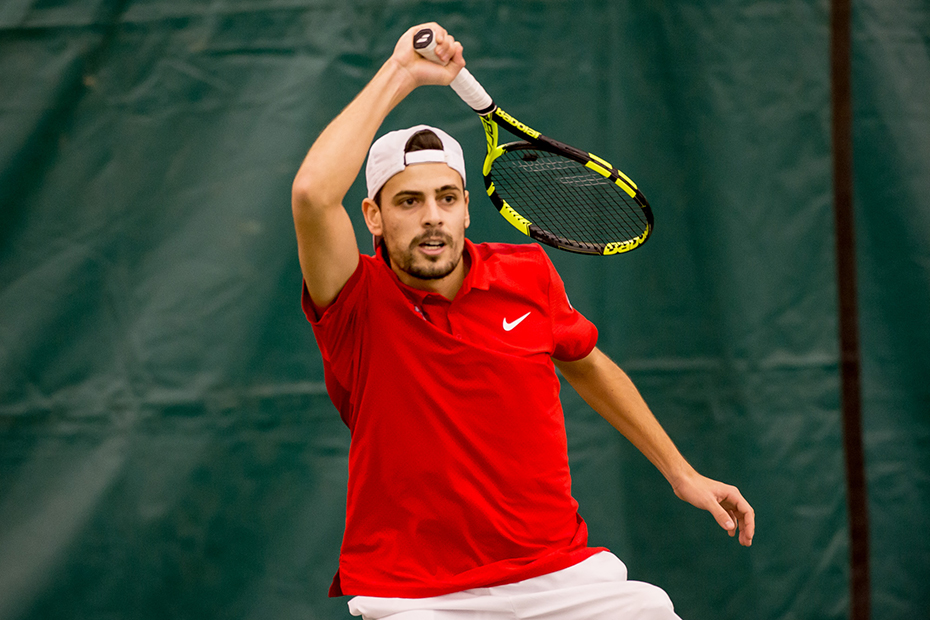 Singles Wins Carry Razorbacks Over Tide
TUSCALOOSA, Ala. — For the second straight match, the Arkansas men's tennis team was forced to lean on its singles lineup to pick up four victories. And for the second straight match, the Razorbacks came through, this time in a 4-3 win over Alabama on Friday night.
Although Arkansas dropped the doubles point, the team found itself ahead 3-2 with No. 114 Jose Salazar trying to complete the comeback. Salazar responded after a one-set deficit to defeat No. 102 Korey Lovett and notch his third match-clincher of the season.
The Razorbacks notched their fourth consecutive victory and improved their SEC record to 6-2, to go along with an overall mark of 17-4. It was the team's third straight win coming by the slim score of 4-3, as Arkansas dropped the Crimson Tide to 13-10 overall and 4-5 in SEC competition.
Fresh off tallying the clinching point against Ole Miss on Sunday, Santiago Munoz went ahead and got the Hogs on the board Friday with a 6-3, 6-2 win over Becker O'Shaughnessey.
Giammarco Micolani added a 6-3, 6-1 victory of his own at No. 4 singles against Grayson Goldin to push his personal win streak to seven. Micolani has won four consecutive matches in straight sets, dropping only 19 total games over that span.
Following a win by Alabama at No. 6 singles, Arkansas' Mike Redlicki grabbed his 12th victory of the season – all of which have been at the No. 1 spot – to give the Razorbacks a 3-2 team lead. The No. 30 Redlicki dropped the first set 6-4, but then rattled off 10 games in a row to take advantage in the match, ultimately winning the deciding set by a score of 6-2 to defeat No. 43 Mazen Osama.
QUICK HITS
• Redlicki improved his record against ranked opponents to 7-3, while Salazar upped his to 5-3. Those two have combined for 12 0f the team's 15 ranked victories.
• Redlicki and Salazar each won their fifth three-set match of the year, which is tied for the team's best mark. Overall, the team is 21-21 (.500) in matches that go the distance.
• Redlicki, Salazar and Micolani each improved to 6-2 in SEC singles competition, which is tied for the team's best mark. Overall, Arkansas boasts a 29-19 (.604) record among SEC singles competition.
QUOTABLES
"Winning road matches in the SEC says a lot about a team and this was another very hard-fought and gutsy win for us. Gimmy and Santi winning fast really helped us, then Mike beating a ranked player and Jose ultimately clinching the match were huge." — Head coach Andy Jackson
UP NEXT
Arkansas will return home to host a day-night doubleheader Sunday, April 3 at Billingsley Tennis Center. First, a match against No. 25 Mississippi State starts at 1 p.m., with a 6 p.m. tilt vs. Saint Louis to follow.
TODAY'S RESULTS
DOUBLES
1. No. 17 Korey Lovett/Mazen Osama (UA) def. No. 16 Giammarco Micolani/Mike Redlicki (AR) 6-4
2. Grayson Goldin/Becker O'Shaughnessey (UA) vs. Jose Salazar/Adam Sanjurjo (AR) 5-5, unfinished
3. Spencer Richey/Matthew Rossouw (UA) def. Santiago Munoz/Johan den Toom (AR) 6-3
SINGLES
1. No. 30 Mike Redlicki (AR) def. No. 43 Mazen Osama (UA) 4-6, 6-0, 6-2
2. No. 114 Jose Salazar (AR) def. No. 102 Korey Lovett (UA) 6-7 (2-7), 6-2, 6-3
3. Santiago Munoz (AR) def. Becker O'Shaughnessey (UA) 6-3, 6-2
4. Giammarco Micolani (AR) def. Grayson Goldin (UA) 6-3, 6-1
5. Spencer Richey (UA) def. David Herrerias (AR) 4-6, 7-5, 6-3
6. Matthew Rossouw (UA) def. Adam Sanjurjo (AR) 1-6, 6-2, 6-1
ORDER OF FINISH
Doubles (3,1); Singles (3,4,6,1,2,5)