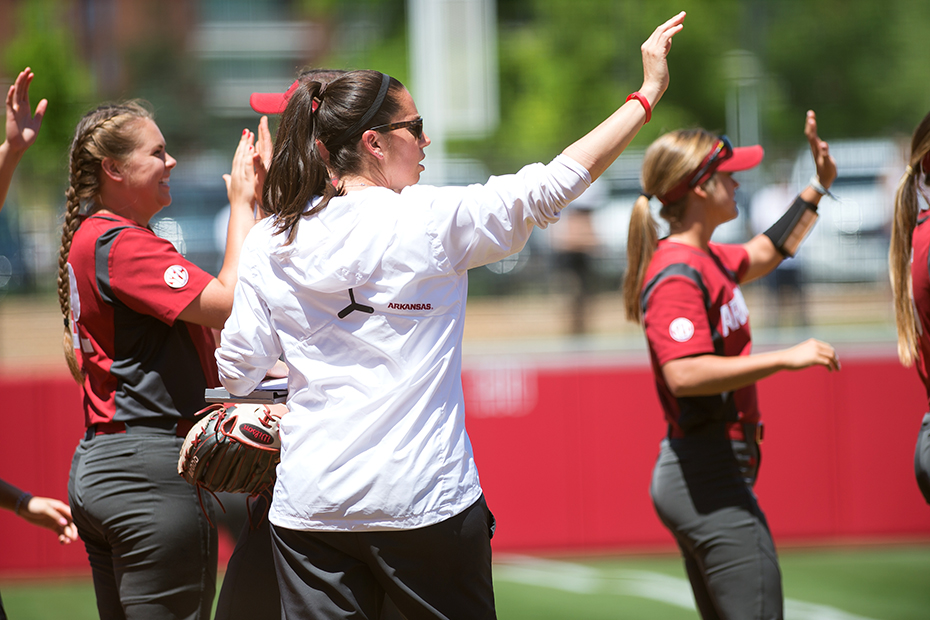 Softball Inks Seven on National Signing Day
FAYETTEVILLE – Head softball coach Courtney Deifel welcomed seven new Razorbacks on Wednesday for National Signing Day. The seven signees come in the form of four pitchers, a catcher, infielder and utility player.
This marks Arkansas' fifth recruiting class under Coach Deifel as four of the seven signees are ranked in the top 100 of the 2020 class. They will be joining future teammates Jenna Bloom, Larissa Cesena, Taylor Greene, Mary Haff and Autumn Storms who were all ranked in their respective classes.
Ranked 15 in 2020 class by ExtraInnings
Ranked 31 by ExtraInnings on 2020 Extra Elite 100 List
Ranked 40 in 2020 class by FloSoftball
High School
Last fall, Lauren was named to the Class 3A All-State team after compiling an ERA of 0.64 and recording 214 strikeouts in 132 innings for Helias (Jefferson City, Missouri) High.
Club
Lauren was a crucial part of the Aces' march to the prestigious Boulder IDT championship in 2019 and her dominance in the circle led the Aces through a 24-game win streak in Boulder, at Team1, and into PGF Nationals to finish 81-14. Lauren finished the year with 214K's and a 1.50 ERA. 
Personal
Lauren is coming to Fayetteville from Jefferson City, Mo. She has two younger siblings, Hayden and Harper. Lauren plans to major in interior design at Arkansas and wants to work at her family's business, Howell's Carpet after she graduates. She says she chose Arkansas because she loves the campus and the family atmosphere.
From Coach Deifel
"We believe Lauren is a pitcher that will come in and make an impact immediately.  She pitched her high school team to a state championship this fall and plays for an incredibly competitive travel ball team.  She is a worker and continues to impress me with her toughness and competitiveness.  I'm looking forward to adding her to our pitching staff."

Ranked 62 in 2020 class by ExtraInnings take out by position
2014 USA Elite Select All-American
2017 Maxpreps All-American
Ranked third in the state of Arkansas for single-season strikeouts (331)
Personal
Born in Bentonville, Cally comes to Fayetteville from Gravette, Ark. She has a brother and sister, McCoy and Sydney Kildow. She chose Arkansas because it felt like home to her and it had a certain uniqueness compared to every other college she visited. When she gets to Arkansas, she plans on majoring in business and working in the fashion design industry after graduation.
High School
Cally attends Gravette High School and currently holds a 3.9 GPA as a member of the National Honors Society. While playing for the Lions, Cally helped guide her team to regional titles and the state semi-finals as a freshman and sophomore. As a junior, the Lions finished as a state quarterfinalist. Cally also lettered in basketball and track, earning All-Conference honors in basketball as a freshman and sophomore.
Club
While playing for the DeMarini Aces, Cally has seen success both on the pitcher's mound and at the plate. This season, she currently holds a 1.5 ERA giving up only nine runs and striking out 46 in 42 innings pitched. Since her freshman year, Cally has recorded 127 hits and scored 56 runs, she also batted in a season high 42 runs as a sophomore,
From Coach Deifel
"Cally really can do it all.  She will not only add great depth in the circle, she is also a multi-dimensional athlete that has the ability to see time at several positions.  She has a great bat and is one of the most competitive athletes we've ever been around.  She is an Arkansas native and she loves the Hogs.
High School
Kaitlyn attends Sheridan High School (5A) in Sheridan, AR. She lettered in softball for four years, in basketball for three, and played volleyball one year for the Yellowjackets. Kaitlyn pitches for the Yellowjackets under head coach Tamara Strawn and has led her team to three consecutive state championships, earning State MVP, All State, and All Conference. Throughout her career, the Yellowjackets have been ranked a top ten team in Arkansas.
Club
Kaitlyn has played on the Texas Glory for coach Kevin Shelton. She has participated since being on the 14U team, and has attended the Triple Crown Nationals, USA Gold Nationals, and PGF Nationals.
Personal
Kaitlyn Howard is coming to Fayetteville from East End, Ark. She is the daughter of Clarence and Kristi Howard. Kaitlyn chose the University of Arkansas because she grew up a Razorback fan, and it's her dream school.
From Coach Deifel
"Kaitlyn is a super versatile athlete.  As a pitcher, she is very crafty and will give us a different look in the circle.  She will also add great depth in the outfield and has an explosive bat.  Kaitlyn has won state championships and competes for one of the best travel ball organizations in the country.  She is another Arkansas native and we love keeping them home."

Ranked 44 in 2020 class by ExtraInnings
Ranked 62 by ExtraInnings on 2020 Extra Elite 100 List
Ranked 51 in 2020 class by FloSoftball
Highschool
Hannah attends Beebe High School (5A), where she is coached by Eric Chambers. Hannah has a career best 45 Hits, 34 Runs and 11 Homeruns. Hannah has lettered in softball for four years, also earning two conference championships. Hannah has recorded over 30 hits, runs, and RBI's in her first three seasons with Badgers. As a junior, she batted .491 with eight home runs and a .610 on-base percentage. Hannah has been a two-time Class 5A All-State softball pick and was also an All-Conference honoree in basketball. Hannah also has lettered in Volleyball for two years, and basketball for one year.
Club
Hannah has played with multiple club teams in Arkansas and Texas including the Texas Vison when her team was ranked top 5 nationally, and the So Cal Choppers, who finished fifth in the PGF.  She now plays for the Texas Glory under Kevin Shelton.
Personal
Arkansas Native Hannah Gammill is coming to Fayetteville from Beebe, Ark. Hannah is the daughter of Monty and Becky Gammill, and has elder siblings David and Danielle. Hannah chose the University of Arkansas because she has dreamed of being a Razorback her entire life.
From Coach Deifel
"We are so excited to get Hannah on campus.  She is someone that kind of flew under the radar and we think she will make a huge impact.  She is a strong, physical athlete that can really play any position on the field.  She has a ton of power offensively and just flat plays hard all the time.  We love that we get to keep her in her home state. 

High School
As a sophomore at Mater Dei High School in Santa Ana, Calif., Marlene recorded a .333 batting average and .370 on base percentage while helping her team to a 23-6 overall record. In 2018 and 19, Marlene led her team to back to back Trinity League Championships.
Club
Friedman has played for both Explosion Denio and Firecrackers Brasher.
Personal
Marlene joins the Razorbacks from the west coast, coming from Huntington Beach, Calif. The third-generation Razorback fell in love with the campus and the environment, both reasons as to why she chose Arkansas. Marlene has a great grandfather that attended Arkansas in the 1940s and played football for the Razorbacks as well. While in Fayetteville, she plans to major in business and wants to have her own business after graduation.
From Coach Deifel
"Marlene is a true infielder that can play anywhere on the dirt.  She plays for one of the top travel ball organizations in the country.  Marlene has a strong softball mind and plays with a lot of game savvy.  She has a tremendous work ethic and that in combination with her versatility will make our program better."

High School
Allie attends Lexington High School (5A) and pitches under head coach Laurie Epps. She has played for the Wildcats for 6 years and lettered for 5. Allie has boasted a 1.161 career ERA and has led the Wildcats to 1 state championship during her junior season, 1 lower state championship, and 2 district championships. Allie has recorded 193 strikeouts and has allowed only 8 walks throughout her career.
Club
Allie plays for the Carolina Elite club team under coach Tony Genovese since joining the 14U team. Allie and her team earned third in the Junior Olympic Cup in her junior year.
Personal
Allie Light is coming to Fayetteville from Lexington, S.C. Originally from Little Rock, AR, Allie chose the University of Arkansas because she's always looked up to the Razorbacks and the university feels like home. Allie is the daughter of Sam and Tanya Light and has a younger brother Chandler.
From Coach Deifel
"Allie brings a ton of positive energy.  You know she loves the game when you watch her compete.  Allie pitched her high school team to a state championship her junior season.  She has a drop ball and a tenacity that reminds me of Autumn Storms.  She grew up a Razorback fan and her love for the Razorbacks is infectious."

Ranked 56 in 2020 class by ExtraInnings
High School
Abby attends Garden Plain High School (2A) in Garden Plain, KS, and catches under head coach Chuck Shrader. Throughout her career, Ally and the Owls have been perennial Kansas state tournament teams, earning league and regional championships each year, and earning state runner up last season. Ally has also earned first team All-League honors for three years, All-State Honorable Mention, and All-State first team. She is also a two-time basketball state champion, earning Kansas 2A State Player of the Year finalist, and also a one-time volleyball state champion.
Club
Abby has played for the Wichita Mustangs for coaches Keith Eck and Mark Griggs. During her junior club season, Ally and the Mustangs earned many accolades, including Boulder IDT Runner Up, 16U USA Gold Nationals Qualifier and Runner Up. While playing for the Mustangs, Abby has recorded 15 home runs, five triples and 19 doubles at the plate, while maintaining a .925 fielding percentage behind the plate.
Personal
Abby Gordon is coming to Fayetteville from Garden Plain, KS. She is the daughter of Kevin and Kristen and has an older brother Dylan. Abby chose the University of Arkansas because it was close to home, and after stepping on campus and meeting the coaches.
From Coach Deifel
"Abby was our last 2020 commitment and she rounded the class out perfectly.  She is a solid catcher that is an excellent receiver.  She has a calm and commanding presence on the field and an incredible rapport with her pitchers.  Offensively, Abby swings with a ton of power.  She will make our pitching staff better and will compete to be on the field immediately."