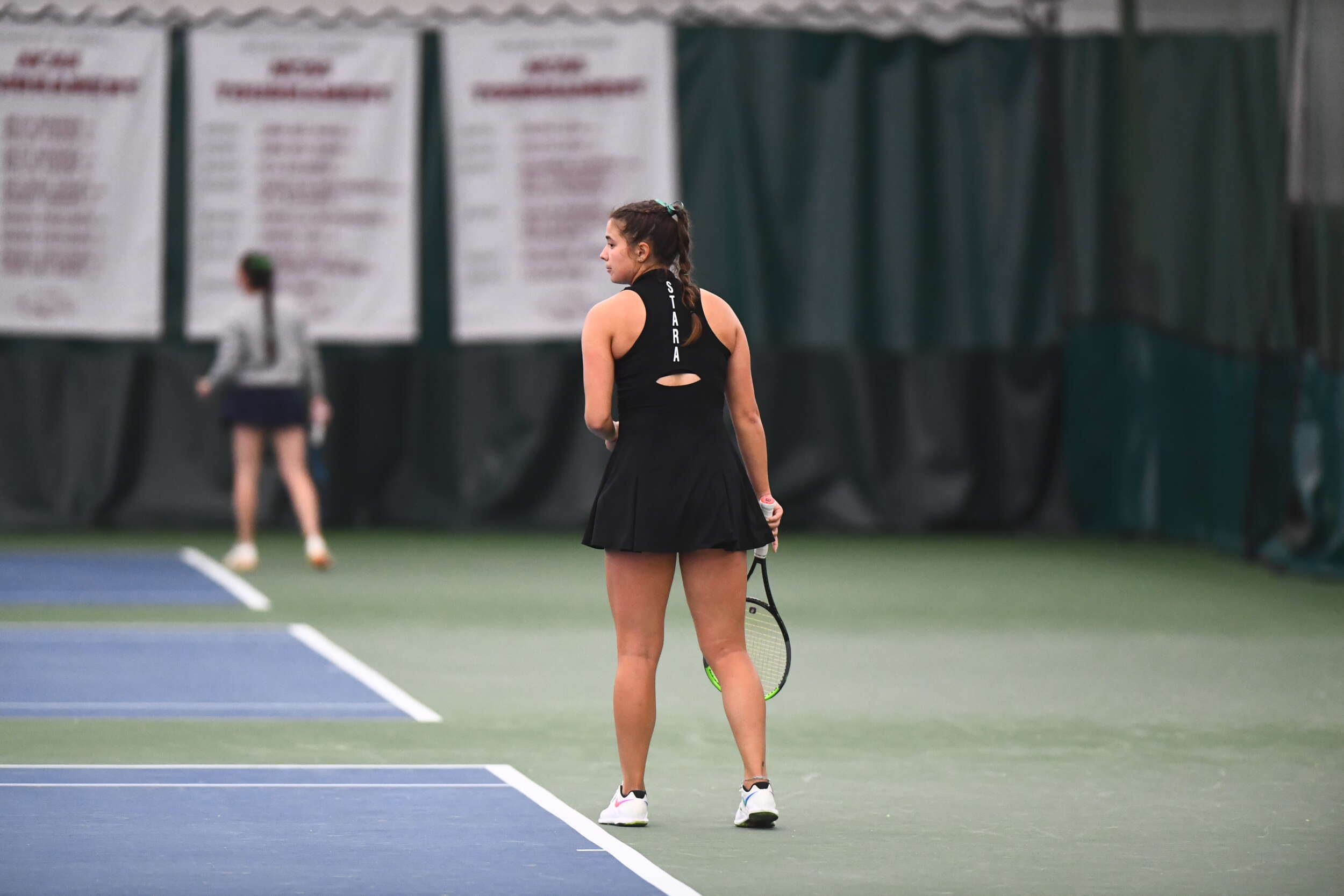 Stara Clinches 4-3 Win Over No. 66 Ole Miss
FAYETTEVILLE, Ark.  – The Arkansas women's tennis team earned their first victory in league play with junior Lenka Stara clinching the win over the Rebels, 4-3. The Razorbacks improve to 7-7 this dual season and 1-4 in the Southeastern Conference.
Arkansas continued their doubles dominance, bringing home the doubles point with wins on courts one and three. Senior Kelly Keller and partner Carolina Gomez Alonso defeated Emma Kette and Rachel Krzyzak 6-3 on court three to put the Razorbacks within one. On court one, No. 23 Indianna Spink and Morgan Cross clinched the point for a ranked win over No. 59 Leclercq/Kareisova. The duo has won their last eight matches to improve to 8-1 this season on court one.
The Razorbacks continued to roll into singles play, taking the first set on four courts. Junior Morgan Cross struck first with a straight-set 6-3, 6-3 victory over Ole Miss' Rachel Krzyzak on court five. Indianna Spink wasn't far behind, putting the Hogs up 3-0 with a 6-2, 6-3 win on court two. The Rebels were able to grab their first point with a win on court two, but Lenka Stara finished off the win on court four. Stara won a third-set tiebreaker to earn her third straight win 6-0, 0-6, 7-6 (5).
The Hogs are back on the courts at Billingsley Tennis Center on Sunday, March 19 at Noon against the Mississippi State Bulldogs.
For the latest information on all things Arkansas Women's Tennis, follow the Hogs on social media by liking us on Facebook (Arkansas Razorback Women's Tennis) and following us on Twitter and Instagram (@RazorbackWTEN).