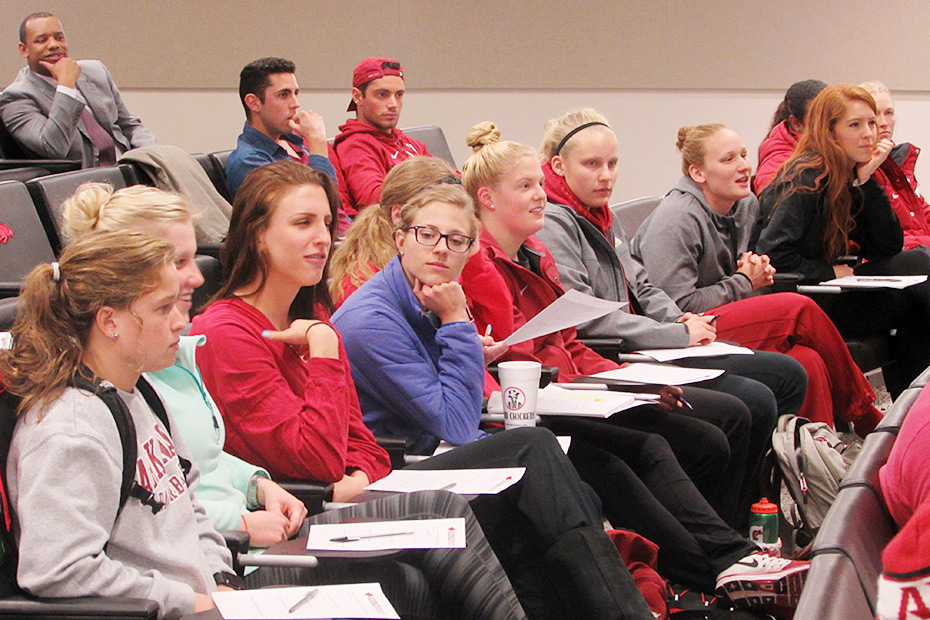 Student-Athletes Polish Up Interview Skills
FAYETTEVILLE, Ark. – Whether it's landing an internship or a new job, acing the interview is an important part of the job-hunting process.
The Office of Student-Athlete Success partnered with Northwestern Mutual on Feb. 24 to deliver an interactive program for junior and senior student-athletes on interview skills.
Sixty Razorback student-athletes attended the workshop, which guided them through the process of how to create an elevator speech from their personal brand, how to answer situational and behavioral interview questions, and general practices to follow and avoid during the interview process.
"This interview workshop informed me of what companies are truly looking for," said junior volleyball player Breana Jones. "I really enjoyed learning and getting prepared for future growth opportunities and building my career potential."
Presenters Meredith Sadler and Justin Boeving also provided student-athletes insight on how to apply the STAR (Situation, Task, Action, Result) method to answer interview questions. Sadler and Boeving also shared a variety of questions students can ask the interviewer during the process.
The program, one of six "Finishing Touch" events offered throughout the academic year, guided student-athletes through the entire interview process from start to finish.