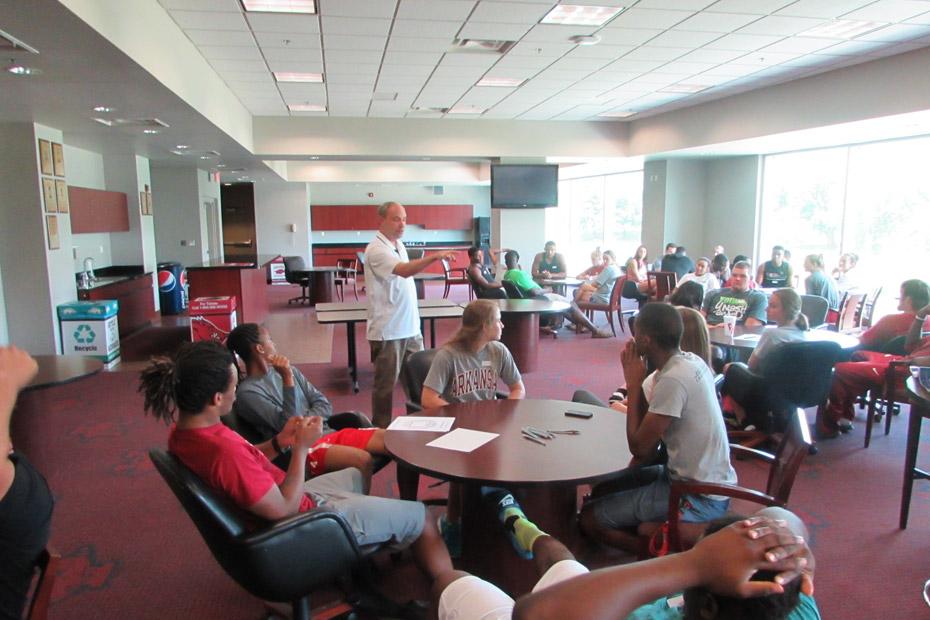 Student-Athletes Reflect on 2015 HIT Program
FAYETTEVILLE, Ark. — This summer, 50 new student-athletes participated in the fifth annual Hogs In Transition (HIT) Program. The HIT Program is a high school to college transition series for first year and transfer student-athletes attending summer session at the University of Arkansas.
The Office of Student-Athlete Success guided them through various topics to help with transition to college, deciding a major, financial responsibility and more. They also heard from former Razorbacks on how to be successful student-athlete on and off the field.
Here are testimonials from some satisfied student-athletes:
"HIT gave me an awesome opportunity to get to know other athletes while learning about the tools I need, not only to succeed while here at Arkansas but also in the future." – Kellee Willer, Soccer.

"In a time of uncertainty for student-athletes, HIT. provides guidance. Transitioning from high school to college might not be easy for everyone, but HIT provides an opportunity to rethink priorities and create new habits while building a family network in the process." – Jimmy Whitt, Men's Basketball.

"I liked the HIT Program because it gave us a different perspective of what school is about and what it actually takes to be a 'student athlete.'" – Devin Cosper, Women's Basketball.

"Through HIT, I've learned how to use my athletic abilities to create opportunities for myself and others off the field." – TJ Smith, Football.

"The HIT program opened my eyes. It allowed all the freshman student-athletes to get together and learn about different things that will be very useful in the future. I liked when we learned about how important it is to balance your schoolwork with your sport and keep your priorities straight. It was really inspiring when we had past Hog student-athlete graduates come and talk to us about their experiences as Razorbacks. They told us it was hard and that they struggled at times, but we can make it through with hard work and determination. The HIT program made me realize that everyone in the academic center really cares about the success of the student-athletes. I'm very thankful that I have people like this in my life." – Stephen Mugeche, Men's Track and Field.
For more information on Arkansas Athletics, follow @ArkRazorbacks and @HogLife_Scholar on Twitter.