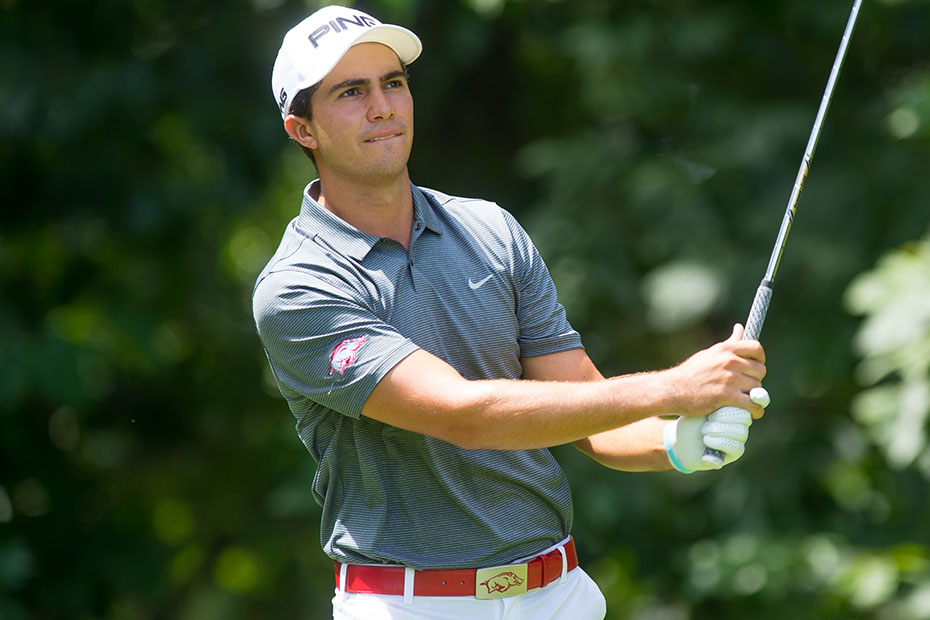 Summer Competition Keeps Razorbacks Busy
Palmer Cup | Mexican International Amateur Results
FAYETTEVILLE, Ark. — The University of Arkansas men's golf team has had a busy summer with more prestigious events on the horizon.
Recently graduated senior Alvaro Ortiz played to a runner-up finish at the Mexican International Amateur in June. Ortiz fired a four-round 288 shooting 71-76-71-70 to finish even par at the Golf Club of Mexico in Mexico City. Ortiz had 13 birdies and two eagles from the Azules Tees. He picked up eagles on Nos. 11 and 18 in his final round.
Razorback teammate Luis Garza also took part, finishing one shot back of Ortiz in a T-3rd with rounds of 74-72-71-72=289. Garza had 14 birdies over the four-day event including a string of three in a row on the back nine in the third round.
Ortiz continues his busy summer in France at the 2018 Arnold Palmer Cup. The Ryder Cup-style event takes place at Evian Resort Golf Club July 6-8 with Ortiz grabbing one of the six team spots based on his amateur ranking. Twelve international men compete against 12 athletes from the United States.
The match-play Palmer Cup offers a new format this year with the addition of women's teams as well as the Europeans taking on the teams from the U.S. Arkansas has four total selections, more than any other college or university. Senior Maria Fassi will play for the international women's team while recently graduated senior Alana Uriell and senior Dylan Kim will represent Team USA.
Incoming freshman Wil Gibson advanced through the U.S. Junior Amateur Qualifier in Fort Smith, Arkansas, in mid-June. Gibson finished T-1st shooting a 68 in the one-round event at Fianna Hills Country Club. He moves on to the U.S. Junior Amateur at Baltusrol Golf Club in Springfield, New Jersey, July 16-21.