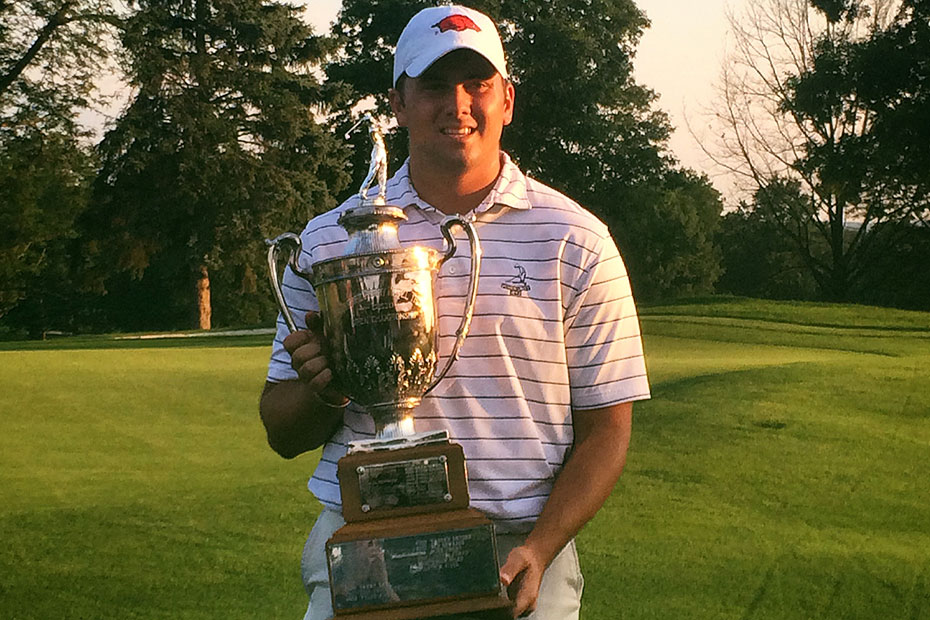 Tahy Finishes As Top Amateur At Ohio Open
WESTFIELD CENTER, Ohio – Behind 16 birdies and just three bogeys, Arkansas men's golf sophomore-to-be Alec Tahy put together three straight under-par rounds to finish in a tie for second place overall and the top amateur at the 95th Ohio Open Championships held at Westfield Country Club South Course.
Tahy's three-round 13-uinder par performance was highlighted by a bogey-free seven-under 65 in the second round, as he entered the final round tied for the lead. The seven-under 65 tied for the third-lowest round turned in by the field over the three rounds.
A native of Dayton, Ohio, Tahy was near flawless through the first two rounds, carding a four-under 68 in the first round followed by the aforementioned 65. Over the first two rounds, Tahy carded just one bogey and had a 26-hole bogey-free streak that stretched from the final two holes in the first round through the second round and four holes into the final round. Over his 26-hole bogey-free run, he was eight-under.
Tahy came out firing in the final round with birdies on each of his first three holes, all of which were par 4s as he led the field in par 4 scoring at an impressive 12-under. He made the turn at one-under for the round and climbed right back into contention with another run of three straight birdies on holes 13-15. Tahy finished with three straight pars as he finished just two strokes off the leader.
Tahy's strong performance at the Ohio Open builds off a promising end to his redshirt freshman season where he made he made his first collegiate start at the NCAA New Haven Regional. After finishing the second round with 13 consecutive holes without a bogey, he ran that stretch to 26 straight with 13 more to open the final round. Tahy's final round 72 backed up his 71 from the second round in which shared team-low honors. With a 78-71-72/221 scorecard, Tahy contributed a counting score all three days and tied for 53rd place.