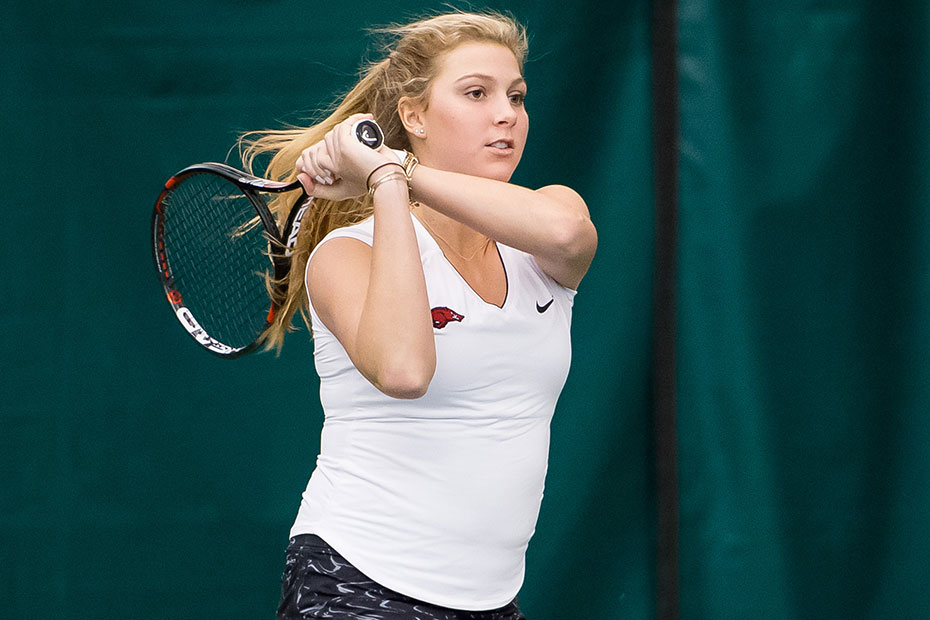 Team Effort Sends Razorbacks Past Tulsa
FAYETTEVILLE, Ark. – No. 18 Arkansas defeated Tulsa 4-3 on Tuesday in its season opener at George M. Billingsley Tennis Center.
The Razorbacks won the doubles point, highlighted by a 7-5 comeback win from its 57th-ranked duo of senior Mia Jurasic and junior Ana Oparenovic, and posted singles victories at the No. 4, 5 and 6 spots.
"That was probably the best season opener I can remember," head coach Michael Hegarty said. "Tulsa seems to be better every year we face them. It was such a total team effort today, and I appreciate everyone who came out to support us. It was a great atmosphere."
In doubles, Tulsa struck first with a 6-2 win at No. 3, before Arkansas' 25th-ranked pair of senior Leolia Jeanjean and sophomore Giulia Pairone responded with a 6-3 victory at the top spot. With all eyes at the No. 2 position, Oparenovic and Jurasic fought off match point at 40-40 to win the first of six straight games and the match 7-5.
Tulsa tied the overall score 1-1 in singles, behind a 6-1, 6-2 win at No. 2 from No. 122 Martina Okalova.
Pairone reclaimed the lead for the Razorbacks, topping Tulsa's Tamara Kupkova 6-1, 6-2 at No. 4.
Sophomore Natsuho Arakawa's three-set victory at No. 5 put the Razorbacks up 3-1. Arakawa overcame a first-set setback to defeat Tulsa's Vera Ploner 3-6, 6-4, 6-1.
The Golden Hurricane picked up a three-set win from the No. 1 spot to cut the deficit to 3-2.
Freshman Tatum Rice capped her first collegiate dual match with a 6-4, 3-6, 6-2 clincher against Tulsa's Alexandrina Chinikova at No. 6.
Following the clinch, Tulsa's Martha Matoula won a tough three setter 7-5, 3-6, 10-7 at No. 3 to close out scoring.
Up Next
Arkansas will return to action this weekend with a trip to Columbus, Ohio, for the Intercollegiate Tennis Association Division I Kick-Off Weekend, which takes place at 15 campus sites. The Razorbacks will compete against Wake Forest at noon CT Friday and either No. 13 Ohio State or Kansas at a time to be determined Saturday.
No. 18 Arkansas 4, Tulsa 3
Singles Competition
1. Ksenia Laskutova (TU) def. No. 67 Leolia Jeanjean (AR) 1-6, 6-2, 6-3
2. No. 122 Martina Okalova (TU) def. Ana Oparenovic (AR) 6-1, 6-2
3. Martha Matoula (TU) def. Mia Jurasic (AR) 7-5, 3-6, 10-7
4. Giulia Pairone (AR) def. Tamara Kupkova (TU) 6-1, 6-2
5. Natsuho Arakawa (AR) def. Vera Ploner (TU) 3-6, 6-4, 6-1
6. Tatum Rice (AR) def. A. Chinikova (TU) 6-4, 3-6, 6-2
Doubles Competition
1. No. 25 Giulia Pairone/Leolia Jeanjean (AR) def. Ksenia Laskutova/Martha Matoula (TU) 6-3
2. No. 57 Mia Jurasic/Ana Oparenovic (AR) def. Martina Okalova/Vera Ploner (TU) 7-5
3. Tamara Kupkova/Shura Poppe (TU) def. Natsuho Arakawa/Tatum Rice (AR) 6-2
Match Notes:
Tulsa 4-1 (0-0 AAC)
Arkansas 1-0 (0-0 SEC); National ranking #18
Order of finish: Doubles (3,1,2); Singles (2,4,5,1,6,3)
T-2:45; A-203
For more information on Arkansas Women's Tennis, follow @RazorbackWTEN on Twitter.