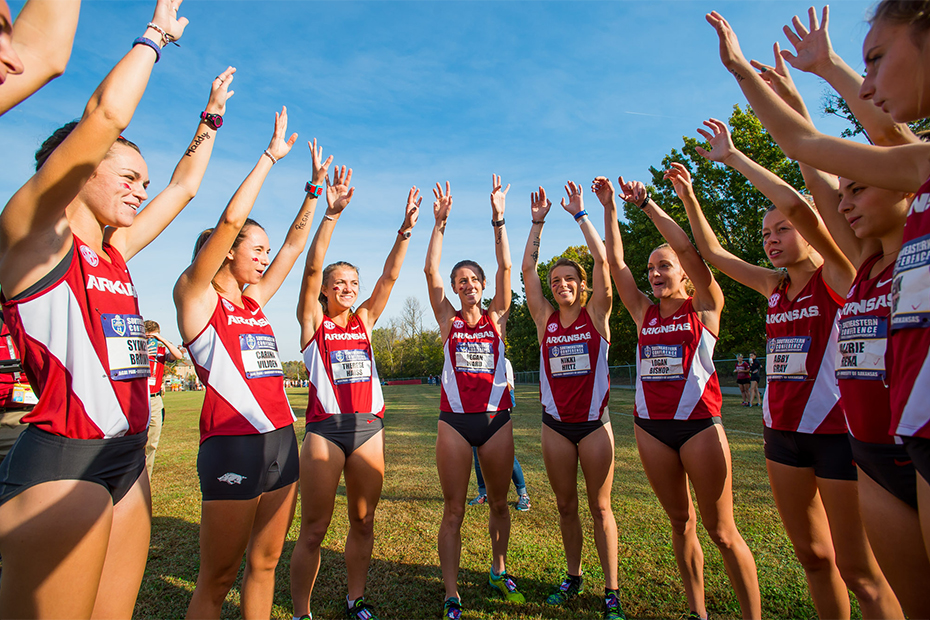 The Streak Continues
SEC Women's Results | Photo Gallery
FAYETTEVILLE, Ark. – When the dust settled this morning at Agri Park, the No. 10 Arkansas women's cross country team found themselves in a familiar place – on top of the podium as the Southeastern Conference champions for the fourth consecutive year.
The Razorbacks captured the team's 17th SEC title with the help of lead runner Devin Clark, who completed the 6K race in a season PR of 20 minutes, 18.50 seconds, earning a silver medal for her efforts as the conference runner-up.
The championship meet will be available to watch on the SEC Network on Sunday, Nov. 6 at 10 a.m. CT.
The Streak Continues
Arkansas remains perfect through competition at eight-straight conference championships (inclusive of indoor and outdoor track and field).
The triumph at the SEC cross country showdown positioned the Razorbacks strongly to continue their pursuit of a third-consecutive conference Triple Crown run.
All-SEC Performers
Clark was joined in the top 14 by Abby Gray (ninth), Valerie Reina (10th), Therese Haiss (12th) and Nikki Hiltz (13th) all of whom earned All-SEC recognition for their efforts.
It was the second-consecutive cross country conference honor for both Clark and Reina.
As the top freshman in the field, Gray headlined the talented newcomers of the SEC which also featured her teammates Taylor Werner (15th) and Carina Viljoen (23rd)
Other Notable Performances
Werner and Sydney Brown rounded out Arkansas' top seven performers, with Brown placing 17th at 21:07.20.
The Razorbacks' entire squad finished among the top-40 best of the day in a field which boasted well over 100 runners.
Arkansas will break next week, returning to action back at Agri Park on Friday, Nov. 11 as the hosts of the 2016 NCAA South Central Region Championship.
Top Five Team Results
1. #10 Arkansas, 46 (2-9-10-12-13)
2. #16 Ole Miss, 76 (7-8-18-19-24)
3. Missouri, 125 (1-5-33-36-50)
4. #29 Mississippi State, 138 (20-25-27-31-35)
5. Vanderbilt, 170 (11-37-39-40-43)
Arkansas Results (Overall Finishes)
2. Devin Clark – 20:18.50
9. Abby Gray – 20:52.50
10. Valerie Reina – 20:53.10
12. Therese Haiss – 20:54.90
13. Nikki Hiltz – 20:55.60
15. Taylor Werner – 21:01.00
17. Sydney Brown – 21:07.20
23. Carina Viljoen – 21:13.90
28. Rachel Nichwitz – 21: 22.90
34. Regan Ward – 21:28.90
37. Maddy Reed – 21:38.20
2016 Cross Country Schedule
Thurs, Sept. 1 – Cowboy Duals (Stillwater, Okla.) | 1st of 6
Sat, Sept. 17 – Southern Stampede (Joplin, Mo.) | 1st of 2
Sat, Sept. 17 – Riverside Invitational (Riverside, Calif.) | 1st of 20
Sat, Oct. 1 – Chile Pepper Festival (Agri Park) 10:20 a.m. | 1st of 18
Sat, Oct. 15 – Pre-Nationals (Terre Haute, Ind.) 10:00 a.m. | 5th of 42
Fri, Oct. 28 – SEC Championship (Agri Park) 10:00 a.m. | 1st of 14
Fri, Nov. 11 – NCAA South Central Regional (Agri Park) 11:00 a.m.
Sat, Nov. 19 – NCAA Championship (Terre Haute, Ind.) 10:00 a.m.
Bold denotes a home event.
For more information on Arkansas track and field including in-meet updates, follow @RazorbackTF on Twitter.