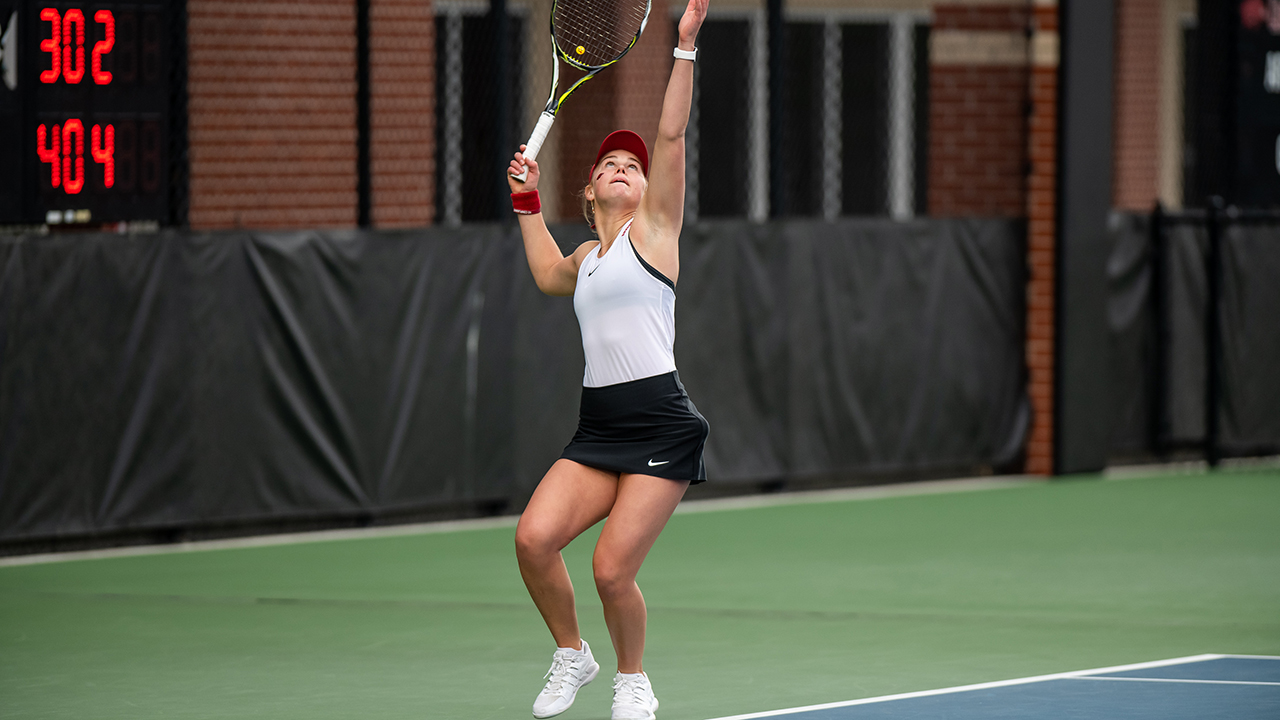 Tigers Top Razorbacks
FAYETTEVILLE, Ark.- The No 46 Arkansas women's tennis team fell 4-3 to No. 21 LSU in a heartbreaker Friday night.
The team dropped the doubles point in straight sets, with Lauren Alter and Thea Rice falling 6-3 before Martina Zerulo and Tatum Rice dropped their match to No. 10 Eden Richardson and Jessica Golovin.
Arkansas evened the match quickly, with Alter earning a 6-2, 6-4 victory at the No. 4 position. The Tigers pulled ahead again as No. 79 Tatum Rice fell to No. 60 Golovin. Jackie Carr tied the match at the No. 6 position before Miruna Tudor pulled the Hogs ahead of LSU.
The Tigers put the score at 3-3 as Laura Rijkers was defeated 7-5, 6-3, before clinching the match in a hard-fought tiebreaker set at the No. 1 position.
The Razorbacks will return to the court Sunday afternoon, hosting No. 11 Texas A&M to close out a five-match homestand.
For more information on Razorback women's tennis, follow @RazorbackWTEN on Twitter.
No. 21 LSU 4, No. 46 Arkansas 3
Doubles Results – Order of Finish (2,1)
1. #10 Eden Richardson/Jessica Golovin (LSU) def. Martina Zerulo/Tatum Rice (ARK) 6-4
2. Anna Loughlan/Paris Corley (LSU) def. Lauren Alter/Thea Rice (ARK) 6-3
3. Laura Rijkers/Jackie Carr (ARK) vs. Kennan Johnson/Taylor Bridges (LSU) 5-5, unfinished

Singles Results – Order of Finish (4,2,6,5,3,1)
1. #10 Eden Richardson (LSU) def. #115 Martina Zerulo (ARK) 5-7, 6-4, 7-5
2. #60 Jessica Golovin (LSU) def. #79 Tatum Rice (ARK) 6-2, 6-4
3. Taylor Bridges (LSU) def. Laura Rijkers (ARK) 7-5, 6-3
4. Lauren Alter (ARK) def. Paris Corley (LSU) 6-2, 6-4
5. Miruna Tudor (ARK) def. Luba Vasilyuk (LSU) 6-0, 6-3
6. Jackie Carr (ARK) def. Anna Loughlan (LSU) 6-3, 6-3