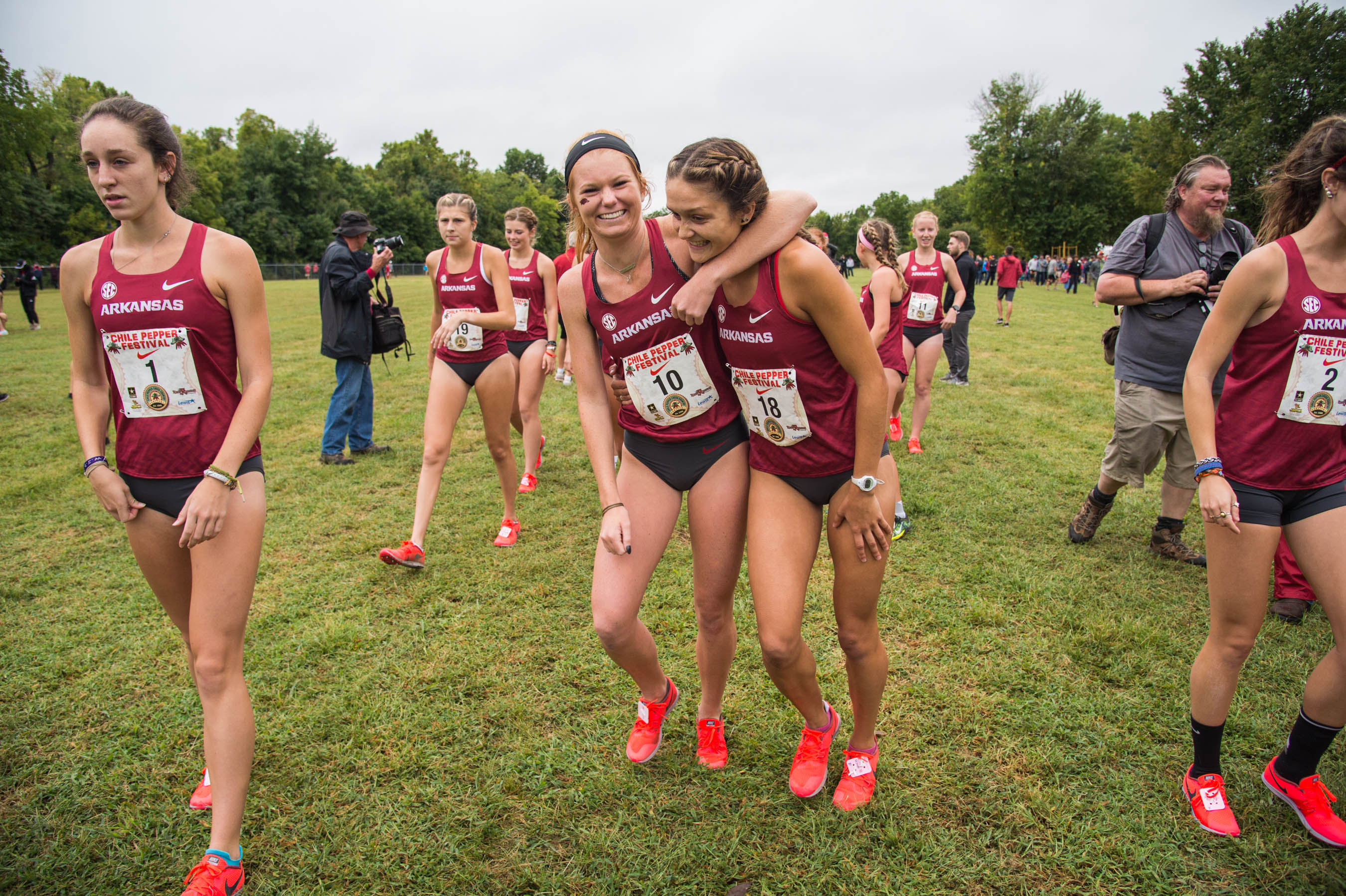 Top-Five Finish For No. 9 Razorbacks At Nuttycombe Invitational
| | | |
| --- | --- | --- |
|  Pos. | Arkansas "A" | Time |
| 8 | Katrina Robinson | 19:55.3 |
| 14 | Carina Viljoen | 20:00.9 |
| 20 | Taylor Werner | 20:08.1 |
| 64 | Sydney Brown | 20:53.8 |
| 67 | Maddy Reed | 20:55.5 |
|  Pos. | Arkansas "B" | Time |
| 10 | Micah Huckabee | 21:24.7 |
| 23 | Abby Gray | 21:41.3 |
| 51 | Alex Ritchey | 22:22.2 |
| 52 | Greta Taylor | 22:22.4 |
| | | |
|  Pos. | Team Results | Score |
| 1 | Colorado | 80 |
| 2 | Boise State | 91 |
| 3 | New Mexico | 130 |
| 4 | Villanova | 156 |
| 5 | Arkansas | 173 |
MADISON, Wis. – The No. 9 Razorbacks cross country team wrapped up action at the Nuttycombe Wisconsin Invitational with a fifth-place finish, scoring score of 173-points Friday afternoon at the site of the 2018 NCAA Championships, Zimmer Championship Course.
"For us to be in the top-five was icing on the cake," said head coach Lance Harter.
The Razorbacks took part in both sections of the Nuttycombe Invite.
In the "A" section of the meet, Arkansas' Katrina Robinson crossed the line as the top finisher for the Razorbacks with an eighth-place finish running 19:55.3 followed by teammates Carina Viljoen (20:00.9), and Taylor Werner (20:08.1) in 14th and 20th-places, respectively.
Rounding out the scoring for Arkansas were Sydney Brown (20:53.8) and Maddy Reed (20:55.5) in 64th and 67th-place.
In the "B" section of the meet, Arkansas ran four athletes. Micah Huckabee (21:24.7), Abby Gray (21:41.3), Alex Ritchey (22:22.2), and Greta Taylor (22:22.4) finishing 10th, 23rd, 51st, and 52nd, respectively.
"What's really exciting is that we haven't put the whole team together yet. I think we surprised some people today. I think that they realize we're a serious player to be a top-10 team when the year is up. [Katrina Robinson] is a force, and was by far the No. 1 freshman in the race, followed by closely Carina [Viljoen], Taylor [Werner] who all finished in the top-20. The real excitement for me as a coach was Maddy Reed and Sydney Brown who ran the best races of their careers! Collectively, we're super excited, and the way we're training and prepping for the road to nationals – SEC's and NCAA's – we had an extra bode of confidence," Harter finished.
Arkansas will return to Wisconsin's Zimmer Championship Course for the Wisconsin Pre-Nats Sat, Oct. 13 as the Razorbacks wrap up the regular season before the SEC Championships in Auburn, Ala. Fri, Oct. 26.
For more information on Arkansas Cross Country including in-meet updates, follow @RazorbackTF on Twitter.