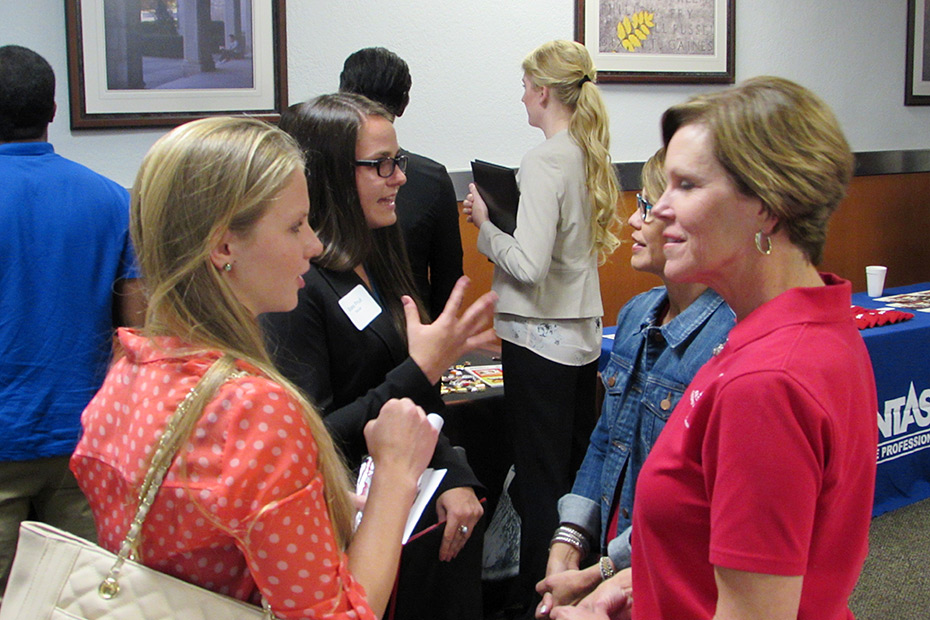 Transitioning Into Working Professionals
FAYETTEVILLE, Ark. — On Tuesday, April 12, Arkansas Athletics' Student-Athlete Development hosted the fourth Razorback Career Symposium, a networking event for student-athletes and employers.
Forty employers were in attendance representing 17 Northwest Arkansas area agencies and companies. The evening included dinner, a professional panel and a networking rotation segment.
Unilever Vice President Jim Breach and Drew Collom, senior vice president of Snyder and Lance, served on the panel providing career advice for student-athletes in their transitions to the professional world. The panelist shared their personal stories of success and best practices for new professionals.
During the networking segment, student-athletes were able to interact with representatives from companies related to their major or career interest. At each station, employers provided a brief overview of their organization and their available positions (if applicable).
Additionally, student-athletes had an opportunity to ask questions and share information about their background, professional interests and copies of their resume.
Agencies and companies represented at the event included: Walmart, Tyson Foods, University of Arkansas Career Development Center, Boys and Girls Club Fayetteville, Berkley, Chartwells, The Hershey Company, Octagon, Cumulus Broadcasting, Arkansas ALS Association, Northwestern Mutual, American National Insurance, Cintas, University of Arkansas Police Department, Arvest Bank and University of Arkansas Medical Science Outpatient Therapy Clinic.