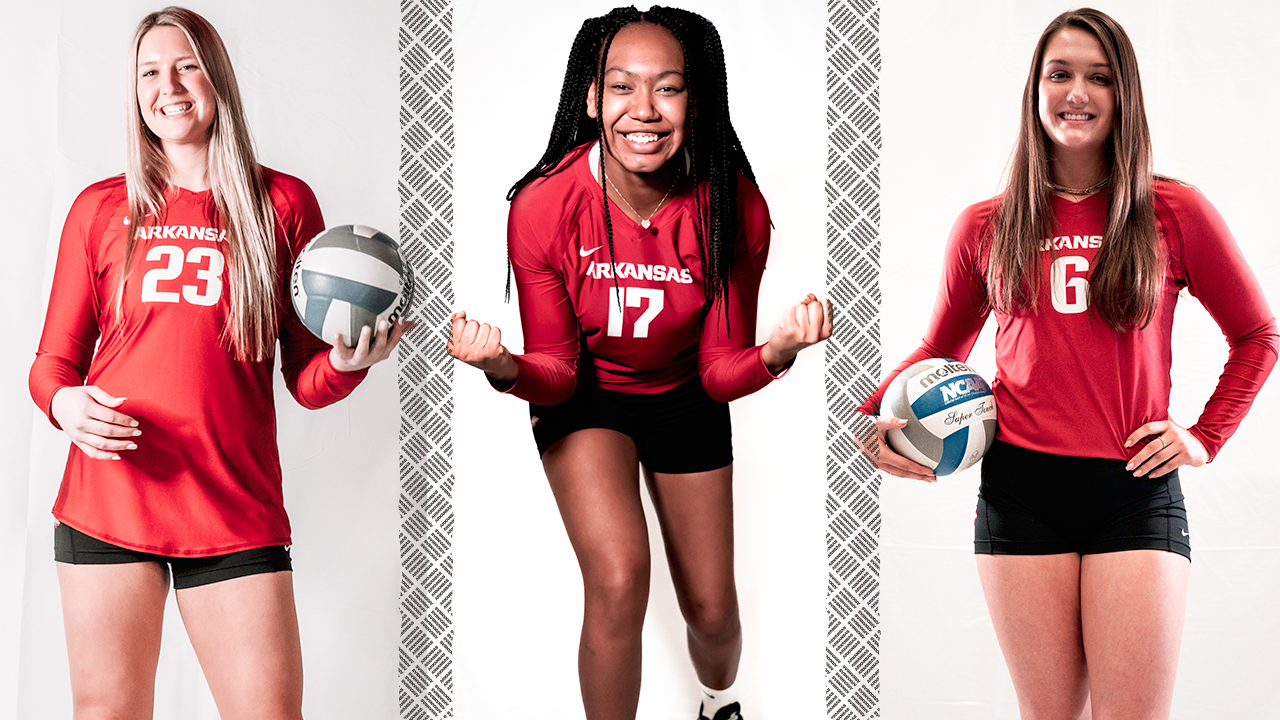 Trio of Newcomers Join Volley Hogs for 2022
As the start to the 2022 season approaches, the Arkansas volleyball program has added three newcomers to the squad in Tatum Shipes, Skylar Ellison and Rosana Hicks.
Shipes, a 6'4 middle blocker, comes to Fayetteville as a graduate transfer by way of Auburn, where she played for the Tigers for the past four seasons. Shipes played her first collegiate season as a middle in 2021 and was one of the SEC's best defensive players. She started every match for Auburn and ranked top in the conference for total blocks (142) and blocks per set (1.42), which also came in at 21st and sixth in the country. Both metrics are new Auburn single season program records in the rally scoring era, along with the top spot in block assists with 120.
Shipes was also a key piece of Auburn's offense on the season. She recorded 113 kills, fourth best on the team, and had 1.13 kills per set. She also added six service aces throughout the course of the season, two of which came in Auburn's series finale match at Arkansas, in which the Hogs pulled off an extra set victory over the Tigers.
Skylar Ellison joins the Arkansas squad as a freshman from Aledo, Texas. A 6'2 middle blocker/right side hitter, Ellison played high school volleyball for Aledo High and club volleyball with Texas Advantage and Excel Volleyball Club. During her time with the Ladycats, Ellison received Second Team All-District, All-Parker Country Second Team and Academic All-State honors and helped the Ladycats to a 2021 district championship.
In her senior season, Ellison played in every set and led Aledo with 83 total blocks and 71 block assists. She also came in sixth on the team in kills and aces with 163 and 11, respectively.
Rosana Hicks is a hometown product who graduated from Fayetteville High School in 2021. A 6'1 pin hitter, Hicks is a former All-Arkansas Preps Player of the Year and had an excellent career with the Bulldogs. Over the course of four seasons, she amassed 1,250 kills at FHS and registered a .325 hitting percentage.
Hicks led the Bulldogs in kills in each season but her first and tallied over 250 her sophomore, junior and senior seasons. She was a three-time All-6A West Conference selection, an AVCA All-Region Team selection, a four-year letterwinner, and a two-time Democrat-Gazette All-State Tournament Team honoree. She joins the Razorbacks as a sophomore.
The trio of Shipes, Ellison and Hicks join rookies Avery Calame and Kylie Weeks to round out Arkansas' newcomers for the 2022 season. Calame played varsity volleyball for McKinney-Boyd High School the past four years and was named to the 2021 All-Region 4 High School Team by the American Volleyball Coaches Association (AVCA). She surpassed 1,000 career digs for McKinney Boyd last season and led the Broncos with 447. She also came in second on the team in kills with 305 in 80 sets played.
Calame is a two-time First Team All-District honoree in Class 5-6A, a two-time Allen Tournament All-Tournament Team selection and a four-time Lone Star Classic champion. She was placed on the 2021 AVCA All-America Watch List earlier this fall and helped lead the Broncos to the fourth playoff appearance of her career.
Kylie Weeks is an outside hitter/libero from Elkhorn, Neb. who played for Elkhorn South High School and Nebraska Elite Volleyball. Weeks was a four-year captain at Elkhorn South and left her mark in the school's record books as the all-time aces and kills leader and was second in digs. While the Storm's season came to an end in the second round of the state tournament in 2021, Weeks helped lead her team to a Nebraska Class A Championship in 2020. Weeks was also named All-Tournament All Classes in the state tournament, 1st Team Metro All-Conference, 1st Team All-Nebraska All-State Class A and 1st Team All-Nebraska All-State All Classes in 2020.
Weeks was also selected for the AVCA Phenom Program and the USA Volleyball High Performance Program in 2020 and was a Top 10 Nebraska Prospect in the Class of 2022 throughout her high school career. She won numerous Athlete of the Week and Player of the Week honors from the DC Post Gazette Newspaper and AVCA MaxPreps during her time at Elkhorn South.
Renewals are open for returning season ticket holders and those purchasing for the first time can do so now through the Razorback Ticket Center. Season tickets start at just $40 and include admission to all home matches, including the Volley Hogs' nine SEC contests.