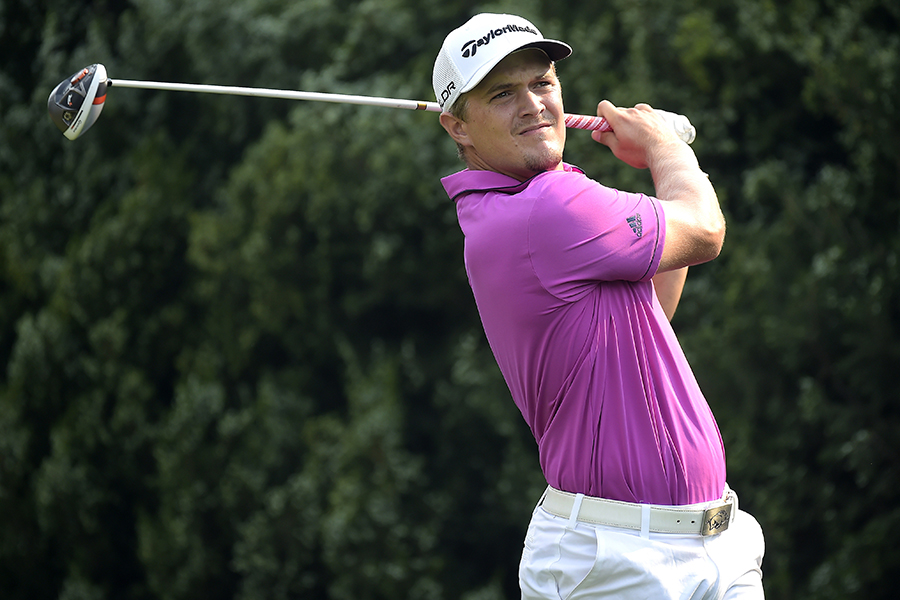 Trio Of #ProHogs Open Web.com Tour On Thursday
PANAMA CITY, Panama – The 2015 Web.com Tour season will get underway Thursday at the Panama Claro Championship and Arkansas will be well represented as former All-Americans Sebastian Cappelen, Andrew Landry and Tag Ridings will start their journey to earning a PGA Tour card.
Arkansas is one of 12 programs with at least three players in the season-opening event, while Landry will be making his Web.com Tour debut after finishing second in the Final State of Q-School in December.
Landry will be the first to take Panama City Golf Club for Thursday's first round at 5:55 a.m. CT. Cappelen will begin his round at 6:35 a.m. while Ridings will take the course at 11:20 a.m.
Cappelen's status on the Web.com Tour in 2015 was determined in his first event as a pro in 2014, as the seven-time All-American won the Air Capital Classic in his pro debut, just weeks after leading the Razorbacks to their third NCAA Championships appearance in the last five years. The Denmark native went on to finish 26th in the Web.com Tour money rankings, just one spot from earning his PGA Tour card, despite playing in just 11 events.
A 1997 graduate, Tag Ridings (1997) finished No. 54 on the priority list following last year's Web.com Tour finals to narrowly miss earning his PGA Tour card for the 10h time in his career. Ridings played in 12 PGA Tour events and nine Web.com Tour events in 2014. It will mark the 14th straight year Ridings has played in a Web.com Tour event.
Landry earned his Web.com Tour status at the exhausting six-round Q-School Final Stage on the Champion and Fazio Courses at PGA National. Landry finished the six days at 20-under par and was the only player in the field of 150 players to shoot in the 60s each of the final five rounds.
Landry's 71-67-67-69-67-68 scorecard featured a tournament-best four eagles over the six rounds and even more impressive was his lone double-bogey over the 108 holes came on his 104th hole of the event. Over the two different courses, Landry combined to shoot 15-under on the front nine and had a total of 25 birdies for the tournament.
The 2015 schedule features 21 Regular Season events (ending Aug. 30th at the WinCo Foods Portland Open presented by Kraft) in which players will compete for the first 25 PGA TOUR cards based on Regular Season earnings. The second set of 25 cards will be based on a separate money list for the four Web.com Tour Finals' events (concluding Oct. 4th at the Web.com Tour Championship at TOUR headquarters in Ponte Vedra Beach, Fla.). Also up for grabs at the Finals will be the all-important TOUR priority ranking positions for all 50 card earners.