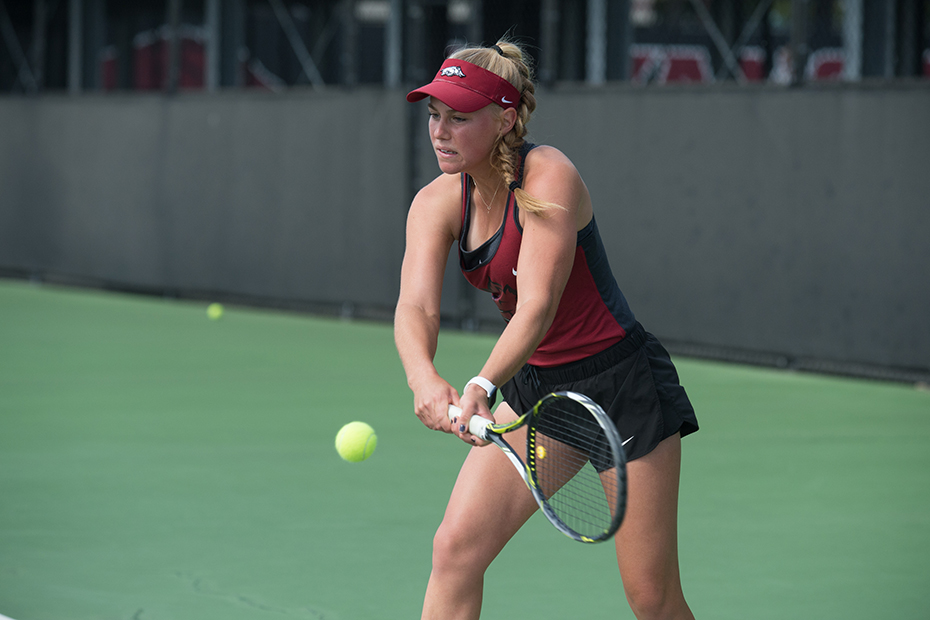 Two doubles teams advance at ITA Regionals
The Arkansas women's tennis team won eight matches on day three of the ITA Regional tournament. Highlighting the day were two Razorback doubles teams, No. 11 Tatum Rice and Lauren Alter and Jackie Carr and Martina Zerulo.
DOUBLES PLAY:
The duo of Rice and Alter won their first match 8-6 over ISU's Alvarez and Aziz. The pair won its second match 8-2 against Kansas' Degaldo and Deming. Zerulo and Carr faced UI's Treadwell and Bauers and came out victorious 8-1. The victories move both Arkansas teams into the quarterfinals tomorrow beginning at 9 a.m.
SINGLES PLAY:
Rice was the only Razorback to win her two matches and advance to the round of 16 in singles play. The junior won her first match in two sets over OU's Motosono, taking the first set 6-2 and the match with a 6-3 victory. Rice moved on to the round of 16 with a tight, three-set win over OSU's Thamchaiwat despite dropping the first set 7-4. Rice rallied to even the match with a spectacular 7-6 (4) win in the second set and took the match with a 6-3 win.
Laura Rijkers and Zerulo each fell short in the round of 64. Rijkers lost a nailbiter 7-5, 2-6, 6-2 to OSU's Gulihur. Zerulo took the opening set 6-1 before dropping the last two sets to Tulsa's Monfort in a 1-6, 6-4, 6-2 loss. Kelly Keller, Alter and Carr were all eliminated in the round of 32. Keller was defeated in a two setter by OU's Podlinsk 6-0, 6-2, and Alter fell to ISU'S Naklo 7-6 (3), 6-1. Carr was topped 6-4, 6-3 by OU's Romero.
WHAT TO LOOK FORWARD TO:
Both No. 11 ranked duo of Alter and Tatum and Zerulo and Carr will be back on court for quarterfinals play in the doubles main draw. Rice will also be competing in the round of 16 to try and secure a spot in the quarterfinals singles play. For more information or scores click  here.
For more information on Arkansas women's tennis follow @RazorbackWTEN on twitter and Instagram.