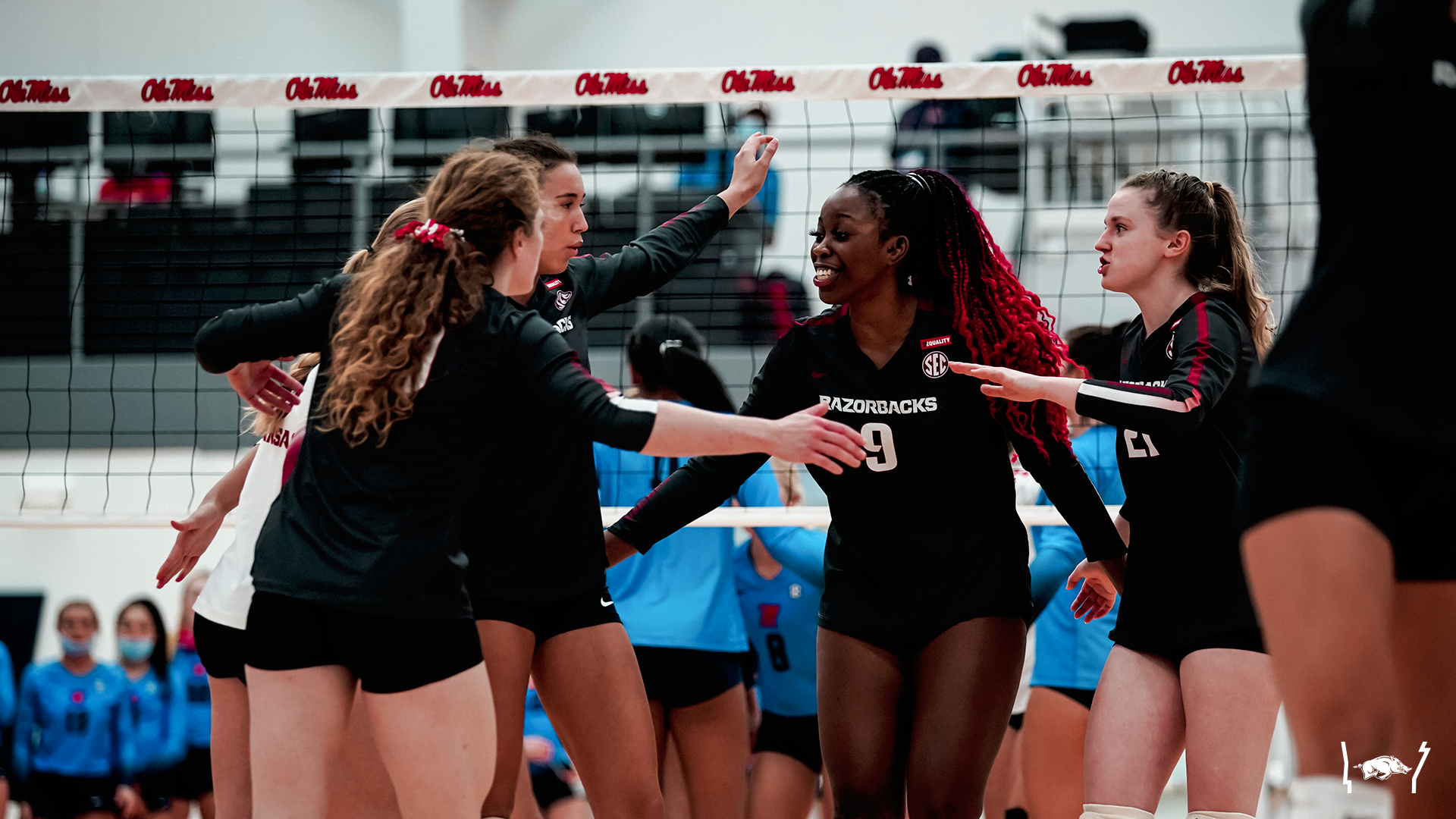 Volley Hogs Take Down Rebels in Oxford
The Razorbacks traveled to Oxford for a midweek match on Wednesday and made quick work of the Rebels with a sweep.
Arkansas won 25-20, 25-20 and 25-17 over Ole Miss to move to 3-2 in SEC play and 12-4 overall. 
Sophomore Taylor Head led the Razorbacks with 14 kills, four digs and two solo blocks. She was one of two Arkansas players to hit over .400, along with junior Maggie Cartwright. Cartwright's .529 clip with 11 kills on 19 swings is a new career high hitting percentage. 
Arkansas also added seven service aces on the night, which included three from senior Lauren Evans and two from junior Jill Gillen.
The Hogs got off to a hot start with a 3-0 run, capped off by a kill from Head. Arkansas extended that lead and was the first to 10 with a kill from Gillen and ace from Ryan, and then added two more points for a 12-5 advantage.The Rebels couldn't add more than two points at a time to catch the Razorbacks, and Arkansas was the first to 20 points off of an ace from Gillen. A 4-1 run by the Rebels cut the Hog lead to 21-17, and Ole Miss also scored three of the next five points, but two consecutive errors from the home team handed the set to Arkansas, 25-20.
Arkansas again started a set with a 3-0 run in the second, and held the advantage from there. Three straight Razorback points, including a solo block from Ellease Crumpton and a kill from Gillen, gave Arkansas a four-point edge at 10-6. Back-to-back kills from Head out of an Ole Miss timeout doubled the lead to 14-7, and the Hogs continued to cruise. Once the Razorbacks hit 20, though, the Rebels went on a 4-0 run to narrow the lead to three points and sent Arkansas to a timeout. It wasn't enough, and a solo block and kill from Head ended the second set just as the first did, 25-20 for the 2-0 Hogs lead.
The third set was the closest of the night and saw 10 tie scores early including the Rebels' first leads of the match, but Arkansas broke away with a three-point run featuring an ace from Evans and a kill from Head and went up 13-11. Ole Miss tied it again at 13-13, but three Hog points made it 15-13, a lead they'd hold from then on out. Two Ole Miss errors and kill from senior setter Gracie Ryan pushed the score to 20-15 and sent the Rebels to a huddle. Ole Miss added two more points, but Arkansas put up five. Three straight, including the dagger from Head, sealed the set 25-17 and the match 3-0 for the Hogs. Arkansas hit a match-best .407 to .188 for Ole Miss in the third.
Up Next 
The Razorbacks return home for a conference series against Auburn Oct. 9-10. Saturday's match is set for 5 p.m. and Sunday's finale will begin at 3 p.m. Both matches will be streamed live on SEC Network+ with live stats available.
Visit ArkansasRazorbacks.com for the latest information on all things Arkansas Volleyball. You can also find the Hogs on social media by liking us on Facebook (Arkansas Razorback Volleyball) and following us on Twitter and Instagram (@RazorbackVB).