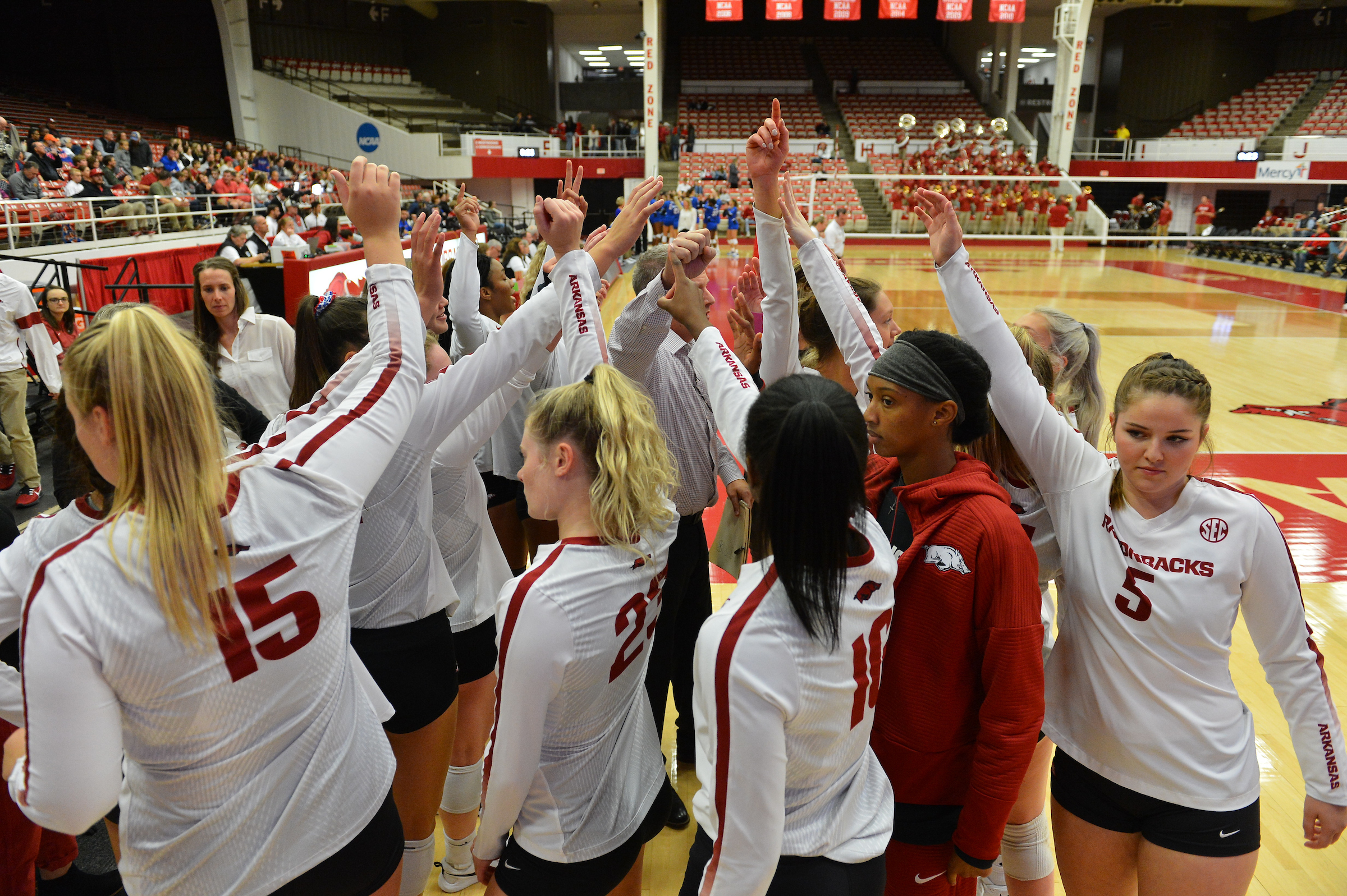 Volleyball Falls to Ranked Florida Gators
FAYETTEVILLE – The University of Arkansas hosted #14 Florida on Friday evening in Barnhill Arena and fought relentlessly through the final point, but dropped a tough three-set loss to the ranked Gators. The Razorbacks drop to 6-10 overall and 0-4 in conference play.
HOG HIGLIGHTS
Maggie Cartwright | 12 kills | .310 hitting percentage | 7 digs | 1 ace
Gracie Ryan | 15 assists | 9 digs | 2 kills
THE TURNING POINT
Arkansas saw 15 total ties and five lead changes during the course of the night, most of which came in the first set. The final tie of the set came at 24-24. The Gators had just called their final timeout of the set after Arkansas ignited a 4-1 scoring rally to bring them back within one point of Florida's lead. Junior Liz Pamphile and freshman Maggie Cartwright recorded a block against the attack from Gator Holly Carlton to tie the score on Florida's match point. Unfortunately, back-to-back errors by the Hogs would give Florida the first set, 26-24.
The Razorbacks continued to battle through the second and third sets, but the Gator offense recovered well from a .000 clip in the first to record 33 kills behind a .371 hitting percentage in the final two sets. Arkansas continued to attack the Gator defense but was plagued by missed opportunities and now trailed 2-0 with a set two loss.
Another block by the Hogs would tie the score at five points apiece early in the third set, but Florida would pull away and build a lead that the Razorbacks could not overcome. The Hogs hit their best in the third set and recorded more attacks, but the Gators recorded a match-high 24 digs to keep the Razorbacks from cutting away at the lead. Arkansas would go on to drop the final set, 25-18.
UP NEXT
Arkansas will be back in Barnhill on Sunday as they continue SEC play against South Carolina. The Hogs will hit the road the following week and head to the Magnolia State to face Ole Miss on Friday and Mississippi State on Sunday.
vs South Carolina (10-6, 2-2 SEC)
When: Sunday, Oct. 13 at 1:00 p.m. (CT)
Where: Fayetteville, Ark. Barnhill Arena
Last Match: 3-0 win vs Mississippi State
Series Record: Arkansas leads, 27-12
Last Meeting: Oct. 17, 2018 in Fayetteville (W, 3-0)
Live Stats
SEC+
Visit ArkansasRazorbacks.com for the latest information on all things Arkansas Volleyball. You can also find the Hogs on social media by liking us on Facebook (Arkansas Razorback Volleyball) and following us on Twitter and Instagram (@RazorbackVB).