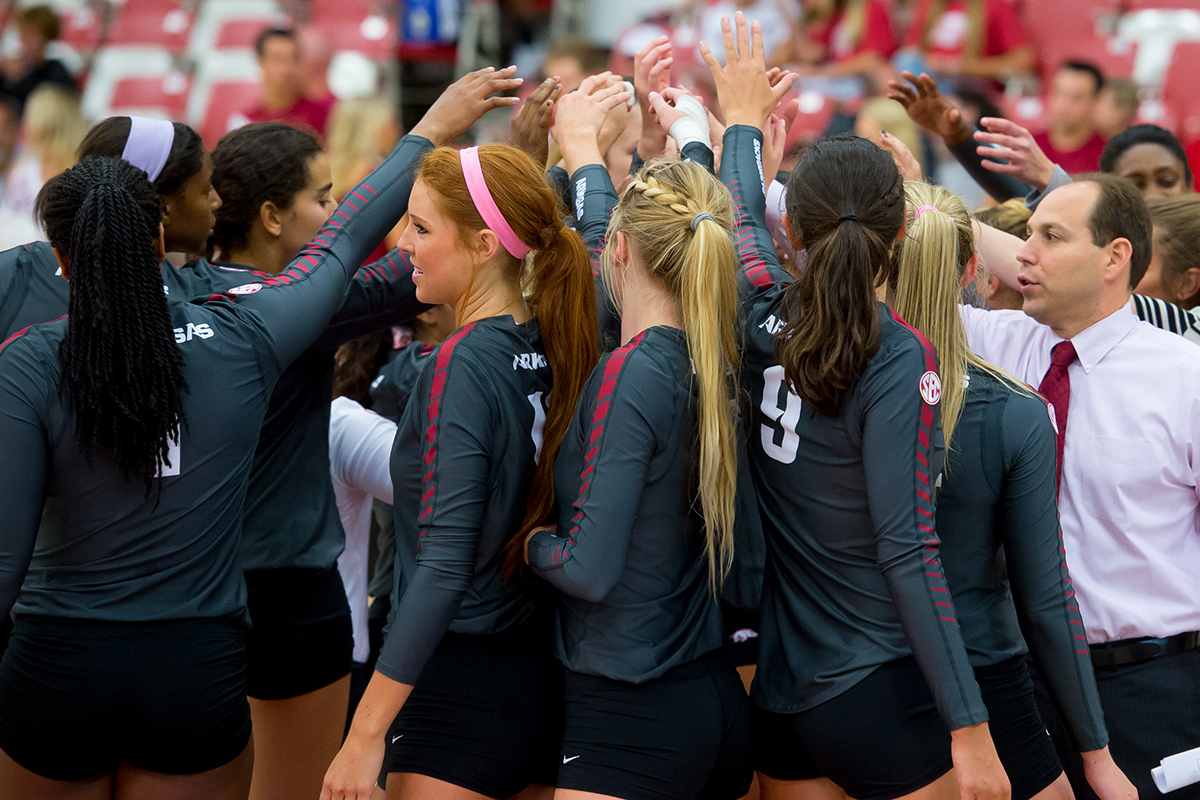 Volleyball in Top 30 NCAA Statistical Rankings
FAYETTEVILLE, Ark. – Through the first three weeks of the 2015 season, the University of Arkansas volleyball team has worked itself into the top 30 of six team and individual NCAA statistical rankings. Among the highlights, the Razorbacks are one of just three teams ranked top-10 nationally in both hitting percentage and opponent hitting percentage. Individually, the team is represented by Chanell Clark-Bibbs and Pilar Victoria.
10. Hitting Percentage (team) | .297
The Razorbacks have hit .270 or better in eight of nine matches this season, including four performances with a .300 hitting percentage or higher. In its Sept. 4 victory over Louisiana Tech at the SIUE Cougar Classic, Arkansas tallied a .416 figure that stands as the No. 12 effort in program history, and seventh best against a non-conference opponent. Along with its top-10 national standing, Arkansas ranks third in the SEC in hitting percentage.
10. Opponent Hitting Percentage | .120
Arkansas has held its opponent to a hitting percentage of under .100 in five of nine matches this season including a pair of negative showings. In its last outing, the Arkansas defense limited Northwestern State, Southeast Missouri and UT Arlington to a collective .004 hitting percentage during the Razorback Invitational. The team has season highs of 69 digs in its Aug. 29 match against Kansas and 13.0 total blocks last Saturday against Southeast Missouri. Arkansas has also used its serve to keep opponents out of system, posting 19 aces in its last three matches.
19. Hitting Percentage (individual) | Chanell Clark-Bibbs – .440
Clark-Bibbs has registered a .300 or better hitting percentage in each of Arkansas' nine matches this season, including five over the .400 mark. Through the first three weeks of the season, Clark-Bibbs has nine or more kills in five matches with 10 or more on three occasions, turning in a season-high 13 kills against Kansas and Northern Kentucky. In the match against the Norse, she hit for a .500 hitting percentage on 22 swings on her way to clinching MVP honors at the SIUE Cougar Classic. Clark-Bibbs is currently ranked third among SEC attackers in hitting percentage.
T25. Kills Per Set (individual) | Pilar Victoria – 4.33 k/s
T27. Points Per Set (individual) | Pilar Victoria – 4.80 p/s
In her first season with the Razorbacks, Victoria has reached double-digit kills in all nine matches with a pair of 20-kill efforts including a career-high 24 kills in a four-set win over Army. Against UT Arlington in the championship match of the Razorback Invitational, she tallied 10 of her 20 kills in the third set to lead the team to the win and help clinch tournament MVP honors. Victoria leads the team in attempts and has responded with a .251 hitting percentage as a six-rotation attacker. She also leads Arkansas with four double-doubles. Victoria ranks second in the SEC in kills per set and points per set.
30. Assists Per Set (team) | 13.10 a/s
The connection between Arkansas' setters and attackers has helped the team post impressive offensive figures. Distribution has been key with four players—Victoria, Clark-Bibbs, Liz Fortado and Barbara Dapic—averaging more than 2.00 kills per set; Breana Jones isn't far behind with 1.79 kills per set. In the Razorback Invitational finale, Adrien Wohlschlaeger dished out a career-high 44 assists in the straight-set victory over UT Arlington.
Arkansas (8-1) closes out its non-conference schedule Sept. 18-19 at the Creighton Classic in Omaha, Neb., where it is set to face No. 11 Wisconsin, Kansas State and host Creighton. The weekend marks the beginning of seven-straight matches against teams that played in last year's NCAA Tournament. The Razorbacks' next home match is Oct. 4 for their SEC home opener against No. 2 Florida.
For more information about Arkansas volleyball, follow @RazorbackVB on Facebook, Instagram, Snapchat and Twitter.