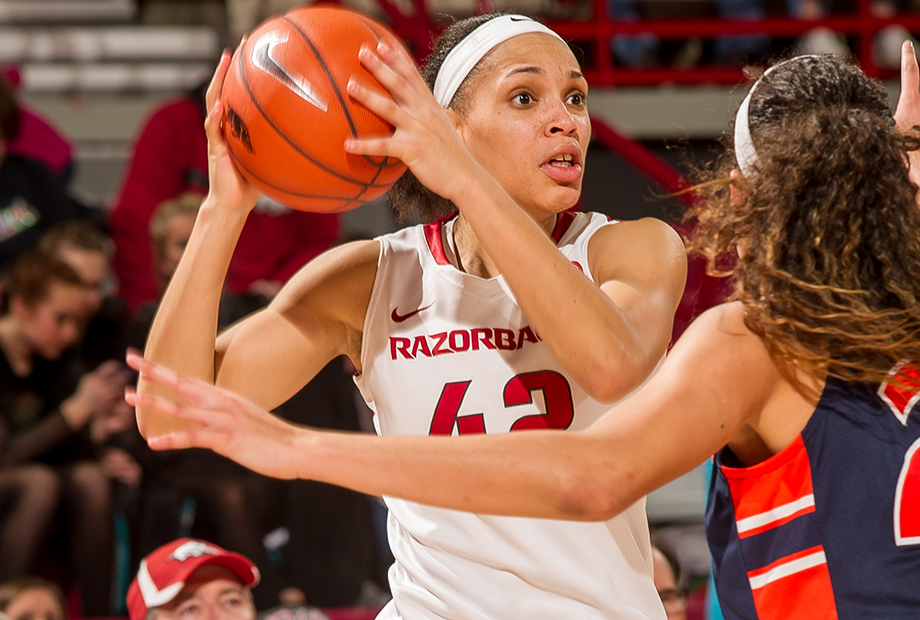 W. Basketball Bounces Back At Auburn
FAYETTEVILLE, Ark. – A strong defensive effort and 17 points from sophomore Kelsey Brooks contributed to the University of Arkansas women's basketball team defeating Auburn, 52-47, Thursday night at Bud Walton Arena. The win snaps a two-game losing streak for the Razorbacks and improves their record to 12-8 overall and 2-6 in Southeastern Conference play.
Auburn remains winless in league play at 0-8 and 9-12 overall.
Arkansas holding Auburn to 47 points is the lowest Arkansas has allowed an SEC opponent in a win since holding Vanderbilt to 47 points on Jan. 19, 2012.
Arkansas made its first three shots of the game en route to jumping out to a 7-0 early lead and never trailed the rest of the game.
Brooks scored 14 of her 17 points in the first half, assisting the Razorbacks in building up a 31-15 halftime advantage. The teams combined for 15 first-half turnovers, but Arkansas shot 12-of-25 (48 percent) from the field.
Arkansas would see its halftime lead cut to as low as two, but did not relinquish its lead. After the Tigers trimmed the lead down to two with seven minutes left, Arkansas answered back with a 6-0 run to push the lead back up to eight. Auburn again would cut the lead down to four with three minutes to go, but Arkansas' defense stood up, behind a couple of steals from seniors Calli Berna and Jhasmin Bowen, and held the Tigers at bay. Arkansas also shot 5-of-8 from the line in the last minute to help seal the win.
Auburn shot 39 percent from the floor but also was guilty of 20 turnovers, including 11 in the second half. Tra'Cee Tanner led the team in scoring with 12 points as the Tigers shot 39 percent from the floor.
The Razorbacks' starting five of Jessica Jackson, Jhasmin Bowen, Calli Berna, Kelsey Brooks, and Melissa Wolff combined for 49 of the teams' 52 points. Behind her 17 points, Brooks led the team in scoring for the 13th game this season.
Wolff was the other Razorback in double figures, contributing 12. Bowen and Jackson each chipped in eight. Berna had four and dished out six assists. Her six assists gives her 601 for her career, making Berna only the second Razorback ever to record 600 or more assists.
Arkansas shot 35.4 percent from the field.
The Razorbacks travel to Alabama on Sunday, Feb. 1, for their next SEC game.
QUOTABLE
"A 'W' feels a heck of a lot better than a loss. I was very proud of my team because we had four minutes to go and I had to get after them pretty hard in that huddle. I got after them pretty hard and they responded really well. I think they came back from the timeout on a six or 7-0 run. I was very happy for us to win. My team deserves to win because they play hard, they're coachable and their attitudes are great. Their body language in practice these past two days has been really, really good for a team that was 1-6 at the time, so I'm very happy for them. But we missed too many free-throws and too many front ends and one on ones. It's a conference win. We feel really, really good about it. Now, we have two days to prepare for Alabama. I appreciate almost 1,500 fans coming out on a Thursday to support us, so just hang in there with us while we grow this thing. A lot of fun times are in front of us."
POST GAME NOTES
– Arkansas held Auburn to 47 points, the lowest total Arkansas has allowed to an SEC opponent in a win since holding Vanderbilt to 47 points in a 69-47 Arkansas victory on Jan. 19, 2012.
– Sophomore Kelsey Brooks scored in double figures for the 18th time this season. Her 17 points was also the 13th time she's led the team in scoring.
– Arkansas led for 39:31 and never trailed in the game.
– The Razorbacks were outrebounded for only the seventh time this season, 33-28.
– Junior Melissa Wolff tallied her 15th career game in double-digit scoring with 12 points
– Senior Calli Berna passed out six assists, giving her 601 for her career. Berna is only the second Razorback ever to record 600 career assists.