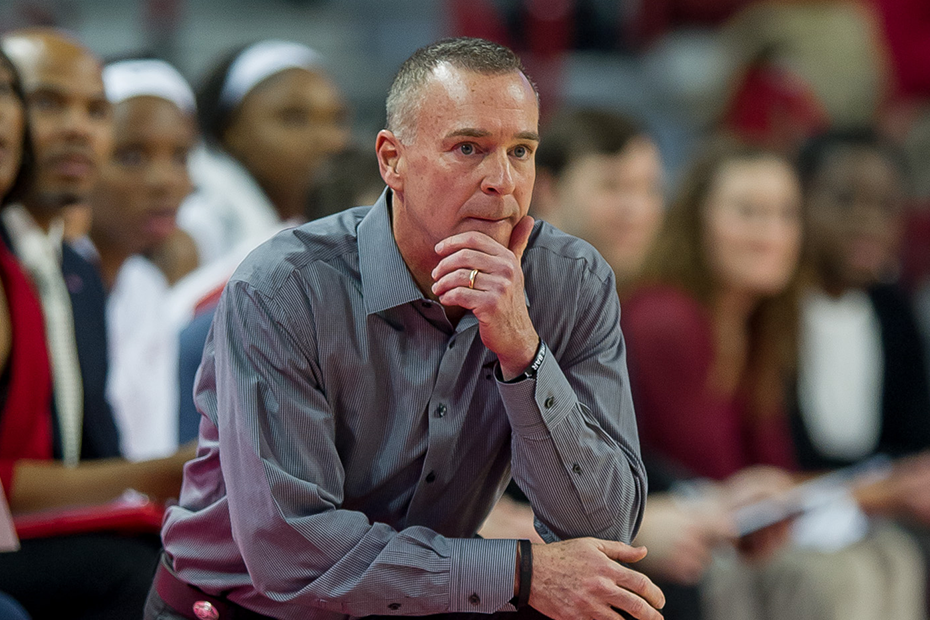 W. Basketball Class Ranked
FAYETTEVILLE, Ark. – University of Arkansas women's basketball coach Jimmy Dykes and his staff have signed the No. 20 recruiting class in the nation according to espnW HoopGurlz, the organization recently announced.
Dykes and his staff, who guided the Razorbacks to the second round of the NCAA Tournament in their first season, inked five freshmen who propelled his first class into the top 20.  This ranking doesn't factor in the four additional junior college players who have also signed with Arkansas.
The Razorbacks are one of three Southeastern Conference teams to rank in the top-20.  Kentucky, with four newcomers, checks in at No. 12 and Tennessee, with two signees, is No. 13.
Here is a look at what HoopGurlz had to say about the future Razorbacks:
INSIDE THE ARKANSAS RAZORBACKS' CLASS
Jimmy Dykes and Arkansas slide into the No. 20 slot with a class that features two Top 100 prospects and a pair of state players of the year. First up is 5-foot-7 point guard Jordan Danberry, the No. 44 prospect in the nation and the Arkansas Gatorade player of the year. Another point guard, the 5-5 Malica Monk, is the No. 63 prospect who starred on the national stage at North Little Rock. Keiryn Swenson, a 6-1 wing, was named the Gatorade player of the year in Kansas.
Rounding out Dykes' class are Briunna Freeman out of Georgia and a third player from Arkansas, Bailey Zimmerman.
The Razorbakcs were the only team to sign five or more players in the early signing period and are poised to have one of the largest classes of newcomers with nine incoming players for the 2015-16 season.
For more information on Arkansas women's basketball, follow @RazorbackWBB on Twitter.
2014-15 @RazorbackWBB Signees
| | | | | |
| --- | --- | --- | --- | --- |
| Name | Pos | Yr | Ht | Hometown / Previous School |
| Alecia Cooley | C | Jr-Tr | 6-4 | Evanston, Ill. / Evanston Township HS / State Fair Community College |
| Devin Cosper | G | So-Tr | 5-10 | Coffeyville, Kan. / Field Kindley HS / Coffeyville Community College |
| Jordan Danberry | G | Fr | 5-8 | Conway, Ark. / Conway HS |
| Angelica de Paulo | F | Jr-Tr | 6-1 | Sao Paulo, Brazil / TBA / New Mexico Junior College |
| Briunna Freeman | G | Fr | 5-9 | Pelham, Ga. /Pelham HS |
| Malica Monk | G | Fr | 5-5 | North Little Rock, Ark. / NLR HS |
| Tatiyana Smith | C | Jr-Tr | 6-3 | Plano, Texas / Plano East HS / Arkansas Baptist College |
| Keiryn Swenson | G/F | Fr | 6-1 | Wichita, Kan. /Maize HS |
| Bailey Zimmerman | GF | Fr | 6-0 | Hattieville, Ark. /Wonderview HS |