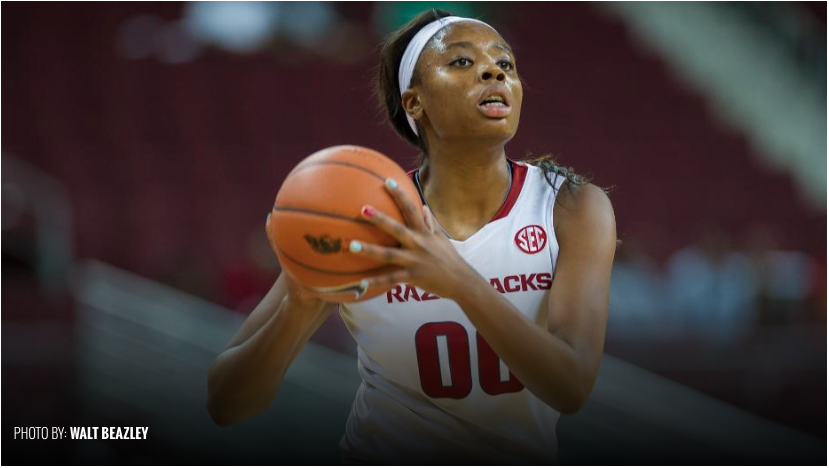 W. Basketball Defeats OU Sunday
NORTH LITTLE ROCK, Ark. – Jessica Jackson and Kelsey Brooks combined for 47 points leading the University of Arkansas women's basketball team to a 71-64 win over Oklahoma in the inaugural SEC/Big 12 Challenge in North Little Rock Sunday.
Jackson scored 23 and Brooks dropped in 24 points in a foul-infested game at Verizon Arena.  Jackson went 8-for-16 from the floor with one three pointer and made six-for-seven from the line. Brooks tied the school record going to the line 20 times, making 11 for the Razorbacks (9-2).
Oklahoma opened the game on a 6-0 run forcing Arkansas to play catch up early.  With the help of a pro-Razorback crowd of 3,689, Arkansas chipped away climbing back into the game and taking a 12-11 lead after a spin move in the lane by Jackson for her first basket of the game.
A back-and-forth battle ensued until the Sooners again pulled away.  Arkansas went to its bench and Khadijah West came in and scored, had four blocks and led great defense as the Razorbacks put together a 6-0 run to retake the lead.  In seven minutes, West also grabbed three rebounds and had a free throw for the Razorbacks.
The game was tied at 31 with 1:23 to go in the opening frame when freshman McKinley Bostad hit a three from the corner giving Arkansas the lead.  West was fouled and made one bonus shot and, as time wound down, Brooks was fouled and made a pair of free throws sending Arkansas into the locker room with a 37-31 lead over the Sooners.
The second half was a mirror-image of the first as the teams played through seven lead changes and 11 ties in 40 minutes.
The Razorbacks had the advantage in most areas in the second frame, outscoring OU 34-33 in the second half and shooting better from the free throw line.
The Razorbacks outrebounded OU 40-34, winning the battle on the boards for the eighth time this year.  Junior Melissa Wolff was solid with six points and nine rebounds and senior Jhasmin Bowen added nine points in the win.
Arkansas stepped up its three-point field goal defense holding the Sooners to just two threes, well below their eight-plus per game average.
Arkansas breaks for the holiday before hosting Grambling State Dec. 29, in the final non-conference game of the season.  Join the Razorbacks for the 6 p.m. tip and get home in time to cheer on the @RazorbackFB team in there 8 p.m. start.
For more information on Arkansas women's basketball, follow @RazorbackWBB on Twitter.