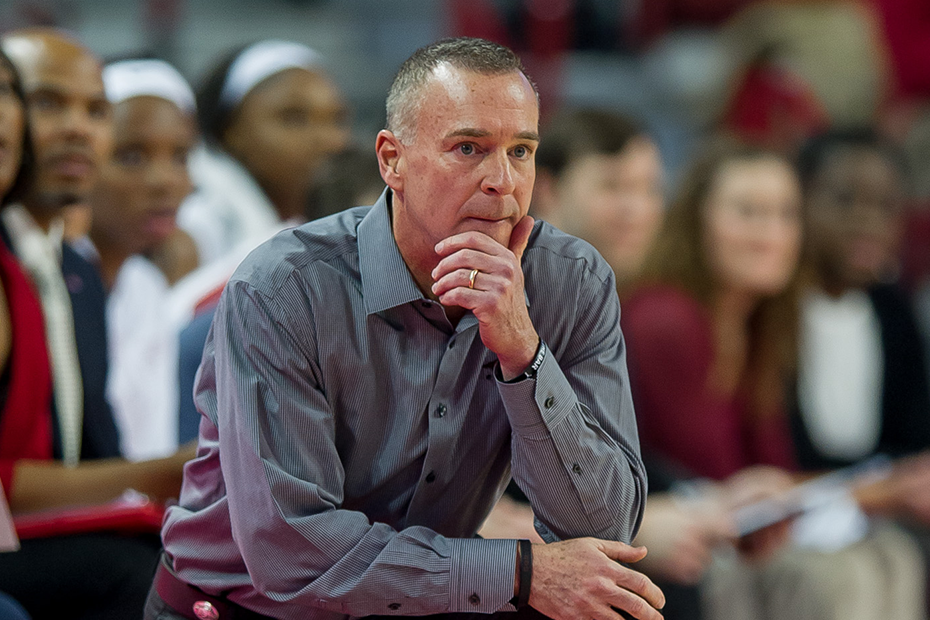 W. Basketball Falls At Mississippi State
BOX SCORE | NOTES | BERNA'S HALF COURT SHOT
STARKVILLE, Miss. – Facing its second-straight top 15-ranked opponent, the University of Arkansas women's basketball team lost to No. 14/15 Mississippi State Thursday night at Humphrey Coliseum in Starkville, Miss., 72-57. The Razorbacks have dropped their first three conference contests and sees their record fall to 10-5 overall, 0-3 SEC. Mississippi State continues its current hot streak and remains perfect on the year, running its record to 18-0 and 3-0 in SEC action.
Arkansas' starting backcourt of senior Calli Berna and sophomore Kelsey Brooks paced the Arkansas offense all evening long, combining for 28 points and 13 rebounds. Brooks scored a team-high 16 points, the 14th time in 15 games this seasons she's been in double-figure scoring, while also grabbing five rebounds. Berna played a solid all-around game, filling the stat sheet with 12 points, pulling down a team-high eight rebounds, dishing out five assists, and recording two blocks in 37 minutes.
Junior Melissa Wolff made it three Razorbacks scoring in double-digits, as she tallied 10 on 4-of-5 shooting.
Victoria Vivians led Mississippi State, scoring 21 points to go along with five rebounds.
The game was a tale of two halves for the Razorbacks, as Arkansas shot 60.9 percent from the field in the first half, but was just 13.8 percent in the second half and that proved to be the difference in the game. Against Mississippi State's pressuring, over-playing defense, Arkansas committed just six first-half turnovers but succumbed to 10 in the second half. Sixteen turnovers for Arkansas was turned into 20 Bulldog points.
Arkansas led 55-54 at the under eight media timeout, but Mississippi State answered with a 10-0 run to take full control of the game down the stretch.
Arkansas opened the game knocking down its first four shots but also committing a couple of turnovers. On the heels of an 8-0 run from 17:42-14:23, the Razorbacks took a 10-5 lead and would not trail again for the remainder of the first half.
Jackson's faceup three from the top of the key gave Arkansas a 15-7 lead, its largest of the first half with 12:45 to go.
Arkansas' defense held steady in the first frame, holding the Bulldogs to 41.4 percent shooting, but it was the Razorbacks' offense that carried them through the first half. The Hogs shot 60.9 percent in the half, buoyed by a combined 24 points from their starting backcourt – 14 from Brooks and 10 from Berna.
With five seconds remaining in the half, Mississippi State tied the game at 37 apiece on a pair of free throws. As time expired in the first half, Berna swished a three-quarter court shot to give the Razorbacks a 40-37 lead going into the locker room.
Check out the video of Berna's #SCTop10 buzzer beater to end the first half: http://instagram.com/p/xnhTAoNkGF/
To start the second half, Arkansas spread out to a six-point lead after a three-point play from Khadijah West. West pulled down the defensive rebound, and went on a rim run as Berna found her for an open layup.
The teams went back and forth in the half and Mississippi State took its first lead of the half at 52-51 with 11:27 remaining after a Morgan William triple. A couple of Berna free throws and a Brooks layup gave Arkansas a one-point edge, 55-54, at the under eight media timeout. Arkansas held Mississippi State to without a field goal from 10:57-5:44 enabling the one-point lead. The Bulldogs, however, snapped their field goal drought in a hurry, going on a 10-0 run over the next three minutes to go ahead by nine. Mississippi State would not trail again on its way to the victory.
Arkansas is back in action Sunday at Bud Walton Arena, facing off with No. 7/9 Tennessee at 2 p.m. The game will be nationally televised on ESPNU.
QUOTABLE
"We were right there with four or five minutes to go, we were right there in this ball game and had the lead. Like I told the people in the media room, we're not going to beat a high school team, shooting four out of 29 in the second half. It's hard to win on the road when you don't make shots in the second half. I was uncomfortable at halftime, even though we had the lead, because the game was too high scoring. The game was going a little too fast for us.
Our turnovers came in the halfcourt, we got loose with the ball. We let guys rip it from us and take it the other way, not being strong with the ball, not being tough with the ball. A lot of that part was Mississippi State, they're quick and long and really pressured us. I didn't think we took a lot of bad shots. We got some blocked at the rim and we didn't get them to go down in the second half.
Calli was terrific. Five assists and four turnovers, 12 points and got eight big defensive rebounds. Probably her best game under me was tonight.
I don't think there's another team in the country, I was told Vanderbilt today, that starts off with three of their first four games in conference play against top 15 teams and that's exactly where we're at. We go back home and play Tennessee on Sunday now." – head coach Jimmy Dykes
POST GAME NOTES
–    Sophomore Kelsey Brooks scored 16 points today, the 14th time in 15 games she's been in double figures. She scored 12 in the first half, the sixth time this season she's been in double figures at the break. 10th time she's scored double digits in a half this season
–    Senior Calli Berna scored 12 points, one shy of her season-high of 13.
–    Arkansas was outrebounded for just the fourth time all season, losing the battle of the boards 41-34.
–    Arkansas shot 60.9 percent from the field in the first half, a season-high percentage for any half this season
–    The Razorbacks shot 18-21 (.857) from the free throw line, the highest percentage its shot this season