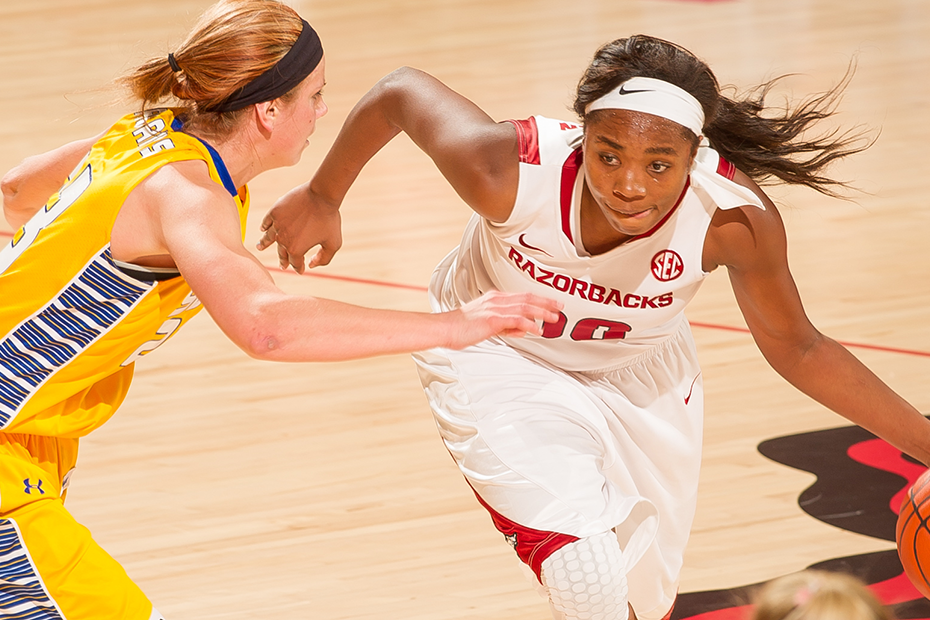 W. Basketball Falls In OT
FAYETTEVILLE, Ark. – The No. 25 University of Arkansas women's basketball team (6-1) suffered its first defeat of the 2014-15 season on Thursday night in Bud Walton Arena, falling 80-75 in overtime to South Dakota State.
The Jackrabbits used a 15-6 run to close out the game, including a three-pointer with 0.4 seconds left to force overtime. Arkansas was outscored 16-11 in the extra frame.
Sophomore Kelsey Brooks, the reigning SEC Player of the Week, continued her solid play to start the season as she netted a career-high 28 points on 6-12 shooting. Senior Jhasmin Bowen flirted with a double-double, tying a career-high with 20 points and grabbing nine rebounds.
Junior Melissa Wolff pulled down a career-high 16 rebounds, including nine offensive and chipped in nine points. Senior Calli Berna scored a season-high 13 points and dished out seven assists. With 543 career assists, Berna moved into second place all-time in school history.
Arkansas' starters (Wolff, Bowen, Brooks, Berna, Jackson) scored 73 of the team's 75 points.
The Razorbacks held a three-possession edge for the majority of the second half and Arkansas led for a total of 37:00 minutes, but it was the final 57 seconds of regulation that did not go their way. Leading 60-51 with 57 seconds left, SDSU cut it to 60-53. After Arkansas went 2-6 from the line over the next 36 seconds, SDSU was able to cut the lead to six after an and-one from Macy Miller. A turnover by Arkansas and a layup by SDSU's Alexis Alexander cut the Razorback lead to four with 17 seconds left. Brooks knocked down two free throws to push the lead to six with 17 seconds left but SDSU came right back with a Kerri Young three. After Arkansas missed two key free throws with five seconds left, SDSU had a chance to tie it. SDSU's Chynna Stevens found herself wide open on the wing and was able to knock it down to force overtime.
In overtime, the game was tied at 68-all with 3:13 left, but Arkansas just did not have enough left and were outscored 12-7 to close the game.
As a team, Arkansas shot 36.9 percent from the field and were just 21-33 (63.6 percent) from the charity stripe.
SDSU was 45.5 percent from the field, led by 20 points from Macy Miller.
To open the game, both teams traded a pair of baskets before Arkansas jumped ahead with an 8-0 run over the next 2:19. The run was aided by back-to-back threes from Kelsey Brooks, who scored eight of Arkansas' 12 points in the early goings.
The Razorbacks opened the first five minutes shooting 57% from the field and holding SDSU to 27%. Arkansas' offense would hit a drought from 15:01 to 11:03 in the first half as SDSU answered back with a 6-0 run of their own to close the gap down to two. Arkansas snapped the drought with a bucket by Brooks, who finished with 10 first half points and all of the points coming in the game's first nine minutes.
Arkansas would not trail again in the first half but was able to maintain a steady two-possession lead throughout the rest of the half and took a 31-27 edge into halftime. Despite the hot shooting to open the game, Arkansas finished the half with a 38.7 percentage from the field while SDSU shot 41.7 percent.
Arkansas faces No. 18 Rutgers on Sunday at 2 p.m. in Bud Walton Arena.
QUOTABLE
"To say we're disappointed is the understatement of the year–to be up nine on your home floor, 27 seconds to go and lose a basketball game. I can't question our fight. I thought we played hard. South Dakota State is just really good. I think their physical strength bothered us as the game went on. They kind of wore us down for the first time all year. Their offense is hard to defend and they kind of wore us down a little bit. I told my team in the locker room afterwards that everybody had a part in that–I had a part in that, missed free throws, a lot of things." – head coach Jimmy Dykes
POST GAME NOTES
– Arkansas used the same starters for the seventh straight game this season (Jackson, Bowen, Berna, Brooks, Wolff)
– After tallying seven assists today, senior Calli Berna moved into second place on the school's all-time career assists list with 543. Berna entered the game with 536 and trailed current Director of Basketball Operations Amber (Nicholas) Shirey who was in second with 538 career assists. Amy Wright (1998-02) holds the school record with 717.
– Sophomore Kelsey Brooks scored a career-high 28 points. She has been in double-figure scoring all seven games this season
– Junior Melissa Wolff pulled down a career high 16 rebounds, including nine offensive which is also a career high
– Senior Jhasmin Bowen tied her career-high with 20 points.
– Senior Calli Berna scored a season-high 13 points to go along with seven assists.
For more information on Arkansas women's basketball, follow @RazorbackWBB on Twitter.