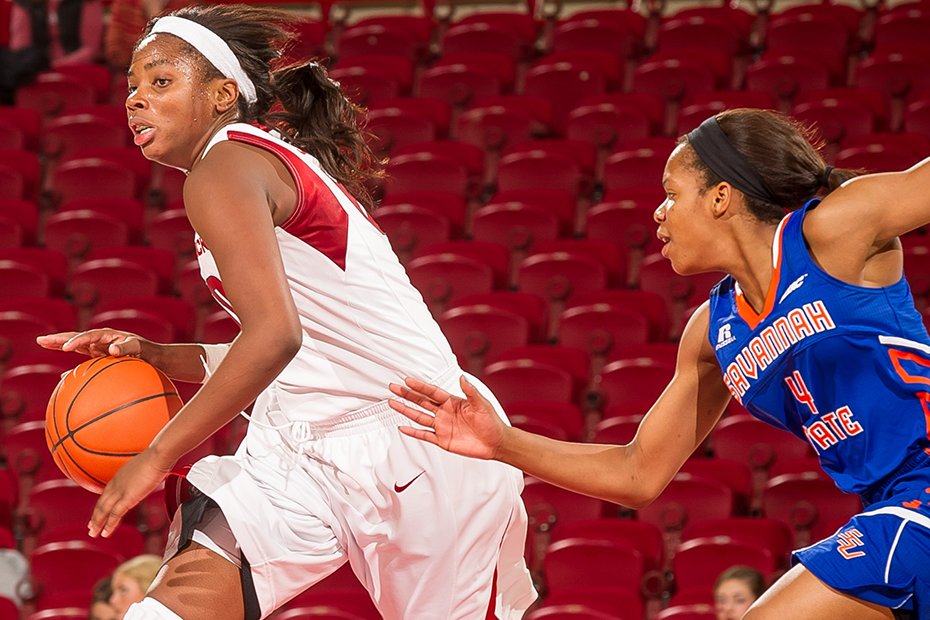 W. Basketball Sinks Savannah State
FAYETTEVILLE, Ark. – Two games played and two wins for the University of Arkansas women's basketball team as the Razorbacks defeated Savannah State, 75-46, Sunday afternoon inside Bud Walton Arena. Jimmy Dykes picked up his second career win as a head coach.
For the second straight game this season, Arkansas had two players record a double-double. Sophomore Jessica Jackson scored a game-high 19 points to go along with 12 rebounds for her sixth career double-double. Junior Melissa Wolff posted her second double-double in as many games this season as she scored 14 points and pulled down 10 boards.
All nine Razorbacks were in the scoring column today, led by Jackson's 19. Arkansas shot 47.3 percent from the field. Sophomore Kelsey Brooks poured in 12 and has scored in double figures in both games this season. Freshman Katie Powell chipped in 10 points off the bench on three of six shooting.
Arkansas had four players in double figure scoring for the second time this season.
The Razorbacks distributed the ball effectively this afternoon, dishing out 20 assists on 26 made field goals. Senior Calli Berna accounted for five of those assists.
On the glass, Arkansas outrebounded the Tigers 44-27 and pulled down 16 offensive rebounds leading to 14 second chance points.
Defensively, the Razorbacks mixed up their man-to-man with a zone defense and held the Tigers to 29.1 percent shooting from the field. Arkansas scored 20 points off 20 Tiger turnovers.
After Savannah State made a free throw 1:41 into the game, Arkansas went on an 11-0 run, holding the Tigers to without a field goal for the first 5:49 of the game. Arkansas ended the first half on an 8-0 run to take a 14-point lead at halftime. Arkansas used a 9-0 run midway through the second half to solidify its lead.
Kenyata Hendrix led the Savannah State offense, scoring 15 points in 36 minutes.
The Razorbacks travel to Murfreesboro, Tenn., Thursday for a matchup with Middle Tennessee State at 6 p.m. CT.
QUOTABLE
"I'm happy to be 2-0. Savannah State is a good team who will finish in the top half of their conference. They scored 106 points in their opener and we knew they could shoot the ball well. We had some lapses on defense and I was able to take a timeout and get that corrected. We made good adjustments as the game went on. Now it gets a whole lot more difficult Thursday and Middle Tennessee State." – Head coach Jimmy Dykes
POST GAME NOTES
– Sophomore Jessica Jackson scored 19 points today, giving her 516 for her career. She is the 58th player in program history to surpass the 500 career points mark.
– Jackson scored 19 points to go along with 12 rebounds, giving her her sixth career double-double and first of the season. Twelve rebounds tied a career-high.
– Junior Melissa Wolff had her second double-double of the season with 14 points and 10 rebounds. Wolff has four career starts (two versus Missouri last year) and has had a double-double in all four games.
– Arkansas held Savannah State to without a field goal for the game's first 5:49, going on an 11-0 run during that time.
– Arkansas came out victorious in the first meeting between the two schools
– Senior Calli Berna dished out five assists today, giving her 509 for her career and passing current assistant coach Christy Smith for fourth all-time in school history. She trails third place-holder C'eira Ricketts who has 516.
– Berna came out at 12:58 in the first half; she played all 40 minutes in the opener and had a streak of 47:02 minutes played to start the year.
– Calli Berna entered the season with 175 career thefts, has five this year and needs 59 more to tie Juliet Jackson (1986-90) who has 195 for 10th in school history….C'eira Ricketts (2009-12) holds the career record with 320 steals.
– Senior Calli Berna entered the season with 346 career rebounds and has 13 this season. She needs just 14 more to move into the top 35 all-time rebounders at Arkansas.
– All nine Razorbacks scored today. Arkansas had four players score in double figures today for the second consecutive game this season.
– Freshman Katie Powell scored a career-high 10 points in her second career game on three of five shooting, including two of four from beyond the arc.
– Arkansas welcomed in the Savannah State Tigers for a Sunday matinee in what was be the first ever meeting between the two programs. The Arkansas women's game was the first leg of a doubleheader as the Razorback men's team hosted Alabama State at 4 p.m.
– The Razorbacks own an all-time home record of 388-121 (.762), including a 229-86 (.726) mark in games played in Bud Walton Arena.
– The Razorbacks have perennially used the month of November to get their season off to a quick start. All-time, the Razorbacks have compiled a 132-30 (.815) record in November games.
– As the 2014-15 campaign continues, Arkansas is in the midst of its 39th season of women's basketball, owning an overall program record of 694-435 (.615).
For more information on Arkansas women's basketball, follow @RazorbackWBB on Twitter.