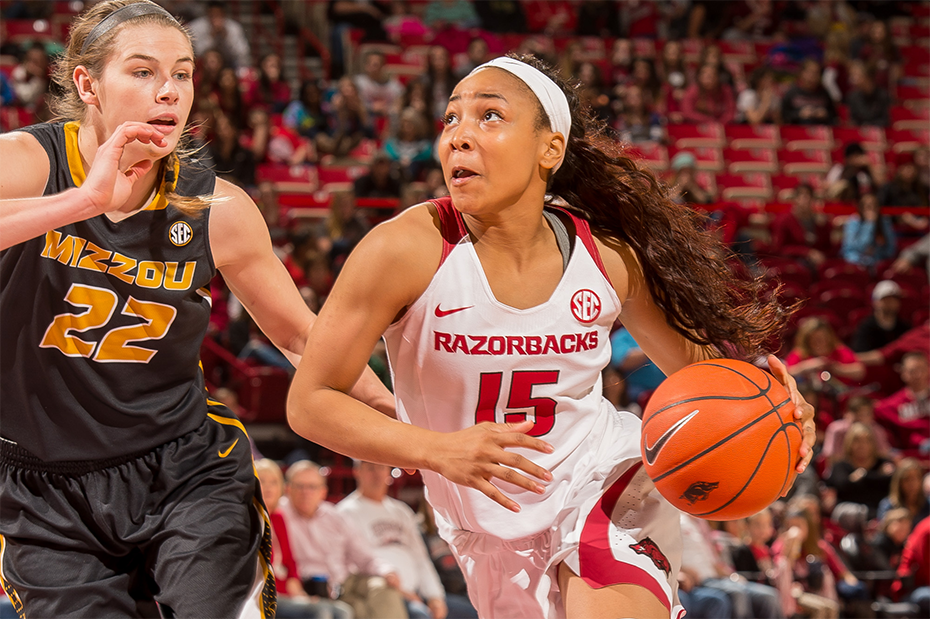 Razorbacks Defeat Second Straight Top 25 Team
BOX SCORE | PHOTO GALLERY
FAYETTEVILLE, Ark. – All five starters scored in double figures as the University of Arkansas women's basketball team knocked off No. 3 Missouri, 64-52, in Bud Walton Arena Sunday.
The win moves Arkansas to 8-10 overall and 3-2 in the SEC while the Tigers fall to 15-3 overall and 2-3 in the league.
Arkansas was paced by junior Jessica Jackson with 15 points and six rebounds while junior Kelsey Brooks added 13 points in 29 minutes. Junior Alecia Cooley had her second double-double as a Razorback with 12 points and 10 rebounds and senior Melissa Wolff added 11 points and 10 rebounds for her seventh double-double of the season.
The Razorbacks out-rebounded Missouri 42-38, holding the Tigers well below their normal plus-10 rebounding margin this season. Arkansas won the turnover battle, 17-16, and made 29-of-39 free throws in the win.
Arkansas opened the game in a 2-3 zone and the Tigers exploited the spacing by the Razorbacks opening a 17-6 lead after the first six minutes of play. The Razorbacks switched up to a player-to-player defense and managed to close the gap to five, trailing 17-12, after the first 10 minutes.
Arkansas continued to chip away behind solid rebounding, keeping Missouri off the glass despite their plus-10 rebounding margin over opponents this season.
Cosper hit a jumper followed by a layup from Cooley as the gap narrowed to one. Freshman Jordan Danberry got into the scoring column with a jumper from deep in the paint giving Arkansas an 18-17 lead – their first lead of the game.
The Razorbacks held on to the lead outscoring Missouri 20-9 in the second period and staying close in the third. Up by as many as 12 in the fourth period, Missouri tried to get back into the game late by fouling the Razorbacks but Arkansas was solid from the bonus line extending the lead to 12 in the win.
GAME NOTES
• Arkansas Starters: Jessica Jackson, Kelsey Brooks, Devin Cosper, Melissa Wolff and Alecia Cooley
o The Razorback starting five all scored in double figures
• Attendance of 4,160 is the second-best attendance of the year behind Elementary Day
• Senior Melissa Wolff had 11 points and seven rebounds at the half
• Arkansas is 7-0 when leading at half
• Arkansas is the fifth youngest team in terms of returning scholarship players under the current head coach
• Junior Jessica Jackson has scored in double figures in 15 of the 17 games she has played in this season
o Jackson has scored 20+ points in seven games this year including 25 pts versus #13/15 Tennessee. It was the 17th 20+ point game of her career
o She has seven 20+ point games
o She has 11 with 15+ points
o She has three double-digit rebounding games
o Three double-doubles
• Sophomore Devin Cosper has scored in double figures in nine games
• Melissa Wolff had a double-double with 11 points and 10 rebounds
o It is her seventh double-double of the year
o Her 10th double-double of her career
• Arkansas opens the SEC season facing five ranked teams in the Associated Press Poll – the only team in the Big Five Conferences to do so
o The Razorbacks have three wins over ranked teams this year (#13 Texas A&M, #13 Tennessee, #24 Missouri)
o The last time Arkansas defeated three ranked teams in a season was 2011-12 (Vanderbilt, South Carolina and Tennessee [not all at home])
o It is the first time since 2001-02 that Arkansas has won back-to-back games over ranked opponents (2001-02 vs. #7 South Carolina, #8 Mississippi State)
• Arkansas has outscored seven opponents in the first half – all wins by the Razorbacks
• Arkansas has outscored or been even with 10 opponents in the second half
• Arkansas has had more three pointers in three games and tied one opponent this year
• Arkansas has been tied with or out-rebounded 12 of 18 opponents
• Arkansas has had fewer turnovers in 12 of 18 games this year
For more information on Arkansas women's basketball, follow @RazorbackWBB on Twitter.