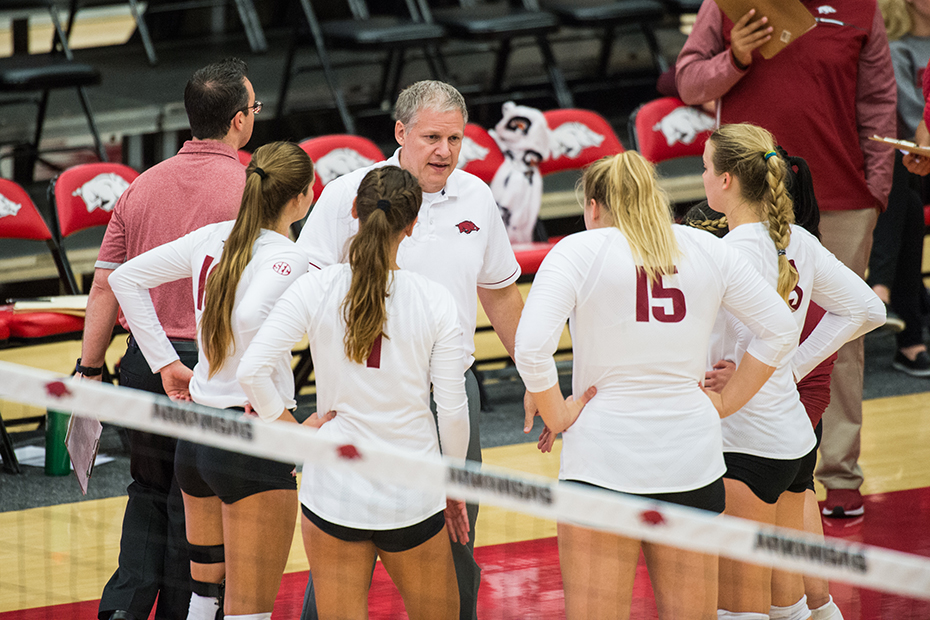 Watson Adds Four to the 2019 Signing Class
FAYETTEVILLE, Ark.- The Arkansas volleyball team added four signees on National Signing Day, head coach Jason Watson announced Thursday. Two of the four signees were mentioned among the 2018 Prep Volleyball Senior Aces list. This is the third recruiting class for Watson.
"I really like the balance and level of play this class brings to our program," Watson said. " Each has experienced tremendous success in their high school and club programs. They are excited and appreciative of the opportunities available to them at Arkansas, so it's been tough patiently waiting for this day to arrive as we are all looking forward to their ultimate arrival on campus."
Maggie Cartwright
6-1 | OH | Kimberly, Wisc. (Kimberly HS)
Jillian Gillen
5-9 | OH | Stilwell, Kan. (The Barstow School)
About Gillen…
A two-time conference champion at The Barstow School, Gillen was named MVP, All-Conference, and All-District all four years in high school. She was also named Conference Player of the Year and selected to the All-Star Team her senior year. She achieved 1,000 kills during her junior year and had a career-best 30 kills in a game her senior year. In addition to her accolades at the prep level, she was named to the 2018 Prep Volleyball Senior Aces List.
Jillian is the daughter of John and Kady Gillen, and has two older brothers, Jay and Jared. Her father played basketball at UMKC, her mother played volleyball at Morehead State, and Jared plays baseball at Swarthmore College. Gillen intends to major in business.
Abbigail McGee
5-6 | DS | Jonesboro, Ark. (Valley View HS)
Natalie Perdue
6-0 | OH | Dallas, Texas (Richardson HS)
About Perdue…
A four-time academic all-district selection, Perdue is a four-year letter winner at Richardson High School. She led the Eagles to three playoff appearances and two bi-district championships. Perdue broke the school record for kills and holds the record for most digs with 1176. She has recorded 1018 kills, 179 aces, and 125 blocks. In club play, she reached nationals with the Summit Volleyball Club and earned a third-place finish her sophomore year.
Natalie is the daughter of Vernon and Sherae Perdue, and has two older siblings, Rodrick and Ashlee. Her father played basketball at SMU and her brother played football at North Texas. Perdue plans to major in biology.
"Humble and hungry are the traits our 2019 class share," Watson continued. Humble in their approach to learning, to striving to be better and to be about something bigger than themselves. Hungry to keep our program realizing its potential and to use the tremendous resources at their disposal to seek greatness."
The Razorbacks have three matches left this season, one of which is at home. The team will return to the court Sunday afternoon to host No. 23 Tennessee in the home final, with senior day recognitions to occur prior to first serve.
For more information about Arkansas Volleyball, follow @RazorbackVB on Twitter.