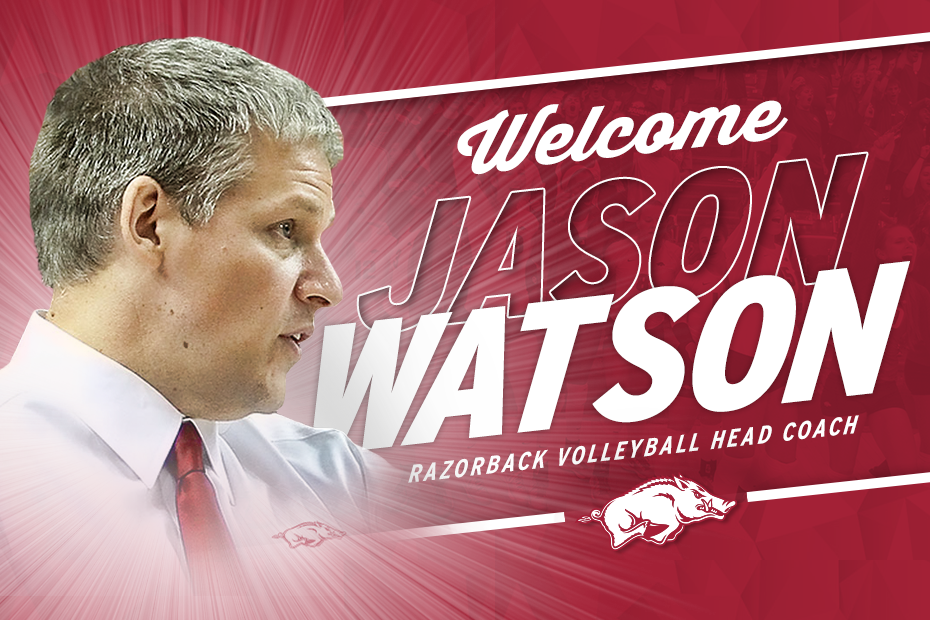 Watson Named New Head Volleyball Coach
FAYETTEVILLE, Ark. – Jason Watson, a successful and nationally respected coach with a history of making the NCAA Tournament, has been named the new head volleyball coach at the University of Arkansas, Vice Chancellor and Director of Athletics Jeff Long announced on Thursday.
Watson has served as a head coach for the past 11 seasons, including the past eight seasons at Arizona State University (ASU). In 2015, he led the Sun Devils to the NCAA Tournament for the fourth consecutive season. In his 11 years combined as a head coach at BYU and ASU, Watson has earned 200 wins and led his teams to seven NCAA Tournament berths.
"Jason Watson is a proven winner and will be a tremendous leader for our volleyball program at the University of Arkansas," Vice Chancellor and Director of Athletics Jeff Long said. "As a head coach at both BYU and Arizona State, Jason has reinvigorated programs turning them into consistent NCAA Tournament teams while creating a team culture that positively impacts the lives of his student-athletes. He is committed to developing a consistent winning program on the court while investing in the development of the young women he is coaching. He will be a tremendous asset not only to our program, but also in developing the sport of volleyball in our state and region. We are excited to welcome Jason, his wife Larissa, and their children back to Arkansas and into the Razorback Family."
In eight years in Tempe, Ariz., Watson transformed ASU Volleyball from a perennial sub-.500 program into a postseason regular. Since 2012, the Sun Devils have averaged more than 19 wins a season and has appeared in the NCAA Tournament in four consecutive seasons.
"I'd like to thank Jeff Long, Julie Cromer-Peoples and the search committee for this opportunity," Watson said. "I've been fortunate to work alongside great people at Arizona State University and I see that continuing at the University of Arkansas. There is tremendous opportunity for volleyball at Arkansas to grow and flourish. I want to be a part of that growth and share my enthusiasm for the sport with the surrounding community. I'm eager to get to work and welcome alumni and fans to Barnhill and our program."
ASU began their 2015 campaign with 15 straight wins, the best start since the inaugural year of the program in 1973. The Sun Devils also opened league competition with the best start in the Pac-10/12 era with four wins, including the team's first win over Stanford in 15 years.
The Sun Devils also set attendance records, defeating Arizona in front of a Watson-era best 5,152 — which included a student-section record of 2,011 fans. Watson also earned his 200th career head coaching victory on Nov. 14 at Utah.
In 2014, ASU opened the season with six straight wins on the way to a 20-14 record. The Sun Devils were ranked in each AVCA regular season poll. Making its third straight trip to the NCAA Tournament, ASU defeated Texas A&M 3-1 to advance to the second round of the Tournament for the first time since 2006.
Watson led ASU to a 19-13 overall record in 2013 including a 3-0 upset of then-NCAA defending champion Texas. The Sun Devils started the season without dropping a set in their first seven matches. Making its second consecutive NCAA Tournament appearance, ASU dropped a five-set match to BYU in the first round.
In 2012, the Sun Devil squad opened with an 11-2 record, the best start since 1992. The Sun Devils finished with 20 wins — the most in a single season at ASU since 1993. The nine conference wins equaled the most since 2000. ASU made the program's 16th appearance in the NCAA Tournament and Watson became just the fifth coach from ASU to guide the Sun Devils to a NCAA postseason berth.
Watson arrived as the head coach at ASU in 2008. In 2013, he was also named head coach of the sand volleyball team when the sport was added to the athletics program.
In June 2015, Watson was selected by USA Volleyball to serve as the head coach of the U.S. Collegiate National Team on a six-match tour of China.
In his three seasons at the helm of the Cougar program, Watson compiled a 74-18 (.804) overall record while leading BYU to three straight NCAA Tournament appearances. During his first season as Head Coach, Watson was named Mountain West Conference Coach of the Year after leading his team to a 25-4 record, the program's best mark since 1998. In addition to leading BYU to the MWC regular-season title, Watson also helped lead the Cougars back to the NCAA Tournament.
In 2007, he led the Cougars to a 24-8 overall record and an Elite 8 finish in the NCAA Regional Final. His team also finished the year ranked 12th nationally, and at one point through the season, the Cougars held a rank as high as ninth in the country. No stranger to the best competition, Watson's teams have been ranked as high as eighth on RPI, showing the character and strength of the teams he builds. Never backing down from challenges are also another hallmark trait of Watson-led teams.
Prior to his head-coaching debut, Watson had amassed 11 years as an assistant coach at four universities. After an All-American playing career at BYU, Watson coached for two years under his former coach, Carl McGown, before beginning his career in women's volleyball with extremely successful stints at Kansas State, Arkansas State, and Montana State.
Watson had an All-American playing career at BYU from 1990-1994, where he was a four-year starter and two-time captain. He graduated from BYU in 1995 with a degree in physical education and sports business management after leaving his native home of Homebush, Australia. He and his wife, Larissa, have three children: Two sons and a daughter.
Watson's career records:
| Category | Record |
| --- | --- |
| Career Record | 200-147 (11 seasons) |
| Record at ASU | 126-129 (8 seasons) |
| Record at BYU | 74-18 (3 seasons) |
| NCAA Tournament Appearances | 7 |
| Record at NCAA Tournament | 5-7 |
Watson's year-by-year records:
| Season | School | Overall Record | Pct | Conference Record | Finish | Postseason |
| --- | --- | --- | --- | --- | --- | --- |
| 2005 | BYU | 25-4 | .862 | 14-2 | 1 | NCAA 1st Round |
| 2006 | BYU | 25-6 | .806 | 13-3 | 2 | NCAA 1st Round |
| 2007 | BYU | 24-8 | .750 | 12-4 | 3 | NCAA Regional |
| 2008 | Arizona State | 13-18 | .419 | 4-14 | 8 | |
| 2009 | Arizona State | 13-17 | .433 | 3-15 | 9 | |
| 2010 | Arizona State | 13-18 | .419 | 7-11 | 8 | |
| 2011 | Arizona State | 9-22 | .290 | 5-17 | 10 | |
| 2012 | Arizona State | 20-14 | .588 | 9-11 | 6 | NCAA 1st Round |
| 2013 | Arizona State | 19-14 | .576 | 8-12 | 8 | NCAA 1st Round |
| 2014 | Arizona State | 20-14 | .588 | 9-11 | 7 | NCAA 2nd Round |
| 2015 | Arizona State | 19-13 | .594 | 8-12 | 8 | NCAA 1st Round |