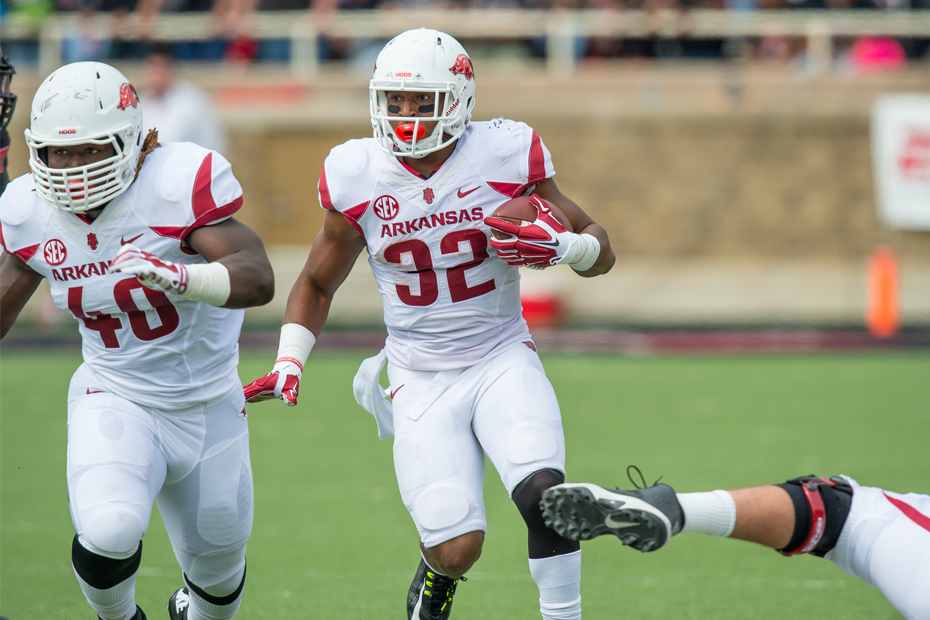 Williams and Collins Named Best RB Duo In Nation
NFL.com has released its rankings of the top 10 running back duos in the nation and the Razorbacks' Jonathan Williams and Alex Collins check in at No. 1.
From NFL.com:
"The Hogs love to run the ball, so it should be no surprise that they have a pair of studs in the backfield. Both players rushed for more than 1,000 yards last season and could be better than ever in 2015. Collins, a junior, is looking to eclipse the 1,000-yard mark for the third consecutive season."
The dynamic duo were the only FBS teammates to rush for 1,000-plus yards last season. Williams enters his senior season as the 10th leading rusher in school history with 2,321 career rushing yards. He ran for a career-high 1,190 yards in 2014, the eighth-best single-season mark in school history.
Collins became just the second Razorback to ever break 1,000 yards in each of his first two seasons after rushing for 1,100 yards in 2014. He also matched Williams with 12 rushing touchdowns, becoming the first Arkansas duo to rush for 10-plus touchdowns in the same season since Darren McFadden (16) and Felix Jones (11) in 2007.
Running Back U kicks off the season against UTEP on Sept. 5. Season ticket packages start at $300 in Fayetteville. Fans can also catch the Razorbacks take on Toledo on Sept. 12 in Little Rock for $55, which $10 less than last year's game at War Memorial Stadium.