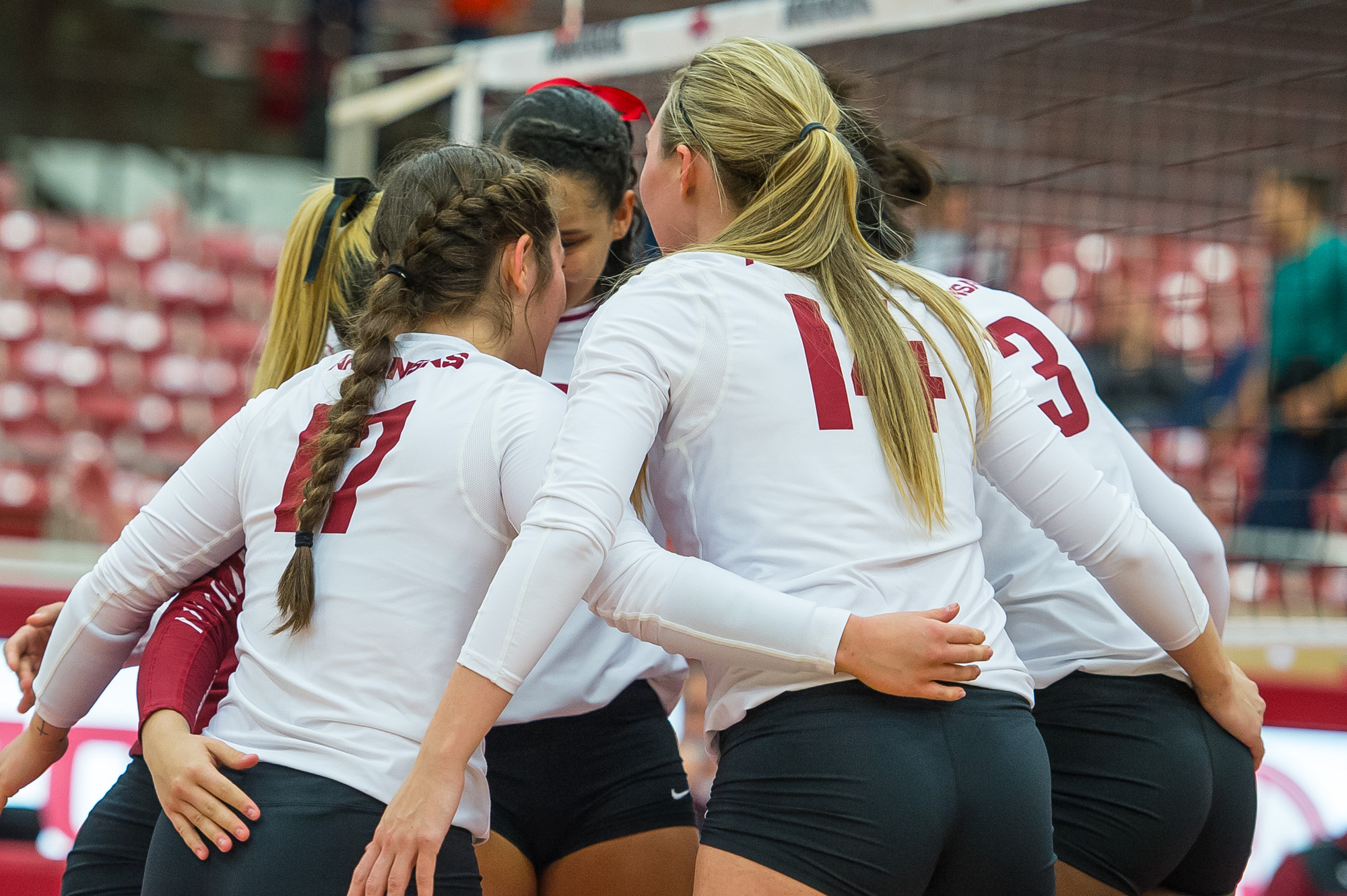 Wins Over Top-10 RPI Teams Not Enough for NCAA At-Large Bid
FAYETTEVILLE, Ark. – Despite four wins over top-50 RPI teams in and out of conference play including three against top-10 teams, the University of Arkansas volleyball team closed out its 2015 campaign Sunday evening without selection to the Division I Women's Volleyball Tournament. The Razorbacks finish their season with a 17-13 overall record.
Arkansas played one third of its matches against teams that were selected to the NCAA Tournament field and responded as one of only four teams in the country with three or more wins over teams ranked in the top 10 of the final RPI of the regular season. The Razorbacks beat four teams in the tournament with wins over No. 6 national seed Wisconsin, SEC champion and No. 10 Texas A&M, No. 11 Florida and Kansas State. Arkansas played two other national seeds during its season in No. 9 Kansas and No. 16 Creighton.
The Razorbacks played the final 12 matches of the season without senior captain Liz Fortado who suffered a season-ending knee injury Oct. 23 at No. 15 Florida. The Razorback opposite started 17 matches, was hitting .264 at the time of her injury and had just become a member of the program's 500-kills club. Arkansas lost another senior contributor when defensive specialist Monica Bollinger went down Nov. 6 at Ole Miss. She missed the final seven matches of the season having just moved into 12th place on the program's all-time digs list.
Arkansas was also without the service of two members of its 2015 recruiting class in Juliette Fidon and Fernanda Güitron. Fidon, a veteran of the French Junior National Team, was a partial NCAA qualifier coming from Paris while Güitron, who has past experience with the Mexican National Team, wasn't cleared to play during the season after sustaining a knee injury prior to arriving in Fayetteville.
Individually, the Razorbacks were paced by a pair of SEC leaders and top-10 national performers in juniors Breana Jones and Pilar Victoria. Through the regular season, Jones led the SEC and ranked fifth nationally with her .436 hitting percentage while Victoria was the conference leader with 4.61 kills per set and 5.10 points per set. She ranks 10th and 15th in the NCAA in those categories, respectively.
For more information about Arkansas volleyball, follow @RazorbackVB on Facebook, Instagram, Snapchat and Twitter.