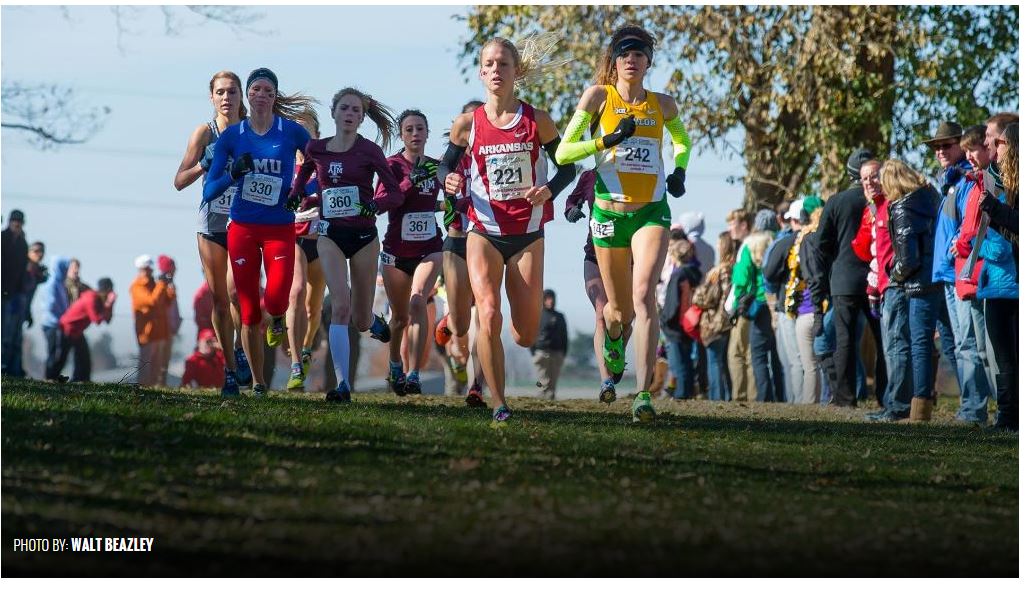 Women's @RazorbackTF Places Fifth at the NCAA Championships
TERRE HAUTE, Ind. – Redshirt junior Dominique Scott concluded her remarkable 2014 season on Saturday morning by picking up her second career NCAA All-American nod. Scott's performance led the way for a fifth-place finish for the Arkansas women's cross country team at the NCAA Cross Country Championships.
Scott, the two-time Southeastern Conference Runner of the Year, posted a sixth-place finish at the 2014 NCAA Cross Country Championship to collect her second-straight NCAA All-American honor. The Cape Town, South Africa native posted a 6-kilometer time of 20:01.30 to become just the ninth Arkansas harrier to earn multiple NCAA All-American admirations, and the first in 14 years, as Lilli Kleinmann was the last Razorback to garner multiple All-American honors, earning the award during the 1999 and 2000 seasons.
The redshirt junior's effort led a group of strong performances for head coach Lance Harter's team, as they picked up a fifth-place team finish. The placing marks the team's highest finish at the NCAA Cross Country Championship in eight years. The last Top 5 finish for the Razorbacks came back in 2006, when they also placed fifth. It is also the eighth Top 5 placing for Arkansas in program history.
The Razorbacks had each of their five scoring runners place inside the Top 100 to collect a score of 209 points.
Redshirt junior Diane Robison was the second Arkansas runner to cross the finish line, coming in 55th with a 6-kilomter time of 20:55.40. Senior Jessica Kamilos placed 58th (20:56.30), redshirt senior Grace Heymfield placed 72nd (21:02.50) and senior Shannon Klenke earned a 94th-place finish with a time of 21:10.90 to round out the team's scoring rotation.
Freshman Kelsey Schrader and sophomore Regan Ward finished 154th and 181st respectively.
Michigan State, out of the Big Ten, earned the program's first NCAA Cross Country Championship, as they dominated the field by placing four of its runners inside the Top 25. The Spartans posted a score of 85 on the day, 62 points over second-place Iowa State.
Kate Avery of Iona won the NCAA Cross Country Individual title with her time of 19:31.60. It is the first career championship for Avery, as she kept a strong pace throughout the final 4-kilometers to keep an unsurmountable lead.
Lance Harter Post-Race Sound
On His Team's Performance: "Four of our five top runners had brilliant days, obviously led by Dominique Scott, who's race plan was to go out there and test the front runners. She battled the whole time and placed sixth for her efforts. Diane, Shannon and Jessica had great days. They were able to do what we asked and they gave us strong performances, but the game is played with five runners and sadly Grace Heymsfield had an off-day by her standards. She was able to still finish higher than she did last year, and a lot of people would love to place where she did. But for her to finish 72nd overall and it be considered an off-race is a true testament to her talents."
On Placing Fifth: "We are happy with our placing. We so close to being at least two spots higher, but that's how this race is ran. We felt we could be a podium-potential team coming in and we ultimately didn't get there. We still had a really, really good day and it's our eighth Top 5 finish as a program so there's a lot to be pleased with from today."
On Dominique Scott's Performance: "She continues to improve every single season. She was more competitive this year and when people talk about who the favorites are going from here out into track season, she will be in the conversation. Today she went out there and put herself in the leader's pack throughout the race and wounded up sixth, which was a huge improvement over her placing from a year ago. This cross season has really set her up nicely for a strong track year."
Top Five Team Finish
| | |
| --- | --- |
| Team | Score |
| Michigan State | 85 (4-9-13-16-21-43) |
| Iowa State | 147 (7-8-37-47-48) |
| New Mexico | 188 (15-17-31-54-71) |
| Georgetown | 189 (12-28-29-39-81) |
| Arkansas | 209 (6-38-40-53-72) |
Arkansas Runner's Finish
| | | | |
| --- | --- | --- | --- |
| Runner | Place | Points | Time |
| Dominique Scott | 6th | 6 | 20:01.30 |
| Diane Robinson | 55th | 38 | 20:55.40 |
| Jessica Kalimos | 58th | 40 | 20:56.30 |
| Grace Heymsfield | 72nd | 53 | 21:02.50 |
| Shannon Klenke | 94th | 72 | 21:10.90 |
| Kelsey Schrader | 154th | 120 | 21:35.70 |
| Regan Ward | 181st | 143 | 21:46.70 |
For more information on the Arkansas women's cross country team, follow @RazorbackTF on Twitter.