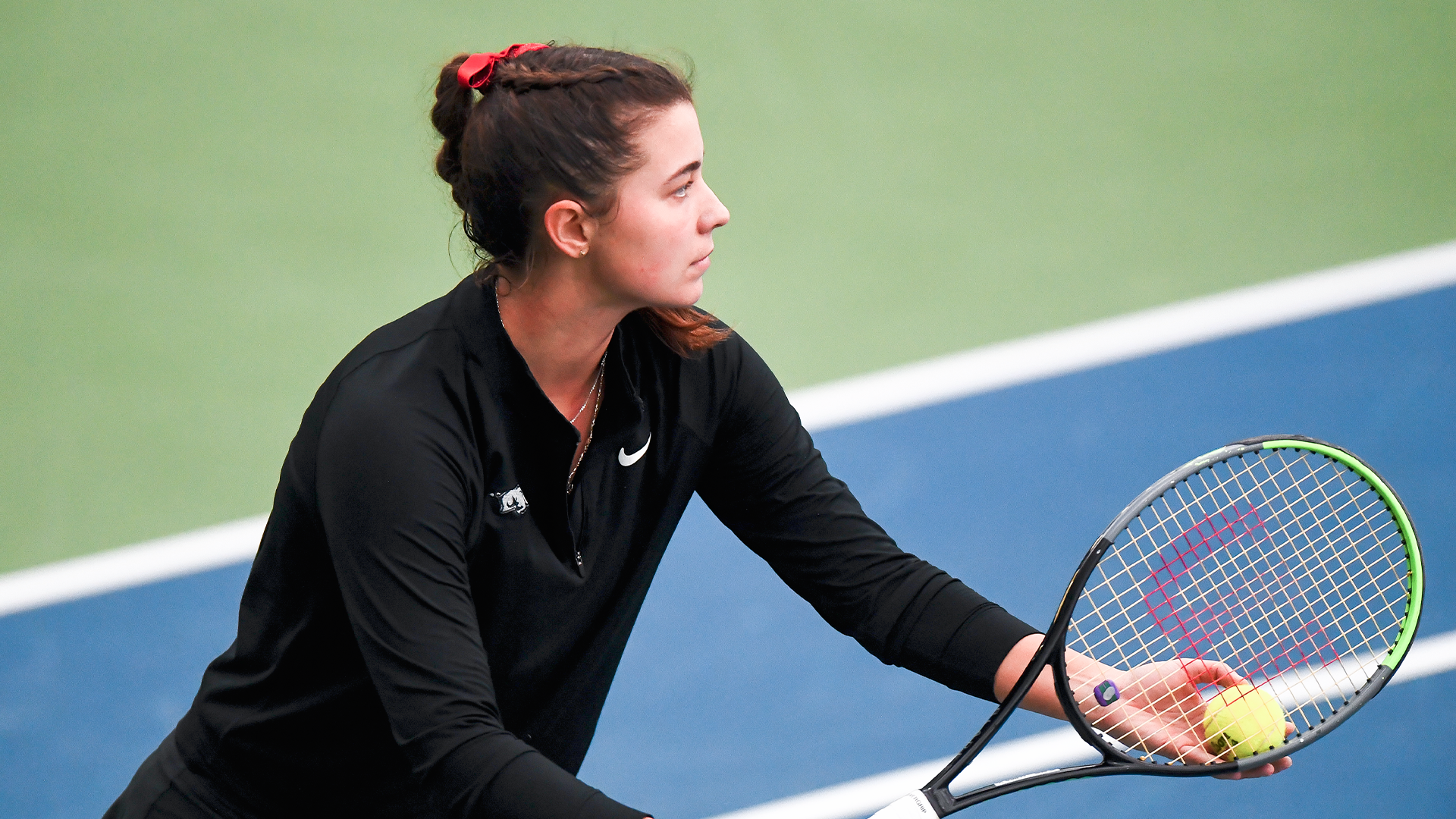 Women's Tennis Continue SEC Play at No. 2 Texas A&M, No. 39 LSU
FAYETTEVILLE, Ark. – The No. 65 Arkansas women's tennis team (6-5, 0-2) continues its eight-match road stretch, traveling to take on No. 2 Texas A&M (13-1, 2-0) on Friday and No. 39 LSU (6-3, 0-2) on Sunday. The Razorbacks started league play 0-2, falling to No. 3 Georgia and No. 16 Tennessee on the road.
Arkansas took the doubles point in both matches last weekend, having only dropped the point twice this season. The duo of Indianna Spink and Morgan Cross made a jump in the latest ITA Rankings to No. 23, having won eight-straight matches to move to 9-1 overall. The pair has two ranked wins with the latest coming over Georgia's No. 26 Grant/Nirundorn. Freshman Carolina Gomez-Alonso also saw a move in the latest rankings, coming in at No. 68 with a 4-2 record this dual season.
No. 2 Texas A&M has only dropped one match this spring, falling to No. 1 North Carolina in the ITA National Indoor semifinals. The Aggies have started out conference play 2-0 with wins over No. 24 Florida at home and at No. 32 South Carolina. Sophomore Mary Stoiana was named SEC Women's Tennis Player of the Week with a ranked singles win and a pair of doubles wins to move her to No. 5 in the latest singles rankings and at No. 10 with partner Carson Branstine in doubles. Stoiana leads the team with eight singles wins, holding a perfect 5-0 record at the top spot.
No. 39 LSU started conference play 0-2, falling at South Carolina and No. 24 Florida and will face Missouri at home before their match with the Razorbacks. In the loss to the Gators, the Tigers' lone point came on court two where No. 44 Anastasiya Komar earned a ranked win over No. 83 Dahlstrom in straight sets. Komar holds a perfect record in singles play, winning all eight of her matches this spring. In doubles, Komar teams up with Vishwase for a 6-1 record on court one to earn their spot at No. 22 in the latest rankings.
Head Coach Cristina Sanchez-Quintanar has taken an indefinite leave of absence due to personal health reasons. Assistant coach Tucker Clary will serve as the acting head coach during Sanchez-Quintanar's absence.
Live coverage of Friday's match against Texas A&M will be provided by Cracked Racquets as part of the SEC CrossCourt whip-around broadcast streamed on SEC Network+. Live stats and video stream will also be available on the women's tennis schedule page for both matches.
For the latest information on all things Arkansas Women's Tennis, follow the Hogs on social media by liking us on Facebook (Arkansas Razorback Women's Tennis) and following us on Twitter and Instagram (@RazorbackWTEN).