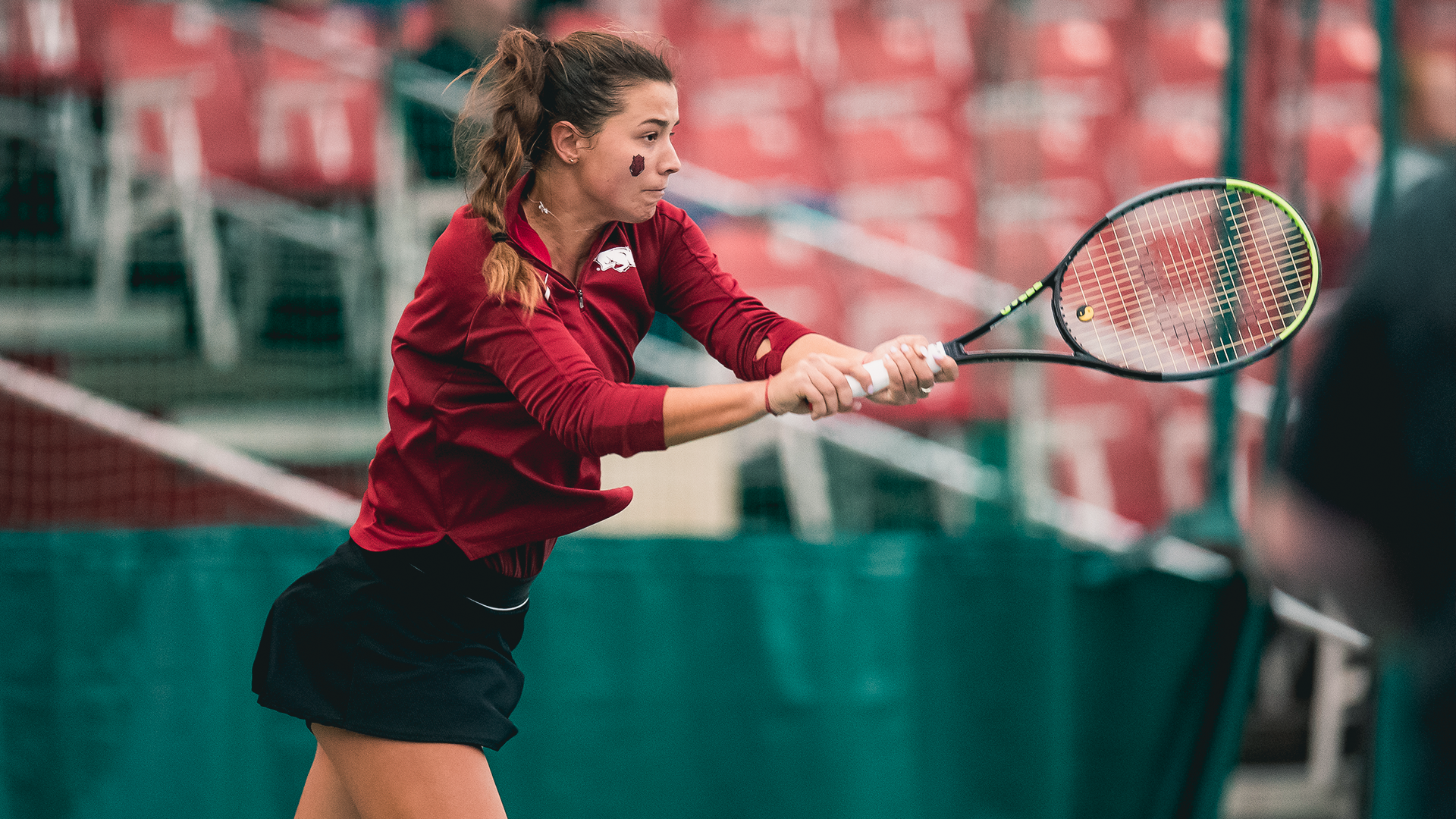 Women's Tennis Continue SEC Play at No. 39 Vanderbilt, No. 43 Kentucky
FAYETTEVILLE, Ark. – The No. 65 Razorback women's tennis team (8-3, 1-0) continues play against Southeastern Conference opponents this weekend, traveling to No. 39 Vanderbilt (8-3, 0-2) on Friday and No. 43 Kentucky (11-3, 0-2) on Sunday.
In the SEC opener, the Razorbacks improved to 8-3 this season and 1-0 in conference play, defeating Missouri, 5-2 on Saturday. The Razorbacks got off to a hot start, not losing a single game in doubles play. The doubles tandem of Morgan Cross and Tatum Rice moved up to No. 28 in the latest ITA doubles rankings, the duo was up 5-0 against the Tigers on court one before the doubles point was clinched. In the No. 2 spot for doubles, sophomore Kelly Keller and Indianna Spink secured the doubles point with a decisive 6-0 win to earn their fifth straight victory.
In singles play, sophomore Morgan Cross got things started, winning her fourth straight match at the No. 5 position in a 6-2, 6-2 win. Sophomore Lenka Stara also continues her winning streak, defeating her Tigers opponent in straight sets to win her 11th straight match.
Arkansas earned their first win over the Commodores since 2009 when they upset the No. 9 ranked Vanderbilt last season in a 4-3 showdown at home. Senior Laura Rijkers clinched the win for Arkansas in a three-set comeback victory on court six.
The Commodores have two ranked singles players in No. 46 junior Anna Ross and No. 64 sophomore Anessa Lee. In the No. 1 position for Vanderbilt, Ross posts a 6-2 record and is 2-0 against ranked opponents, falling in a tough 3-6, 0-6 match in the loss to Alabama. Ross teams up with Yufei Long in doubles, coming in at No. 78 in the latest ITA doubles rankings. The duo has only played together three times this season with a 2-1 record on court one. Sophomore Anessa Lee is a dominant fixture on court two, with a 6-2 record and going 2-0 against nationally ranked players.
Arkansas is 9-24 overall in the series against Kentucky, looking to end an eight-match losing streak to the Wildcats on Sunday. The Wildcats are led by No. 104 Carlota Molina, who plays in the top three spots for Kentucky. Molina is 1-1 against nationally-ranked opponents, falling in her last match in a three-set tiebreaker to Auburn's No. 52 Arseneault.
Friday's match against the Commodores is set to begin at 1 p.m. and Sunday's match against the Wildcats is set to start at noon. Live stats and video will be available for fans at the links on our schedule page.
For the latest information on all things Arkansas Women's Tennis, follow the Hogs on social media by liking us on Facebook (Arkansas Razorback Women's Tennis) and following us on Twitter and Instagram (@RazorbackWTEN).