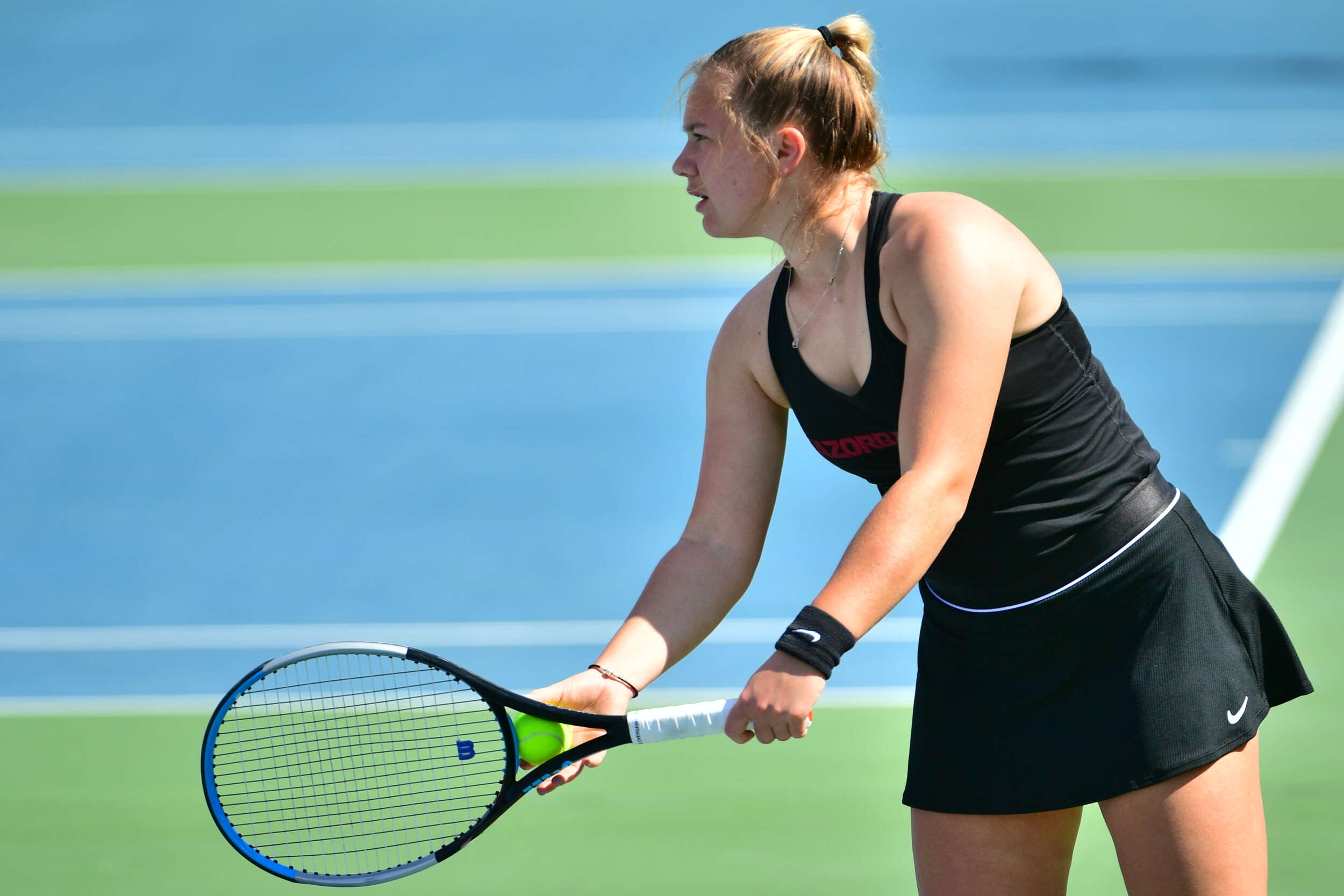 Women's Tennis Drops First Match of the Spring
FAYETTEVILLE, Ark. – The No. 23 University of Arkansas women's tennis team dropped its first match of the 2021 season on Sunday, as the Hogs fell to Kentucky, 4-1 at the Billingsley Tennis Center.
The Razorbacks fell on courts one and two in doubles play, allowing the Wildcats to clinch the doubles point and take a 1-0 lead into singles competition. Seniors Lauren Alter and Tatum Rice lost to Akvile Parazinskaite and Fiona Arrese 6-4, while Arkansas' No. 2 duo Morgan Cross and Indianna Spink dropped their match to Carla Girbau and Elizabeth Stevens 6-2.
When the doubles point was clinched, junior Laura Rijkers and sophomore Kelly Keller were leading 5-4 on court three against Kentucky's Lesedi Jacobs and Anastasia Tkachenko.
Kentucky quickly grew its lead to 3-0 with singles wins on courts five and one. Wildcat Elizabeth Stevens defeated Alter 6-4, 6-0 and freshman Indianna Spink battled in the No.1 spot but fell to Parazinskaite 6-3, 6-3.
Freshman Morgan Cross made quick work of her opponent, taking down Girbau on court four in straight sets, 6-1, 6-3. Fellow Razorbacks Keller and Rijkers both had set-three leads in their unfinished matches on courts two and six when Kentucky clinched the win on court three.
Rice fought back from consecutive match points to make it 40-all in the final game, but ultimately fell to Jacobs 6-3, 6-3.
Arkansas is back in action next weekend with its first full Southeastern Conference road trip of the season. The Razorbacks travel to South Carolina on Friday, March 12 and then play at Florida on Sunday, March 14.
Fans are encouraged to visit ArkansasRazorbacks.com for the latest information on all things Arkansas Women's Tennis. You can also find the Hogs on social media by liking us on Facebook (Arkansas Razorback Women's Tennis) and following us on Twitter and Instagram (@RazorbackWTEN).