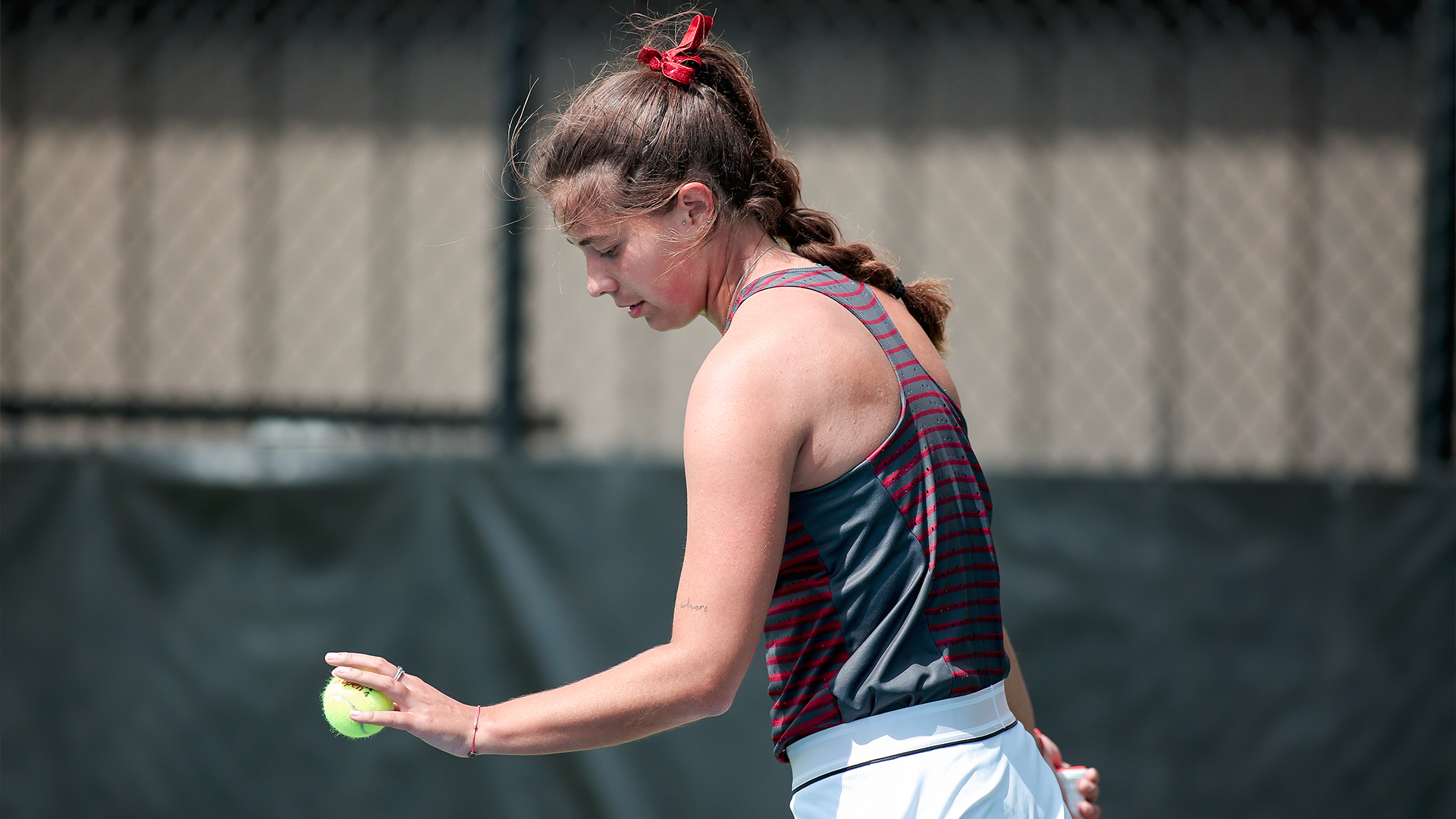 Women's Tennis Earns Three Wins on First Day at SMU Fall Invite
DALLAS – The University of Arkansas women's tennis team opened up the SMU Fall Invitational facing Wichita State in doubles play and the University of Texas at Arlington in singles play on the first day of competition. Junior Lenka Stara went 2-0 on the day, grabbing a win in doubles and singles while freshman Yuhan Liu earns a singles victory.
In doubles play, junior Lenka Stara and sophomore Grace O'Donnell teamed up for a 7-6 win over Wichita State's Kurahashi and Kung. The freshman Razorback pair of Yuhan Liu and Morgan McCarthy competed for the first time together, falling 2-6 to the Shockers duo of Kudryavtesva and Anzo.
Lenka Stara got her second win of the day in singles play, defeating her Maverick opponent Vergara in straight-sets 6-1, 6-4. Freshman Yuhan Liu recorded the only other singles win for the Razorbacks, continuing with an impressive fall season for the Hogs. Liu took the first-set tiebreaker 7-5 followed by a dominant 6-1 second set to seal the win over UTA's Jimenet.
The Razorbacks continue the invitational tomorrow at 9 a.m. CT as they face UTA in doubles play, followed by singles play against SMU. No live stats or video will be available throughout the competition, results will be posted following the conclusion of each day.
Day One Results
 Doubles
1. Stara/O'Donnell (UA) def. Kurahashi/Kung (Wichita), 7-6
2. Kudryavsteva/Anzo (Wichita) def. Liu/McCarthy (UA), 6-2
Singles
1. Stara (UA) def. Vergara (UTA), 6-1, 6-4
2. Gorinsek (UTA) def. O'Donnell (UA), 6-1, 6-2
3. Liu (UA) def. Jimenet (UTA), 7-5, 6-1
4. Reinerfsen (UTA) def. McCarthy (UA), 7-5, 6-2
5. Chileuo (UTA) def. Robbins (UA), 6-0, 6-3
For the latest information on all things Arkansas Women's Tennis, follow the Hogs on social media by liking us on Facebook (Arkansas Razorback Women's Tennis) and following us on Twitter and Instagram (@RazorbackWTEN).