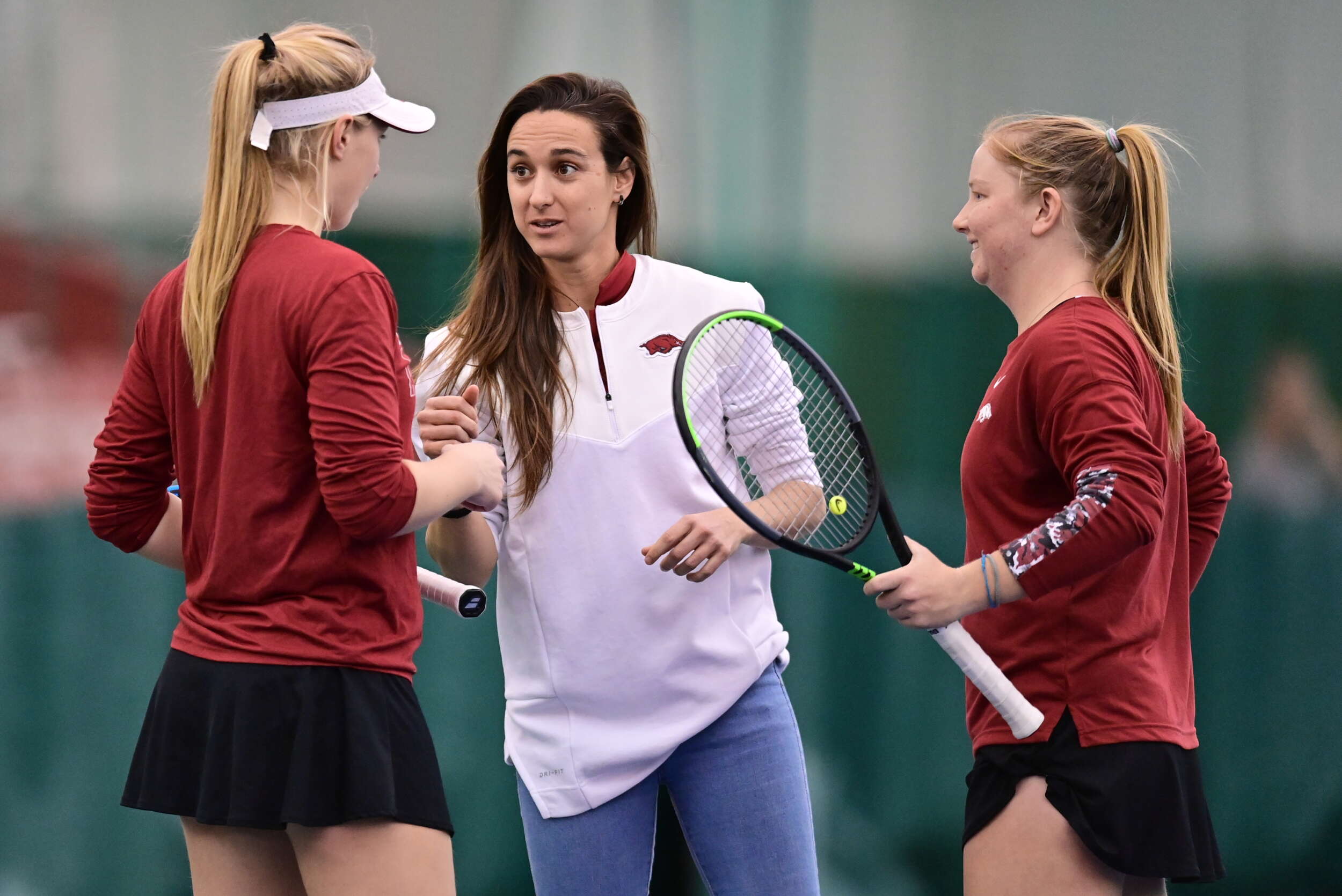 Women's Tennis Open Home Season with Two Wins
FAYETTEVILLE, Ark. – The University of Arkansas women's tennis team (6-3) returned home to Billingsley Tennis Center on Saturday, flying past Wichita State (6-5) by a score of 4-0 followed by 4-1 win over Arkansas State (2-4).
"I'm so pleased with the effort the girls put in today. We have been working really hard the last two weeks to get ready for these next challenges," said head coach Sanchez-Quintanar. "We had two very fine teams coming to us today and they gave us all they had. The girls understood the challenge and came out ready to take care of business. I can't ask more than that from them.  I'm very proud of the team today and excited for the week ahead of us and our trip to Dallas."
The Razorbacks started the morning out with an early 1-0 lead over Wichita State after picking up the doubles point on courts one and two. On court two, sophomores Indianna Spink and Kelly Keller cruised past their Shockers opponents, 6-1, to put Arkansas within one. With a change in the doubles lineup for the day, Lenka Stara and Laura Rijkers were placed on court one where they secured the first point with a 6-3 win. The duo is now 4-0 in the No. 1 position.
Arkansas continued to roll into singles play, claiming the first set on all six courts. Laura Rijkers struck first for the Hogs, with a 6-1, 6-4 win on court five over Wichita State's Dohee Lee. On court three, Lenka Stara quickly followed with a 6-2, 6-4 victory. Stara is currently undefeated in singles play and has won her last nine matches. Sophomore Kelly Keller clinched the match for the Razorbacks, 6-3, 6-2, earning her first win at the No. 1 position.
Starting out the afternoon match against Arkansas State, the Razorbacks went out again and won on courts one and two to clinch the doubles point. Kelly Keller and Indianna Spink easily took down Red Wolves' Humbert/Vdovychenko by a score of 6-0 at the No. 2 spot. Laura Rijkers and Lenka Stara closed out doubles with a 6-1 win to put the Razorbacks at a 1-0 advantage heading into singles play.
Lenka Stara continues her undefeated singles play, earning the first singles point for Arkansas on court three where she defeated her Red Wolves opponent 6-1, 6-0. Stara is undefeated at both the No. 3 and No. 4 spot and has won her last nine matches.
At No. 5, freshman Grace O'Donnell earned her first singles win as a Razorback, defeating Arkansas State's Yasmine Humbert 6-1, 6-0. Laura Rijkers closed out the match win with a 6-1, 6-2 victory at court four.
The Razorbacks are back on the road next weekend when they travel to Dallas, Texas to take on the SMU Mustangs on Sunday, Feb. 27 at noon.
For the latest information on all things Arkansas Women's Tennis, follow the Hogs on social media by liking us on Facebook (Arkansas Razorback Women's Tennis) and following us on Twitter and Instagram (@RazorbackWTEN).