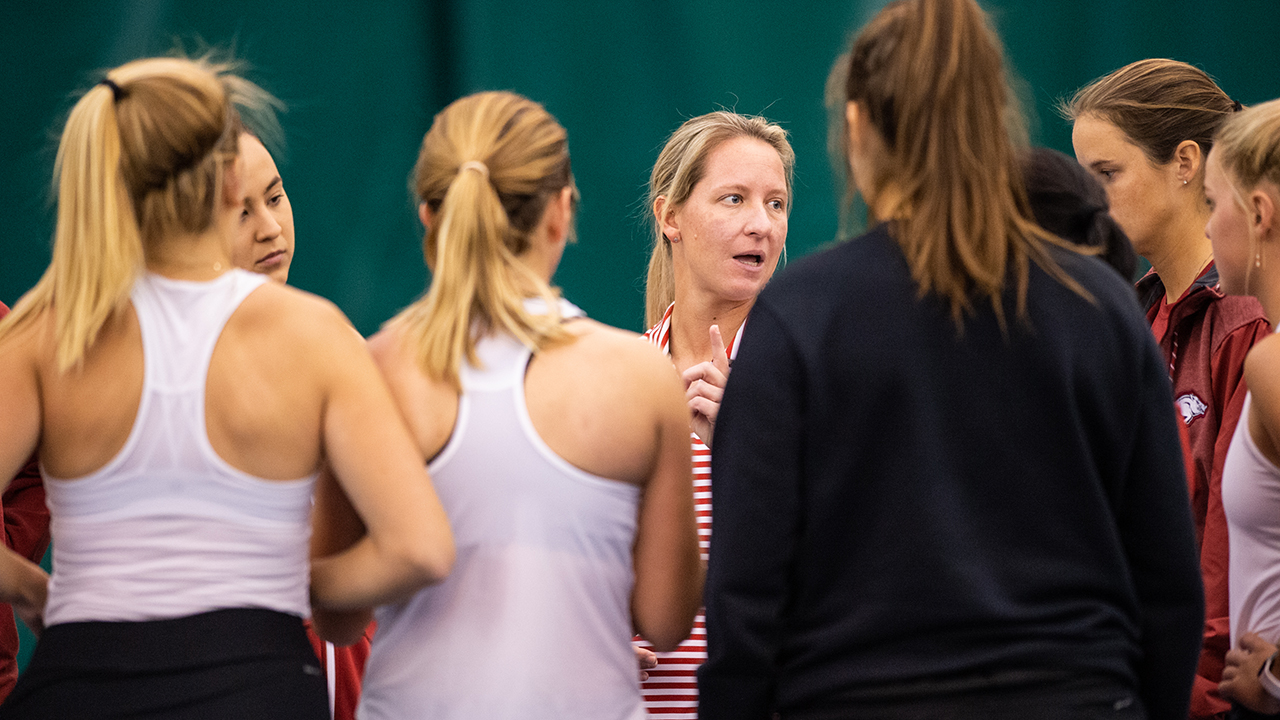 Women's Tennis Preps for Final Regular Season Road Trip
FAYETTEVILLE, Ark. – The No. 28 Razorback women's tennis team is on the road for the final time in the regular season with a trip to No. 11 LSU and No. 20 Texas A&M.
The Razorbacks start their road trip in Baton Rouge, facing the LSU Tigers (12-4, 7-4) on Thursday at 5 p.m. LSU hosts Arkansas after back-to-back road wins at Alabama and then-No. 17 Auburn. The Tigers swept Alabama on Thursday before defeating Auburn on Saturday, 4-3.
LSU is led in doubles play by No. 72 Eden Richardson and Nine Geissler and No. 73 Paris Corley and Taylor Bridges. Corley and Bridges have won four of their last five appearances together and hold a 6-3 mark against conference opponents.
In singles play, Corley is ranked 40th in Division I, primarily playing at the number three spot this season. She last defeated Auburn's Carolyn Ansari 7-5, 4-6, 6-0. In her last 10 appearances, she is 3-3, with four matches left unfinished.
On Saturday, Arkansas is slated to visit College Station, home of No. 20 Texas A&M. The Aggies are 13-5 overall this spring with a 5-3 mark in conference play. Texas A&M had three ranked wins in a row, defeating top-20 opponents Vanderbilt, LSU and Auburn before falling to Alabama, 4-3 on the road.
Texas A&M is led by ranked-duo No. 43 Jayci Goldsmith and Tatiana Makarova. The pair have played in five consecutive matches together, winning their last four, including back-to-back wins over Vanderbilt's No. 54 Holly Staff and Anna Ross and LSU's Richardson and Geissler.
Makarova has seen success in singles play this year as well, climbing to No. 22 in the ITA/Oracle rankings. Dating back to October, she is 21-5 with a clean 9-0 record against SEC foes. Headed into the weekend, Makarova has 11-straight wins and seven consecutive straight-set wins under her belt.
Arkansas will return to Fayetteville after the road trip to prepare for the SEC Tournament that begins on April 19 in Tuscaloosa, Ala.