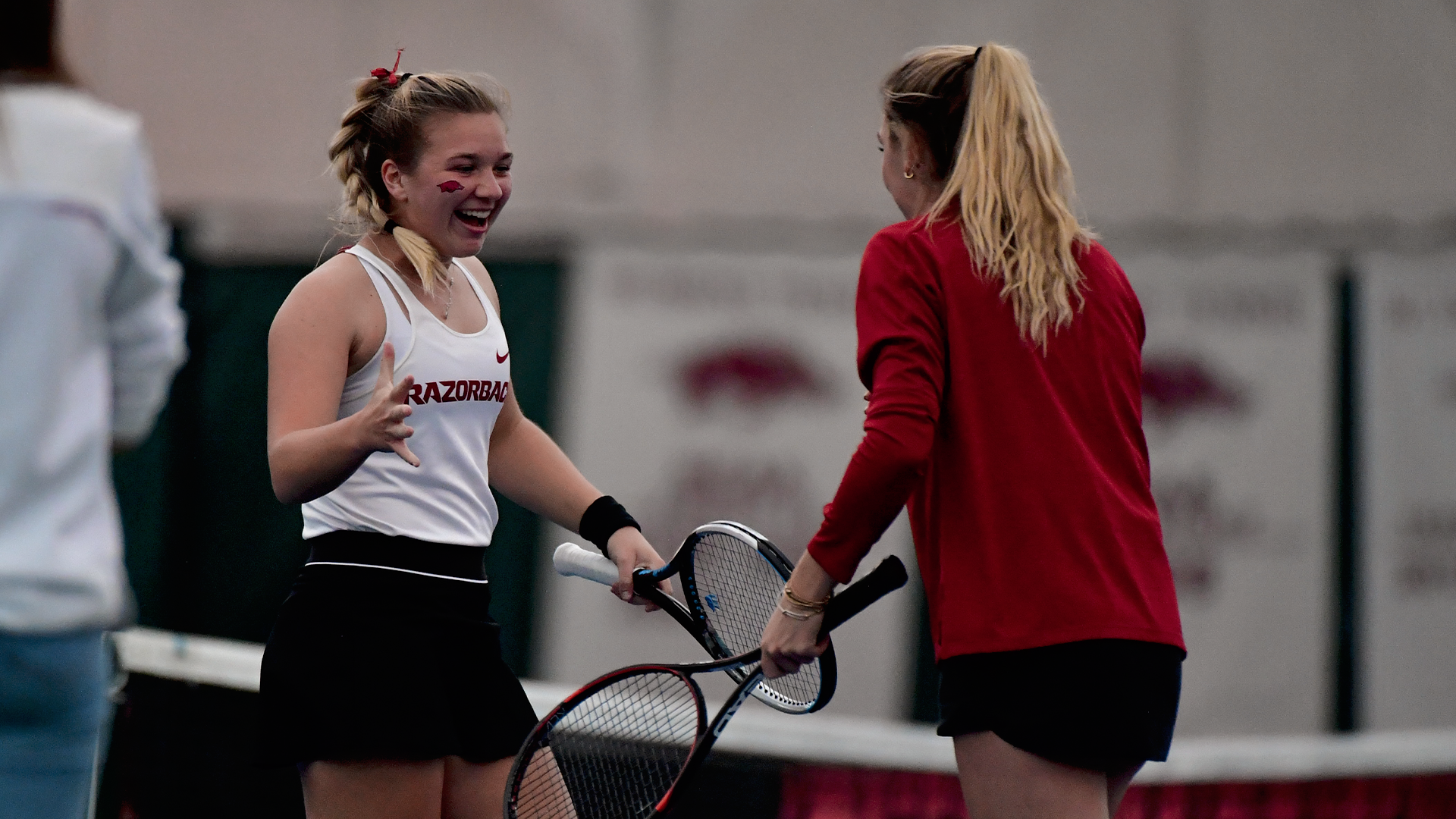 Women's Tennis Wins Seventh Straight, Remain Undefeated in SEC Play
FAYETTEVILLE, Ark. – The No. 36 University of Arkansas women's tennis team wins their seventh straight match with a 4-3 win over No. 43South Carolina on Friday afternoon at the Billingsley Tennis Center. The Razorbacks improve to 11-3 this spring and 4-0 in Southeastern Conference play, its best start in the SEC since 2017.
Sophomores Kelly Keller and Indianna Spink gave Arkansas an early advantage heading into singles play, clinching the doubles point with a 6-4 win over South Carolina's Misa Malkin and Gracie Mulville on court three. The No. 28 duo of Tatum Rice and Morgan Cross started things out with a 6-1 win on court one to improve to 9-1 in the No. 1 position and win their fifth straight match.
The Razorbacks have now won seven straight doubles points in each of their 11 wins.
Morgan Cross kept things rolling into singles play with a straight-set 6-2, 6-2 victory over Gamecock Misa Malkin on court five. Cross wins her sixth straight match to improve to 6-1 in the No. 5 position.
South Carolina followed with two straight wins on courts two and one to even the match score at 2-2, but Junior Laura RIjkers put Arkansas within striking distance earning a 6-3, 6-4 win over South Carolina's Ana Cruz on court six. The Gamecocks quickly followed with a three-set victory on court four over Lenka Stara.
Sophomore Indianna Spink clinched the win for Arkansas with a marathon three-set victory over South Carolina's Megan Davies on court three. Spink took the first set tiebreaker 7-6, but Davies evened it up with a 6-4 win in the second set. The match tied at 3-3, both teams surrounded the court as they went back and forth with Spink coming out victorious in a 7-5, 4-6, 6-4 win.
The Razorbacks are back on the courts on Sunday, March 20 taking on No. 16 Florida at 1 p.m. CT.
For the latest information on all things Arkansas Women's Tennis, follow the Hogs on social media by liking us on Facebook (Arkansas Razorback Women's Tennis) and following us on Twitter and Instagram (@RazorbackWTEN).