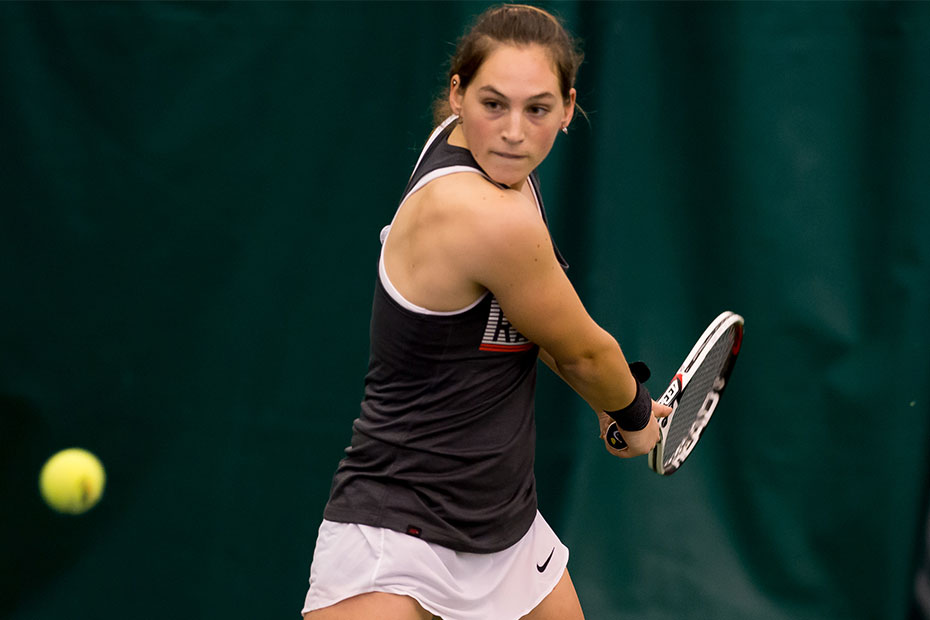 Zerulo Advances to next round in ITA AA Championships
The ITA All American Women's Championship continued today with Martina Zerulo, Tatum Rice and Jackie Carr back on the court representing the Razorbacks for the qualifying singles and qualifying doubles draw. The day started off with Zerulo in singles play.
SINGLES PLAY:
Zerulo began the tournament this morning playing Danielle Willson from Southern California. In a two setter, Zerulo defeated Willson 6-2, 6-4. Zerulo will advance to the next round facing Columbia Lion   Akanksha Bhan tomorrow at 10 a.m.
Up next in singles play was junior Tatum Rice. Rice went up against LSU Tiger Paris Corely, but lost in a two-setter 6-2, 6-2. Rice will continue in the qualifying singles consolation round tomorrow at 8:30 a.m.
DOUBLES PLAY:
Zerulo and Carr are the only Razorbacks to take on the qualifying draw for doubles play today. The duo of Zerulo and Carr faced Auburns Madeline Meredith and Selin Oyunc. Carr and Zerulo ended up losing in a close match with a score of 8-6, but then later played in the qualifying doubles consolation draw and won 8-2.
WHAT TO LOOK FORWARD TO:
Tomorrow you can catch Rice playing Marina Davtyan at 8:30 in the singles consolation, and shortly after Zerulo at 10 a.m. facing Akanksha Bhan in the second round of the qualifying singles draw. Wednesday October 9, you will see No. 11 ranked Duo Lauren Alter and Tatum Rice back on the court. For more information or scores click here
For more information on Arkansas women's tennis follow @RazorbackWTEN on twitter and Instagram.