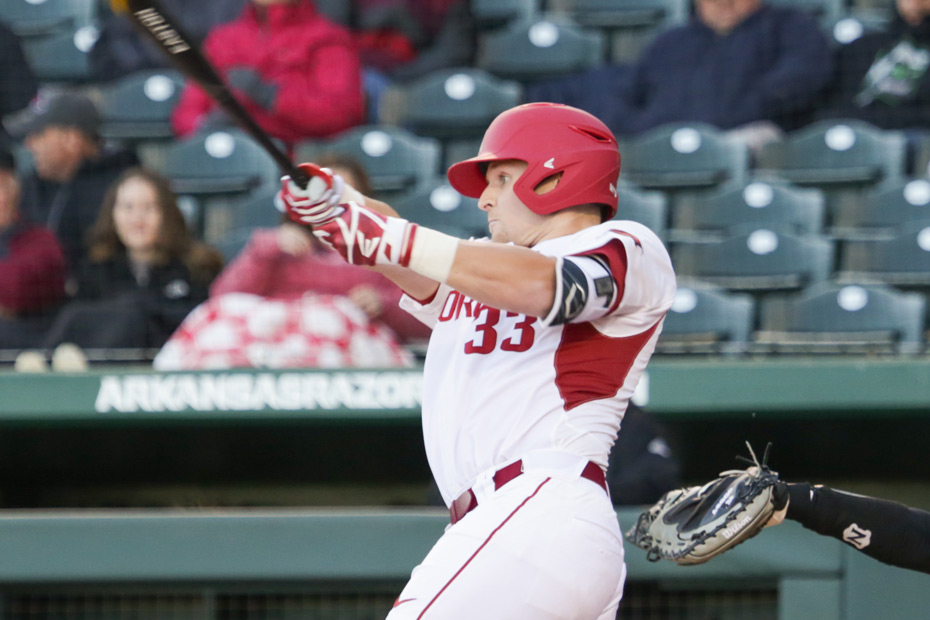 10-Run Sixth Proves Big For Razorbacks
FAYETTEVILLE, Ark. – Arkansas used a 10-run sixth inning Friday afternoon at Baum Stadium to come back from a three-run deficit and defeat Bryant University in game one of its three-game series, 11-8, to stay undefeated on the year.
Arkansas (4-0) only managed three hits off of Bryant (2-3) starter James Karinchak, but was able to break through in the sixth after a lead-off double by freshman Evan Lee led to Arkansas not only batting around in the inning, but forced Bryant to go to its bullpen. The Hogs went on to total 10 runs on four hits in the frame. Bryant's pitchers walked four batters and hit three batters in the same inning giving Arkansas plenty of scoring opportunities.
Senior pitcher Dominic Taccolini picked up the win for the Razorbacks, his first of the year, after relieving starting pitcher Blaine Knight in the sixth inning. Knight had given up Bryant's first three runs in the game, but struck out four in five innings, his second straight five-inning outing.
Taccolini pitched only the sixth inning, but kept the Bryant bats silent, walking two and striking out two.
At the plate, sophomore Eric Cole went 2-for-3 in the game with an RBI and a run scored that included an RBI and a run scored. For Cole, it was his third multi-hit game of the year.
Grant Koch led all Razorbacks with four RBIs, part of a 2-for-5 day that included a bases clearing triple as part of that big 10-run sixth inning. He followed it up in the eighth with a solo home run, his second of the year.
Moments That Mattered
Arkansas fell behind early when Bryant plated two runs in the top of the third inning. Knight forced two quick outs to begin the inning before giving up three straight hits, including a double that gave Bryant its first two runs of the game. The lead grew to 3-0 after a one-out home run in the fourth by Chris Wright.
In the bottom of the sixth finally got on top of Karinchak as Lee led off the inning with a double down the left field line, his first hit of his career. That was followed by four walks, three hit by pitches, and three hits to score 10 runs and give the Hogs a commanding 10-3 lead. The 10-run frame was the first by a Razorback team since plating 14 in the first inning against Saint Louis on April 7, 2010, part of a 32-8 victory.
Arkansas fended off an offensive surge by Bryant in the late innings, as the Bulldogs scored two runs in the seventh, two in the eighth and one in the ninth. Redshirt senior Josh Alberius was brought in with the bases loaded and no outs in the ninth and immediately turned a double play on his first pitch. He struck out the final batter to give Arkansas the three-run victory and pick up the save.
Razorback Quotables
"That was the inning that won us the ballgame. We put together some really good at-bats. It started with Evan Lee, who got his first start tonight. I thought he took a really good swing his first at-bat, his second time up he got him with a changeup, and then Lee got him and smoked it down the line." – Head coach Dave Van Horn on the 10-run sixth inning
"I was going to look to get ahead in the count. He was grinding down the last few at-bats out there. He had to really get out of it. Once he got to that extra inning, he was saying he wanted one more. He was winding down and his velocity got low and we just wanted to stay aggressive. It was three runs and we wanted to make the most of it." – Evan Lee on the Hogs' big sixth inning
"It was a 1-0 count, he tried to throw a fastball away and they guy put a good swing on it. He swung hard and we got fortunate it went to the shortstop. It clipped the edge of the mound. I think he would've gotten to it anyway, but it was a great job of throwing the ball knee high and making them swing the bat. That changed the outcome and gave us the opportunity to relax. It was nice to see Josh (Alberius) come in and show a little senior leadership there." – Dave Van Horn on the double play in the ninth inning
Up Next
Arkansas will be back in Baum Stadium Saturday for game two of the three game series. First pitch is scheduled for 2:02 p.m. and will be televised by SEC Network+
Season tickets, mini-plans and single-game tickets are available at ArkansasRazorbacks.com or by calling the Razorback Ticket Office at 1-800-982-HOGS.
For more information on Razorback Baseball, follow @RazorbackBSB on Twitter.