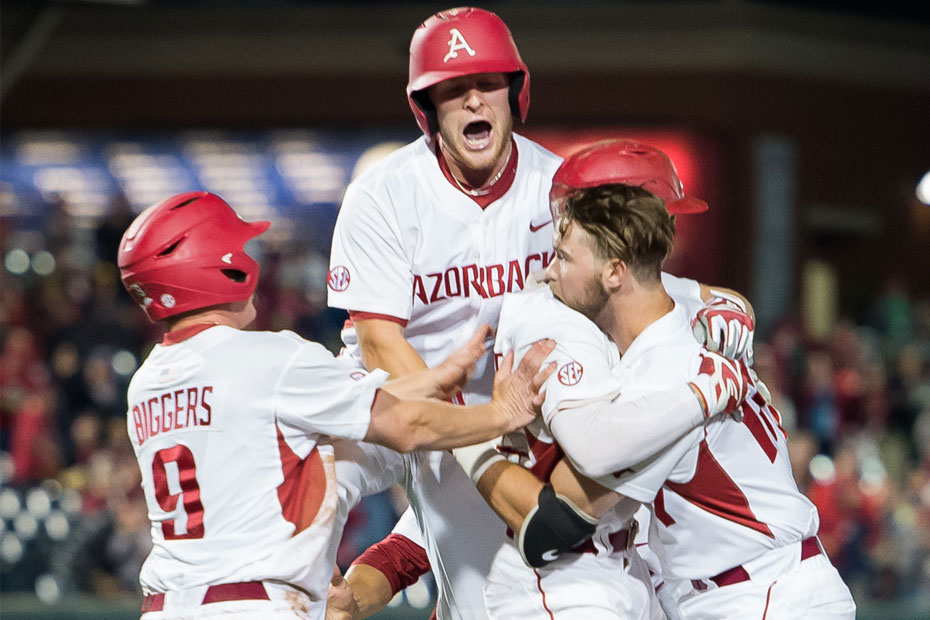 Hogs Walk Off Winners In Series Opener
FAYETTEVILLE, Ark. — Luke Bonfield hit a walk-off single in the bottom of the ninth to score Jax Biggers and give No. 15 Arkansas a 4-3 victory over No. 25 Vanderbilt Friday night in Baum Stadium. It was Bonfield's second walk-off hit of the season, with the first coming against Rhode Island on March 10.
The win is Arkansas' (36-13, 15-9 SEC) first in game one of a weekend series in four weeks and fifth walk-off win of the year. The Hogs stay in the hunt for the SEC Western Division title, just a game and a half back of leader Mississippi State.
Junior pitcher Trevor Stephan had another stellar outing Friday, striking out 10 and only allowing three runs through seven innings of work. It is the second-straight strong start from Stephan as he retired 21 of the 26 batters he faced last week against Tennessee and then set down the first four Vandy players he faced tonight.
The Magnolia, Texas native recorded his fourth game this season with 10 or more strikeouts. It was also the fourth time this season that he pitched seven innings or more. Combined, Stephan and redshirt freshman Kevin Kopps struck out 13 batters as Kopps picked up his third victory of the season.
Bonfield led the way, offensively, with two hits and two RBIs, including a home run in the first inning. It was his team-leading 20th multi-hit game this year.
Freshman Dominic Fletcher's only hit of the night was a home run that provided the other two runs for Arkansas' offense. Fletcher now has nine home runs and 28 RBIs in his freshman campaign. His home run total continues to lead all freshmen in the SEC.
Grant Koch and Jax Biggers also managed two hits each, as seven Razorbacks recorded hits against the Commodores. Arkansas' offense managed 10 hits against Vanderbilt, their most since April 23 against Auburn.
Moments That Mattered
Arkansas wasted no time putting runs on the board as Bonfield hit his home run in the bottom of the first inning to give Arkansas a 1-0 lead. Vanderbilt would respond in the top of the second with a two-run home run by Ethan Paul to give the Commodores a 2-1 lead.
Stephan settled in after the second inning, striking-out seven batters through four innings which included retiring 9 out of 11 batters following the second inning home run. Stephan gave up one more run with a single in the fifth, but retired seven straight before being relieved in the eighth.
After just four hits and one run through six innings, Arkansas' bats came to life in the seventh. Carson Shaddy doubled to lead off the inning, and was brought home on a homer from Fletcher with one out. The home run was Arkansas' 62nd of the year, which continues to lead the league.
Vanderbilt looked to have a threat building in the top of the eighth inning, with runners on first and second with no outs. Kopps was able to get out of the jam after Ro Coleman was picked off at second base and then the inning-ending double play.
Kopps allowed a hit in the top of the ninth, but used two strikeouts to shut down any chance of Vanderbilt scoring again.
Jax Biggers used his 10th double of the year to put the go-ahead run in scoring position with one out in the bottom of the ninith. An intentional walk to Jake Arledge put runners on first and second before Bonfield delivered the two-out game-winner to send the Hog fans home happy.
Razorback Quotables
"Baseball is a funny game. We did hit some balls hard but they did as well, but every now and then you have to take a bloop double and he (Jax Biggers) hustled right off of the bat and it was pretty close at second. Give credit to Jax Biggers for hustling and with Luke giving us that big hit. We haven't had a hit like that in a while." – Head coach Dave Van Horn on 9th inning Walk-off
"That's a big win for our team and to me, Trevor Stephan was the man. They hit a two-run homer and took the lead. They scored another run, but he got us out of that jam. We're down 3-1, we felt like we were in striking distance. I thought Trevor did a great job, really settling in and keep doing what he does. He didn't get rattled and he gave us seven innings. We had a chance and we came through."– Head Coach Dave Van Horn on Trevor Stephan
"It feels great, it feels good to win another SEC game. A win is a win. It gives you an opportunity to go back to your house and get mentally ready to go out and have a chance to take care of business. It's a lot better than going home a loser." — Head Coach Dave Van Horn on winning opener
"It is really big for the team considering we haven't done to great the last couple of weekends. Coach Van Horn calls it getting our mojo back." —Dominic Fletcher on win
"There isn't a pressure but a sense of urgency. You want to send these guys out the right way. You want to send the fans home happy and if it's there last time seeing us at home for the year, you want to leave a good impression in their minds." — Luke Bonfield on importance of winning final series
Up Next
Arkansas and Vanderbilt will continue with game two of their three-game series Saturday with first pitch scheduled for 6:00 p.m. Tomorrow's game can be viewed on the SEC Network+ via the WatchESPN app and WatchESPN.com as well as the Razorback Sports Network on the radio with Phil Elson calling the action.
For more information on Razorback Baseball, follow @RazorbackBSB on Twitter.