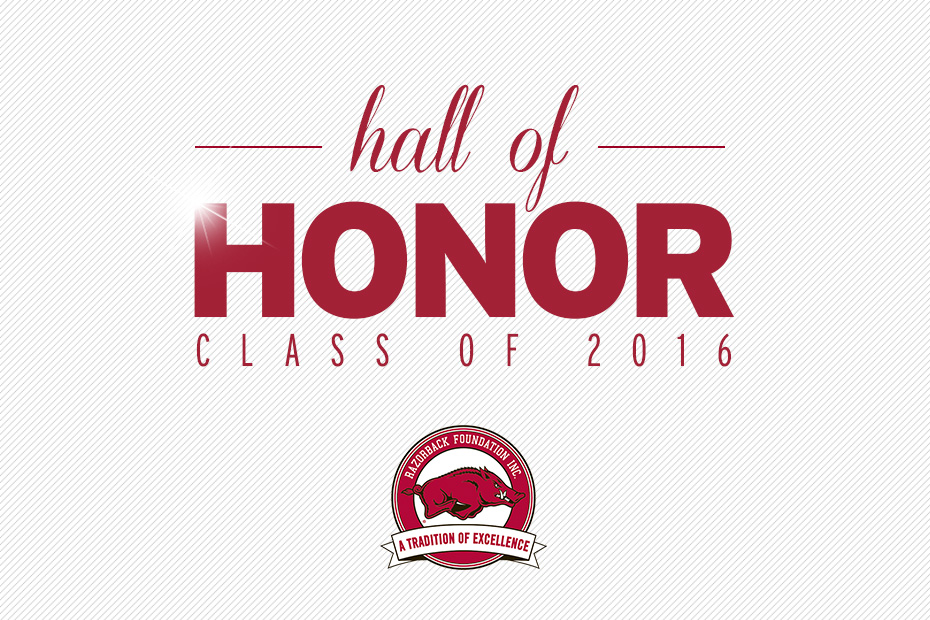 2016 UA Sports Hall Of Honor Class Announced
FAYETTEVILLE, Ark. – Eight former University of Arkansas student-athletes and a former Razorback coach will be inducted as members of the 2016 class of the University of Arkansas Sports Hall of Honor this September. The honorees include a pair of All-Southwest Conference football selections, a legendary football coach, one of the most versatile post players in Razorback Basketball history, one of the program's first men's basketball stars, multiple All-America track and field performers, a softball pioneer and an All-America second baseman for the Razorback Baseball team.
The 2016 class consists of former Razorback football head coach Lou Holtz along with gridiron greats Greg Lasker and the late Danny Rhodes, men's basketball stars Oliver Miller and the late Tom Pickell, baseball standout Kenderick Moore, All-SEC softball pitcher Tammy Kincaid Dustin, men's track and field star Roddie Haley, women's track and field All-American and Olympian Christin Wurth-Thomas. The 2016 inductees were elected to the UA Sports Hall of Honor based on a vote by former Razorback letter winners in conjunction with the A Club. The UA Sports Hall of Honor, including the induction weekend, is coordinated by the Razorback Foundation.
"We are pleased to welcome some truly extraordinary Razorbacks into the University of Arkansas Sports Hall of Honor," Vice Chancellor and Director of Athletics Jeff Long says. "The 2016 class includes a Hall of Fame coach and eight outstanding student-athletes who represented our university and our state in careers spanning more than 80 years. Selection to the UA Sports Hall of Honor is truly a defining achievement and the most prestigious honor that a former University of Arkansas student-athlete or coach can receive from his or her peers. This September, we look forward to celebrating their many contributions to our program and recognizing their extraordinary achievements."
The 2016 class will be inducted during the Hall of Honor weekend, Sept. 1-3. Hall of Honor weekend includes a golf tournament at the Fayetteville Country Club and an induction banquet at the John Q. Hammons Center in Rogers, Ark. Inductees will also be recognized during half-time of Arkansas' football home opener against Louisiana Tech at Donald W. Reynolds Razorback Stadium. The game is scheduled for a 3 p.m. kickoff.
Tables and individual tickets to the induction banquet and the Hall of Honor golf tournament may be purchased from the Razorback Foundation. Sponsorships are also available for the banquet and golf outing. For more information, visit RazorbackFoundation.com or call the Razorback Foundation at 479-443-9000.
2016 UA Sports Hall of Honor Inductees
Gregory Lasker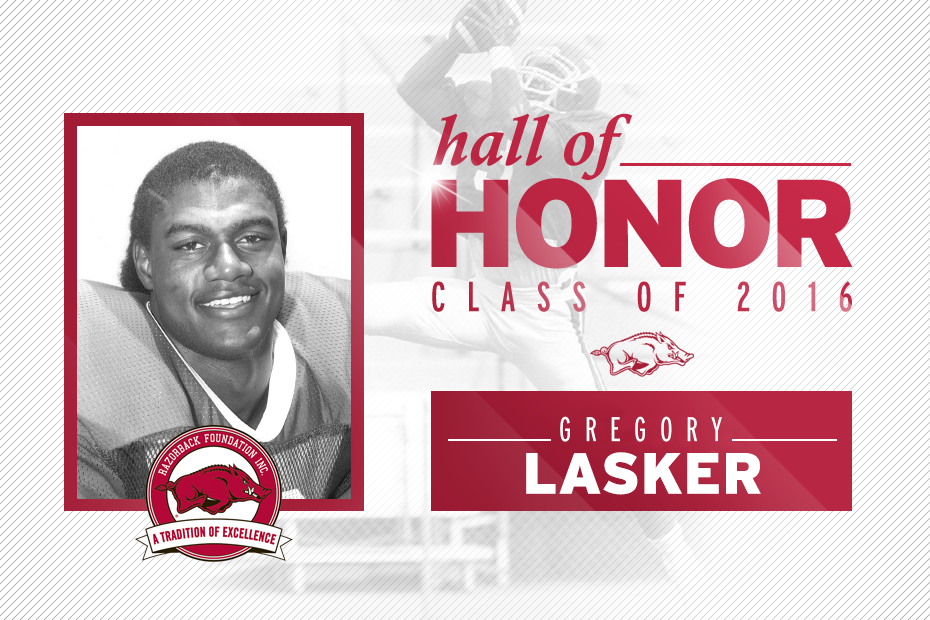 Lasker lettered at Arkansas from 1982-85 and was a team captain his senior season. A four-year starter at safety, he was a first-team All-SWC selection in 1985 and was named to the Arkansas All-Decade Team. The Conway, Ark., native ranks sixth on UA's all-time career interception return yards list with 155 and tied for 12th on the school's all-time career interceptions list with nine. He tied for the 1983 team lead with three interceptions and led the team in passes broken up with 11 in 1984 and 10 in 1985. Lasker helped lead the Razorbacks to a 10-2 record, including a 6-2 mark in SWC play, and a No. 12 final ranking in the 1985 Associated Press (AP) poll. As a senior, Lasker earned AP Defensive Player of the Week honors for his efforts in the Razorbacks' 20-14 win over No. 11 Baylor. With a little bit more than minute remaining in the game, Lasker intercepted a pass at the Arkansas 16-yard line to secure the victory. He also had 10 tackles and two pass breakups in the game. Lasker played in the East-West Shrine Game following his senior season and was selected in the second round of the 1986 NFL Draft by the New York Giants, where he played three seasons and won Super Bowl XXI during his rookie year.
Oliver Miller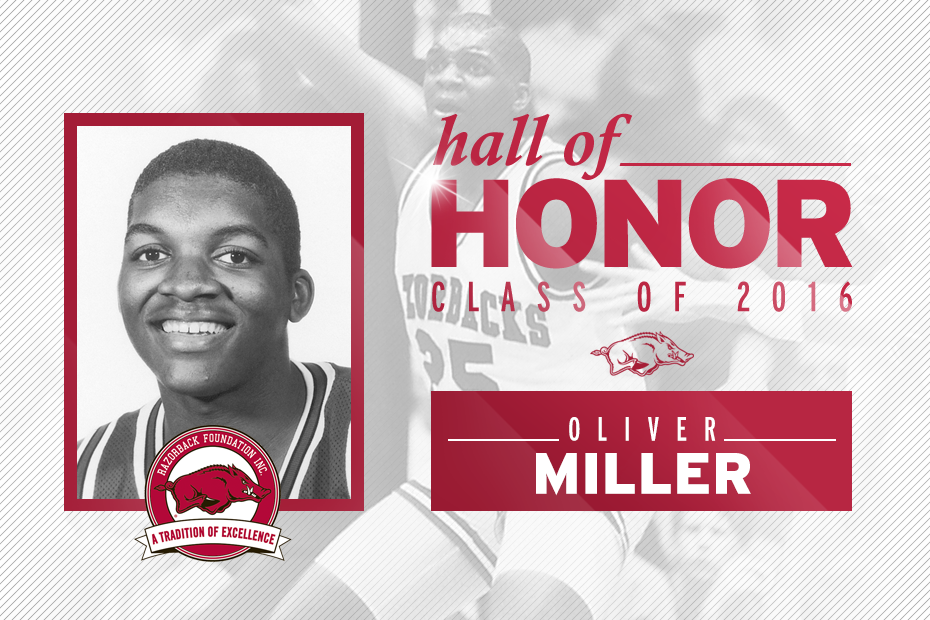 Part of three straight Southwest Conference regular season (1989-91) and tournament champion teams over Arkansas' final three years in the league from 1989-91, Oliver Miller played four seasons (1989-92) for Naismith Hall of Fame coach Nolan Richardson. Included in those four seasons in which the Razorbacks went a staggering 115-24 was a trip to the 1990 Final Four and an SEC regular season title in 1992, the program's first year in the league. One of the most versatile big men in Arkansas history, Miller still holds the record as the program's all-time leader in field goal percentage (.636) and blocked shots (345), while ranking third in rebounds (886) and ninth in points (1,674). Known to Razorback fans as "The Big O," Miller was an All-SWC selection in the Razorbacks' final year in the conference. As a junior, Miller became the first player in program history to earn more than 100 blocks and 100 assists in the same season. During the 1990-91 campaign, Miller set the single-season record with 112 blocks while leading the NCAA in field goal percentage (704).
Lou Holtz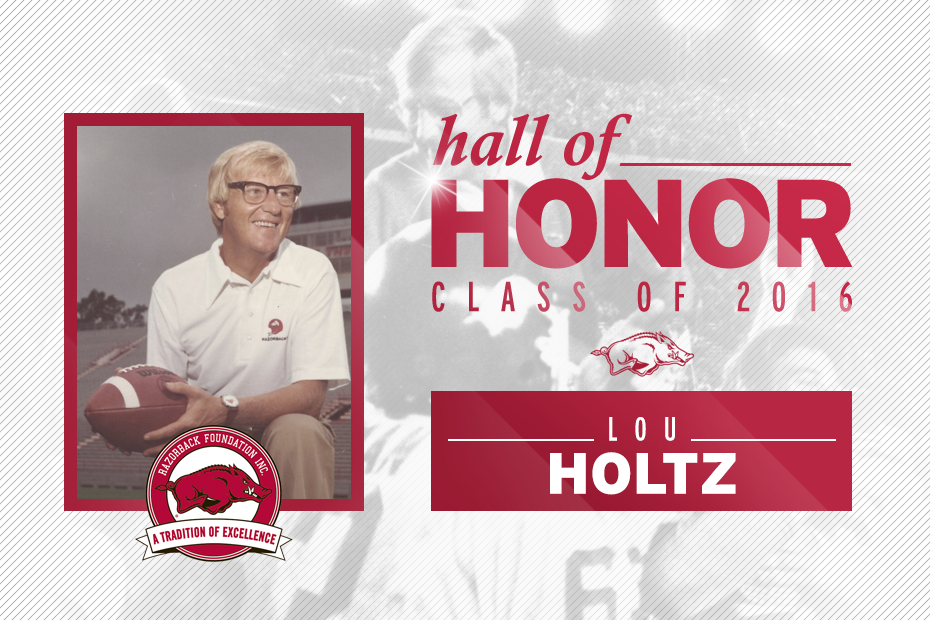 One of the most successful college football coaches in the history of the game, Holtz amassed a career record of 243-127-7 in his 34-year collegiate coaching career. From 1977-83, Holtz led the Razorbacks to a record of 60-21-2 in his seven seasons in Fayetteville. His .735 winning percentage at Arkansas ranks second in school history among coaches with at least four seasons at UA, and his 60 wins rank as the third-highest total at Arkansas. He led the Razorbacks to the Southwest Conference co-championship in 1979 and finished in the Top-10 of the Associated Press poll three times, including a No. 3 final ranking in 1977.He was inducted into the College Football Hall of Fame in 2008 and the Cotton Bowl Hall of Fame in 2012. Holtz, who also coached at William & Mary, North Carolina State, Minnesota, Notre Dame and South Carolina, is the only coach in NCAA history to lead six different programs to a bowl game and the only coach to guide four different programs to a Top-20 finish. Holtz also coached one season with the NFL's New York Jets. Following his retirement from coaching, Holtz served as a college football studio analyst for ESPN from 2004-15. He still travels throughout the country as one of the nation's most sought after and entertaining speakers.
Kenderick Moore


An All-America second baseman in 1996, Moore played four seasons (1993-96) under former head coach Norm DeBriyn and was known for his all-around ability on the diamond.  Moore earned All-SEC honors during his All-American season, helping Arkansas to 39 wins and a place in the NCAA Central II Regional. He was named to the SEC all-tournament team as a first baseman in 1994 and as an outfielder in 1995, also receiving the Bill Dickey Award in 1996. In his Razorback career, Moore currently sits third all-time in program history with 282 hits and is second in games played (242). His 205 singles are also first on the Arkansas career charts as well as his 95 stolen bases. Moore's season-best steals came in his final season when he swiped 29 bases, which is still the fifth-most in a season by a Razorback player. He led the Razorback team with 80 hits during the 1995 season and a team-leading nine home runs in 1996. After Arkansas, Moore signed with the Kansas City Royals organization in Major League Baseball and played four years in the minor leagues, reaching as high as Double-A.
Roddie Haley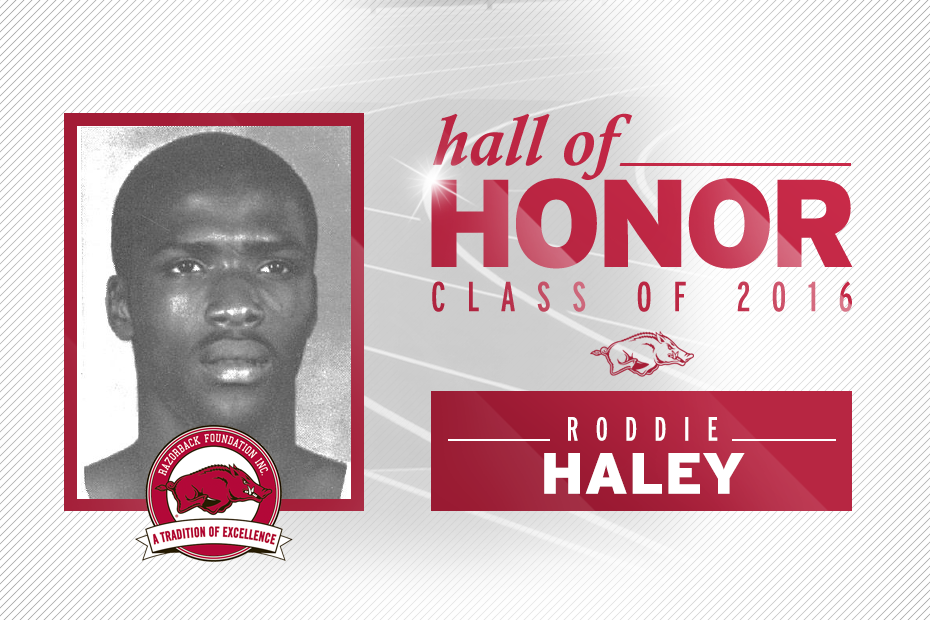 A nine-time All-American for legendary Coach John McDonnell, Haley was one of the Razorbacks' top performers both on the indoor and outdoor ovals. He earned four All-America honors indoors and was a five-time All-American in outdoor track and field. Haley was a three-time NCAA champion including twice in the Indoor 500 meters (1986-87) and once in the Outdoor 400 meters (1985). He earned SWC titles indoors in the 440 yard dash (1985) and 600 yard dash (1987) and was a three-time SWC Outdoor champion in the 400 meters (1985-87). Haley also captured a SWC title at the conference outdoor meet in 1985 with the 4×100 meter relay. Haley remains the outdoor 400 meter record holder with a time of 44.48 set in 1986. Haley was part of four SWC and four NCAA team championships in his three seasons, including contributing to the first national triple crown in school history in 1985.
Christin Wurth-Thomas


A member of the University of Arkansas cross country and women's track and field team from 2000-03, Wurth-Thomas was a four-time All- American and is the school record holder in the 1,500 meters (outdoor) with her time of 4:10.49 that she set in 2003. The 2002 SEC Cross Country Athlete of the Year, Wurth-Thomas was a four-time SEC individual champion (2002 SEC outdoor – 1,500 meter, 2002 SEC cross country, 2003 SEC indoor – 3,000 meters, 2003 SEC indoor – 5,000 meters) and helped lead the Razorbacks to eight SEC team titles during her time in Fayetteville. She was named the 2002 SEC Cross Country Athlete of the Year. In addition to her numerous collegiate accomplishments, Wurth-Thomas was a member of Team USA at the 2008 Olympics in Beijing.
Tammy Kincaid Dustin


A two-time All-SEC selection as Arkansas' ace in the circle, Tammy Kincaid lettered from 1997-2000 as the go-to pitcher during the softball program's first four years of existence. Her name remains scattered throughout the Razorbacks' records book and still stands as the program leader in innings pitched (1,051.1), appearances (186), complete games (116) and saves (9). Along with her program records, she also ranks among the top three in wins, shutouts, strikeouts, opponent batting average and ERA. Kincaid's career appearances and complete games also stand as the fourth- and fifth-best marks in SEC history, respectively. With a 16-inning performance against Alabama during the 1999 season, she holds the SEC record for longest outing. Kincaid also carries the conference distinction of recording the first-ever RBI in an SEC game, scoring teammate Brett Erickson from second with a single. During her standout career, she pitched Arkansas to three SEC Tournament appearances and the program's first NCAA Tournament bid in 2000. Among her career accolades, Kincaid was named to the 1999 SEC All-Tournament Team and earned five SEC Pitcher of the Week accolades. Pitching against CS Northridge on Feb. 19, 2000, she combined with Rachel Talley for Arkansas' first no-hitter.
Tom Pickell


One of Razorback Basketball's first nationally recognized stars, Pickell was a three-time first-team All-SWC selection and an All-American in 1929 as selected by College Humor magazine. He led the Razorbacks to three straight Southwest Conference titles with his team going 14-2 overall and 8-2 in the league in 1927, 19-1 and 12-0 in 1928, and 19-1 and 11-1 in 1929. During his career, the Hogs combined for a remarkable 52-4 record. Pickell also competed for the Razorbacks in cross country and track and field. Pickell was a member of the Phillips 66ers team and was an AAU All-America selection in 1932, 1933 and 1934. He was inducted into the Arkansas Sports Hall of Fame in 1977.
Danny Rhodes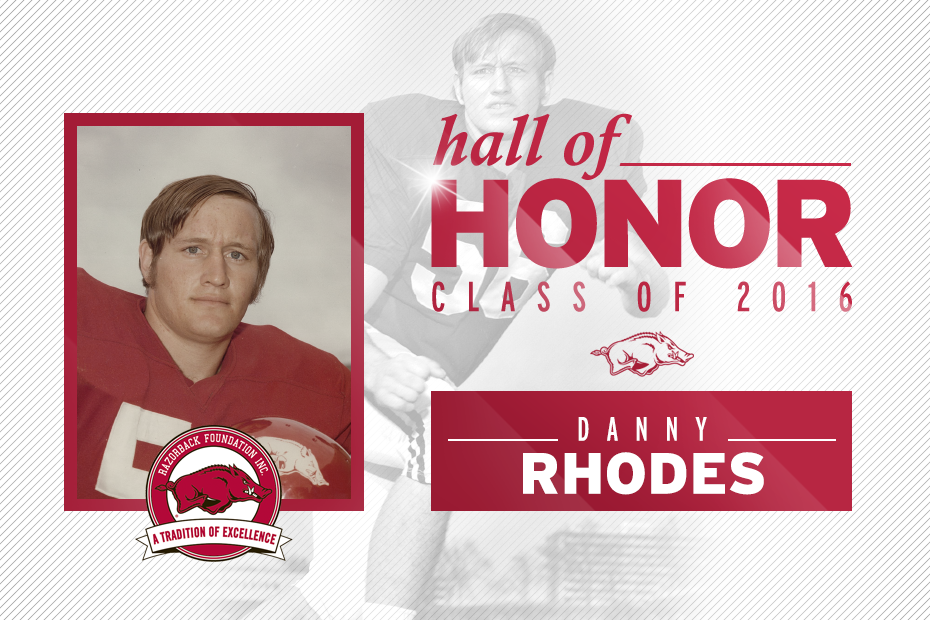 Rhodes was a two-time first-team All-SWC football selection at linebacker, having earned the recognition in 1971 and again in 1973. The Texarkana, Arkansas native was named to the Arkansas All-Decade Team for the 1970s. He lettered from 1971-73 and was a team captain his senior season. He was named the Southwest Conference Sophomore Defensive Player of the year in 171. In his senior season (1973), he earned 128 tackles, the seventh-highest single-season total in school history at the time. Rhodes received the Crip Hall Award as the top senior in the Razorbacks' 1973 Homecoming game in a 14-10 win over Texas A&M. He also earned the Chism Reed Outstanding Senior Leadership Award and the Gordon Campbell Senior Spirit Award. He appeared in three collegiate all-star games. He was taken in the sixth round of the 1974 NFL Draft by the Baltimore Colts, appearing in 14 games during his only NFL season.