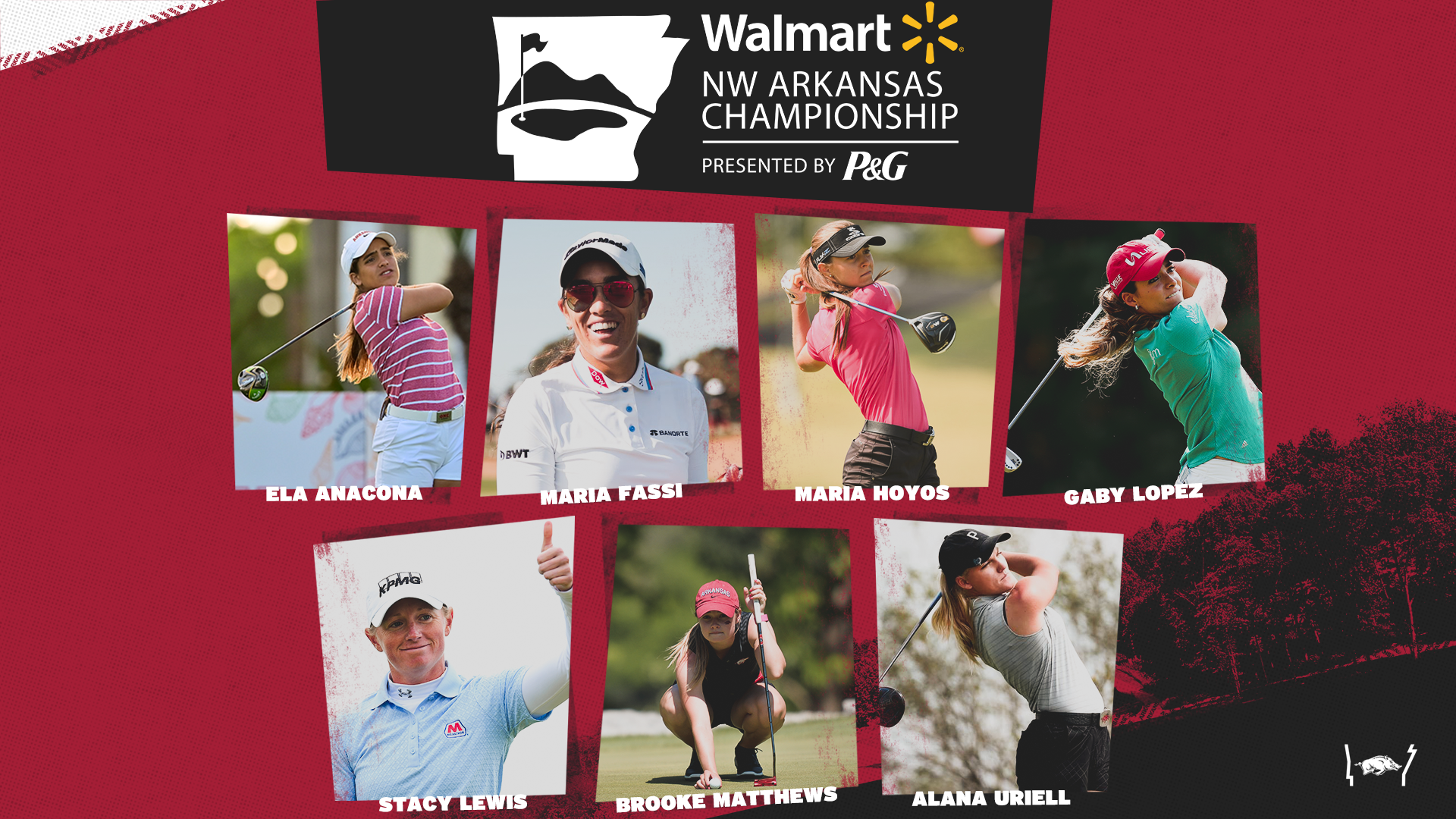 2020 Walmart NW Arkansas Championship Presented by P&G Field Littered with Razorbacks
FAYETTEVILLE, Ark. – Arkansas Women's Golf will be well represented at the 2020 Walmart Northwest Arkansas Championship presented by Proctor & Gamble, which returns to Pinnacle Country Club August 28-30. Former Razorbacks Maria Fassi, Gaby Lopez, Stacy Lewis and Alana Uriell will be in the field, while three current Hogs in Ela Anacona, Maria Hoyos and Brooke Matthews are also set to compete in the LPGA event. The seven former or current Hogs in the event is the most ever. Round one is set to tee off at 7 a.m. on Friday.
"I could not be more excited about the Walmart NW Arkansas Championship presented by P&G to finally get started this week," Head Coach Shauna Taylor said. "It is a special event for our community as well as our women's golf program. This week is an opportunity to showcase our home, welcome back our ProHogs who are on tour, and for our current players, it's a chance to test their games against the best players in the world.  We have seven current or former players in the field and having coached all of them, I look forward to watching each of them play this week."
Fassi, a 2019 graduate, returns to the event for the fourth time. She earned exemption entry into the tournament three times, twice through Arkansas' Road to the NWAChampionship program, and once by way of her individual NCAA Title. The former Hog has had some good finishes since the calendar turned to 2020, finishing tied for 13th at the ISPS Honda Women's Australian Open back in February, while also garnering a ninth-place finish at the Marathon LPGA Classic in early August.
For Lopez, the 2020 edition of the NW Arkansas Championship will be her eighth time in the field. Like Fassi, Lopez earned three exemptions to the event while at the University of Arkansas. The former Hog has had some success at the event, finishing tied for 10th back in 2017, while finishing tied for 13th in last year's event. She also registered her second-career win earlier in 2020, getting back into the winner's circle at the Diamond Resorts Tournament of Champions back in January.
Preparing to play in her 14th NW Arkansas Championship, Lewis comes into the event with momentum at her back, having just won the Scottish Open just over a week ago after birdieing the first hole of a playoff. The win was the 13th of Lewis' esteemed professional career. Lewis has had success in her return trips to Arkansas for the NW Arkansas Championship, most notably winning the event outright back in 2014. She has registered two other top-10 finishes, while also placing in the top five in 2013 (T4), 2015 (T3) and 2017 (T4).
Uriell, meanwhile, will be playing in her fourth NW Arkansas Championship. She has also played in four other LPGA events in 2020.
Anacona, Hoyos and Matthews will all be making their debut at the official event, though Matthews did play in the qualifier last summer.
More Information
Keep up with all of the latest news and information and get behind the scenes looks into our program on our social media accounts. Follow us on Twitter at @RazorbackWGolf and check out our Facebook page "Razorback Women's Golf." Stats, news and player information can be found at ArkansasRazorbacks.com.