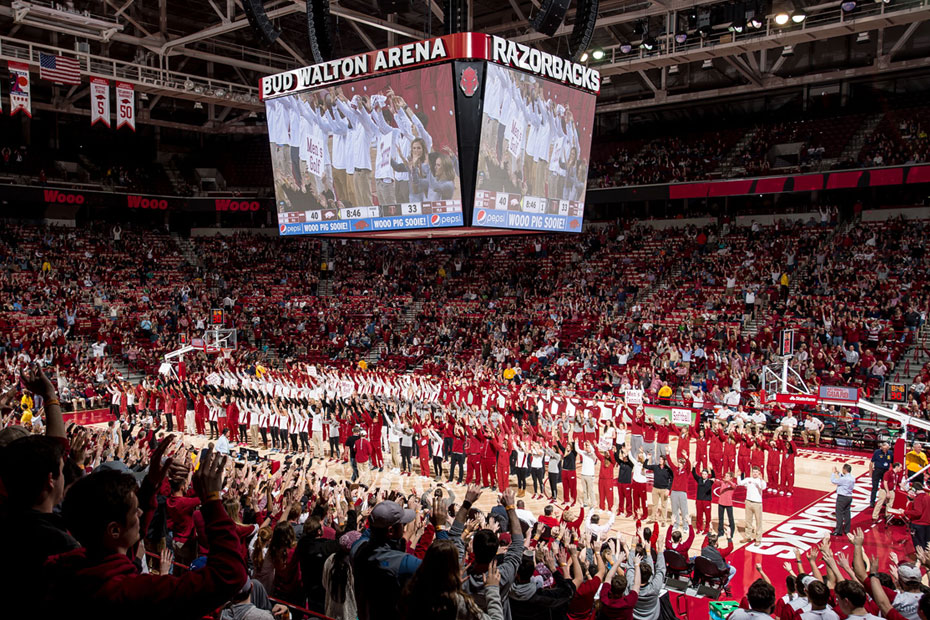 300 Razorback Student-Athletes Honored at Halftime
Nearly 300 Razorback student-athletes, representing all 19 of the program's sports, earned a GPA of 3.0 or above for the fall semester. Many of those honorees filled the floor of Bud Walton Arena on Wednesday as they were recognized at halftime of the Arkansas-Texas A&M men's basketball game.
The overall average cumulative GPA for the more than 460 plus Razorback student-athletes last semester was 3.25. That is the highest GPA on record as a combined department and marked the 12th-consecutive semester the overall GPA was above a 3.00.
Sixteen Razorback teams boast a team average GPA of 3.00 or higher for the term semester including Women's Basketball, Men's Cross Country, Women's Cross Country, Men's Golf, Women's Golf, Gymnastics, Soccer, Softball, Swimming and Diving, Men's Tennis, Women's Tennis, Men's Indoor Track, Women's Indoor Track, Men's Outdoor Track, Women's Outdoor Track and Volleyball.
Swimming and Diving posted the highest Women's team term GPA with a 3.56. Men's Golf took high GPA honors for men's programs
Among those student-athletes honored Wednesday night were Academic Champions – those who have posted a perfect 4.00 GPA. A record high total of 63 Academic Champions were recognized, an increase from the 54 honored in the previous fall semester.