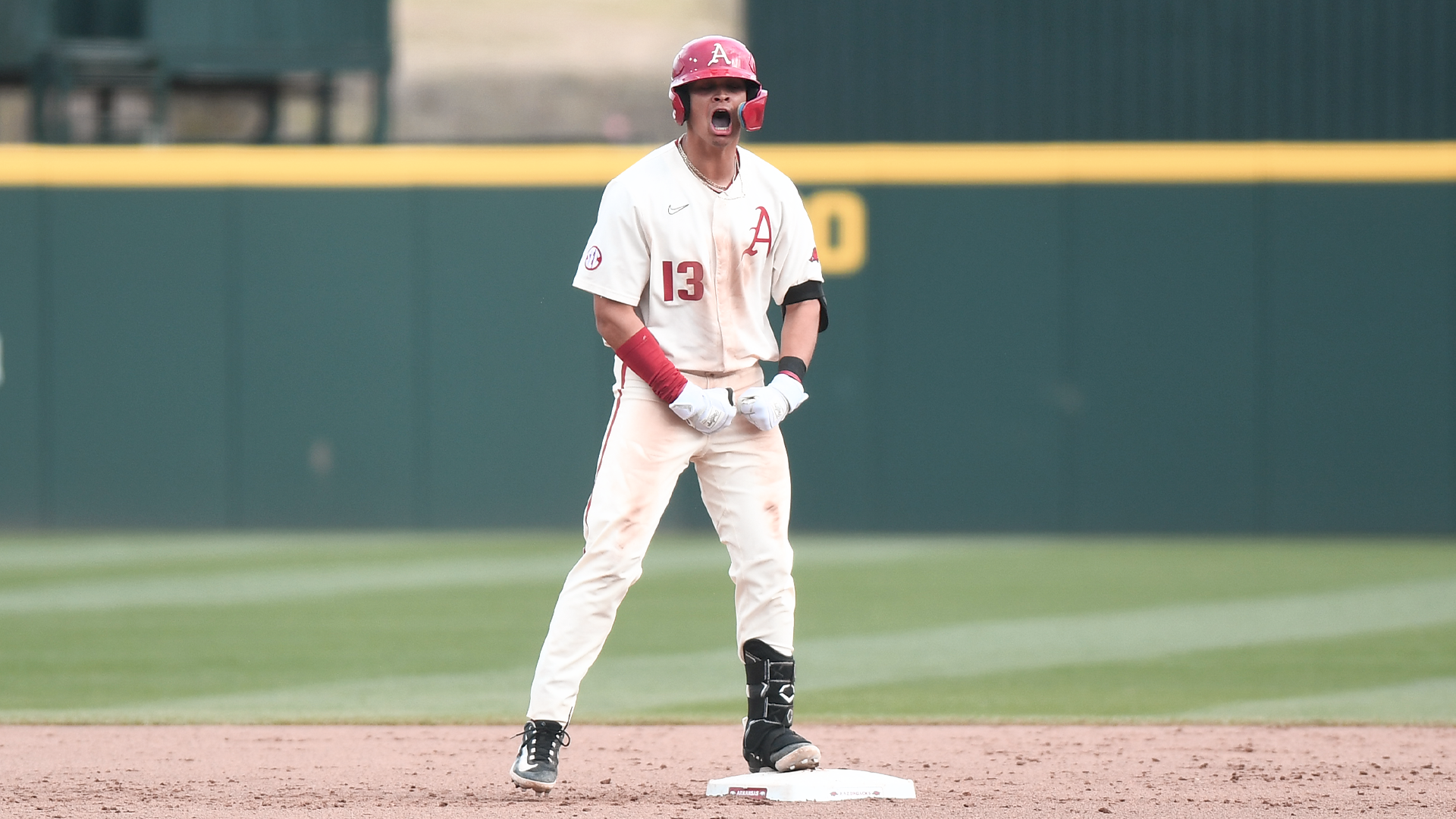 #7 Arkansas Hosts Auburn on SEC Opening Weekend
FAYETTEVILLE, Ark. – No. 7 Arkansas (15-2), winners of 10 consecutive games, plays host to Auburn (13-3-1) on SEC Opening Weekend at Baum-Walker Stadium.
First pitch of the three-game series between the Razorbacks and Tigers is set for 4 p.m. Friday, March 17, on SEC Network+. The series opener, originally scheduled for 6:30 p.m., was moved up due to forecasted cold temperatures.
Dating back to 2017, Arkansas has won five straight series on SEC Opening Weekend. The Razorbacks, who have not opened league play against Auburn since 2011, have won four consecutive weekend series against the Tigers.
Schedule
Friday, March 17
Auburn vs. #7 Arkansas – 4 p.m. – SEC Network+ – Listen – Live Stats
Saturday, March 18
Auburn vs. #7 Arkansas – 2 p.m. – SEC Network+ – Listen – Live Stats
Sunday, March 19
Auburn vs. #7 Arkansas – 2 p.m. – SEC Network+ – Listen – Live Stats
On the Mound
Friday, March 17
Auburn LHP Tommy Vail (2-0, 0.63 ERA) vs. Arkansas LHP Hunter Hollan (3-0, 2.18 ERA)
Saturday, March 18
Auburn LHP Zach Crotchfelt (0-0, 4.41 ERA) vs. Arkansas RHP Will McEntire (3-0, 3.48 ERA)
Sunday, March 19
Auburn TBA vs. Arkansas TBA
The Razorbacks will start left-hander Hunter Hollan in Friday's series opener. The junior college product had been Arkansas' Sunday starter through the first four weekends of the season, posting a 3-0 record with a 2.18 ERA and 21 strikeouts over 20 2/3 innings of work.
Tune In
Brett Dolan (play-by-play) and Troy Eklund (analyst) will have the call of Friday and Sunday's game on SEC Network+. Josh Haley will handle the play-by-play duties on Saturday.
The entire weekend series between Arkansas and Auburn can also be heard on the Razorback Sports Network from Learfield, including locally in Fayetteville on 92.1 FM or through the Razorback app, with Phil Elson (play-by-play) and Bubba Carpenter (analyst) on the call. A full list of radio affiliates is available here.
Series History
Arkansas is 51-49 all-time against Auburn, including a 26-19 record in games played in Fayetteville. Under head coach Dave Van Horn, the Razorbacks are 36-23 overall with a 17-10 advantage at home against the Tigers.
Arkansas, which has not lost a series to the Tigers since 2017, has not dropped a series against Auburn in Fayetteville since 2014. The Razorbacks have picked up two series sweeps in that span, doing so in 2016 and 2018.
In the last meeting between the two SEC West foes, Arkansas defeated Auburn, 11-1, on June 21, 2022, in the College World Series in Omaha, Neb. The Razorbacks' lopsided win at Charles Schwab Field ended the Tigers' season.
HaWWWWWWWWWWgs
Arkansas extended its winning streak to 10 games on Wednesday, completing its midweek series sweep against UNLV.
The Razorbacks have posted win streaks of 10 or more games in each of the last three seasons, including 12-game winning streaks in both 2021 and 2022. They mark Arkansas' longest since 2010, when the Hogs won 13 in a row.
Homestand Heroes
Friday's contest is the 15th game of the Hogs' 18-game homestand at Baum-Walker Stadium. Arkansas, 13-1 through the first 14 games of its homestand, is 15-2 overall (.882 winning percentage) on the year, its best mark entering SEC play since 2012.
In 2012, the Razorbacks completed their non-conference weekend series slate with a 16-2 overall record (.889 winning percentage). Arkansas finished that season with a 46-22 overall record, advancing to the College World Series for the seventh time in program history.
For complete coverage of Arkansas baseball, follow the Hogs on Twitter (@RazorbackBSB), Instagram (@RazorbackBSB) and Facebook (Arkansas Razorback Baseball).