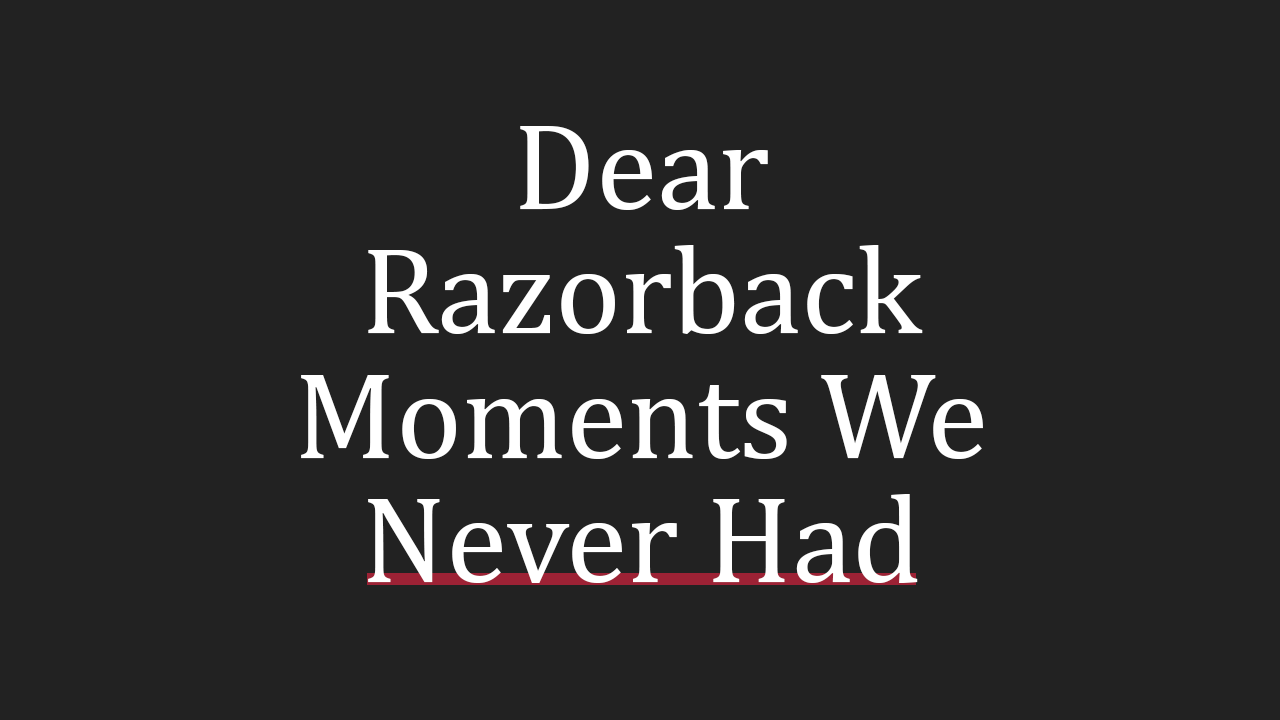 A Message to the Memorable Razorback Moments We Never Had
Dear Memorable Razorback Moments We Never Had:
It has been more than a week since the balls stopped bouncing, the bats were returned to the rack and the bright lights of scoreboards melted away to darkness. On the surface level our minds understand the reasoning. We are in the midst of a World Health Emergency. People in our state, our nation and around the world are sick and some are even dying. We still have challenging times ahead.
At this extraordinary time, we have put the health, safety of wellbeing of ourselves, our families and fellow members of our community at the forefront. That is what is the most important. Thanks to the leadership of many, including Southeastern Conference Commissioner Greg Sankey, our Chancellor Joe Steinmetz and our Director of Athletics Hunter Yurachek, we have aligned our focus with those essentials.
Accordingly, sports, even those contested by our beloved Razorbacks, have been put on hold for the rest of the competitive year. Just one determination, in a litany of decisions made during the past few weeks, a period of time that has ticked away more slowly than the dwindling clock at Bud Walton Arena with a one-point Arkansas lead.  
You see, well-being is more than just a physical proposition. After all, in Arkansas, nothing feeds the soul quite like the Razorbacks. It is ingrained in those raised here and infused into those who embrace it when they arrive from all corners of the world. Nothing brings us together like it – whether in the jubilation of victory or the stinging pain of defeat. It is ours. We share it together.
So perhaps that is part of the reason some of us are having such a hard time coming to grips with the sudden end to so many of the storylines we looked forward to experiencing together:
In the last Razorback event to be waged, we saw SEC Player of the Year, Mason Jones, team with Isaiah Joe to lead our men's basketball team to a win over Vanderbilt. Sure, four games still lay ahead to a tournament championship, but hope remained alive.

On campus, our women's basketball team prepared for a much deserved NCAA Tournament berth. Alas, a bracket was never filled. The scheduled selection show was preempted for other programming. 

We missed out on the final home meet of an incredible gymnastics season. We didn't have a chance to say goodbye to four GymBacks on Senior Night, a rite of passage that is always meaningful.

Members of our women's swimming and diving team prepped for the NCAA Swimming & Diving Championships, while members of our women's and men's indoor track and field teams waited patiently in New Mexico to see if they would be allowed to take the track for their national championships. They returned home without that opportunity. 

Men's and Women's tennis halted conference play and the upcoming SEC Men's Tennis Championship set for the George Billingsley Tennis Center in Fayetteville was canceled.

Our men's and women's golfers were summoned from the course before they had a chance to take the links to compete for SEC and NCAA championships. 

Baseball and Softball were just beginning the SEC portion of their challenging schedules, before the games were called off for good. Autumn Storms may never take the circle for the Razorbacks again and Sydney Parr may have sprinted out of the batter's box at Bogle Park for the last time. A chance for a third-straight College World Series has been postponed and Heston Kjerstad, Casey Martin and Casey Opitz have likely suited up for the last time for Razorback Baseball.
That is what has been taken from us – the fulfillment of so many what-ifs and seemingly endless possibilities. Moments that could and should have been, but now will no longer be.
However, if you think we as Razorbacks are going to let those lost moments and opportunities, define this competitive year, you clearly don't know who we are! By our very nature, Razorbacks are hard-nosed, gritty and resilient. Just look at our history. We have overcome so much to achieve amazing things.
And, so as the history of this competitive year is written, it will be these triumphant moments, among others, that will define us: 
The dominance continued as our women's track and field team captured its first cross country NCAA championship in program history. Add to that a SEC Cross Country title for the women and a sweep of the SEC Indoor Track and Field Championships by both our men's and women's teams, and it is easy to see why Fayetteville remains the Track and Field Capital of the World. 

Speaking of firsts – the 2019 Razorback soccer season is unmatched in Razorback history. Coach Colby Hale's squad won the first SEC regular season title and advanced to the SEC Tournament Championship Game for a fourth straight year.

Sparked by the unbridled enthusiasm of Coach Eric Musselman, our men's basketball team played with urgency and passion helping return Bud Walton Arena into the type of sold-out venue where opposing players better cover their ears to help deal with the deafening noise.

We won't soon forget Coach Mike Neighbors exuberant embrace and dead lift of our athletic director after a thrilling, come-from-behind victory over Texas A&M at the SEC Tournament.

Yet another program on the rise is gymnastics under head coach Jordyn Wieber. The emergence of a team to be reckoned with on the national stage combined with record crowds in Barnhill Arena, made the 2020 gymnastics season a banner campaign.

Even with a limited slate of softball, we had much to cheer including our first softball win in Tuscaloosa in two decades. The abbreviated season culminated with a pair of dramatic final at-bat victories against Kansas.

Heston Kjerstad launched a towering two-run home run in the bottom of the ninth inning to clinch a series with South Alabama at Baum-Walker Stadium. A few days letter, freshman Peyton Pallette induced a double-play ball to stave off a late rally to preserve a win over Grand Canyon, giving Coach Dave Van Horn his 700th victory at the University of Arkansas.

Speaking of milestones, we celebrated former Razorback legends as they were recognized for their extraordinary careers. First, Sidney Moncrief last September when he was inducted into the Naismith Memorial Basketball Hall of Fame and then Darren McFadden last December when he became a member of the National Football Foundation College Football Hall of Fame.

And finally, who will forget, perhaps the most emotional moment of the year, when a Razorback Hall of Fame coach and more than 40 his former players stood on the floor of Bud Walton Arena to officially unveil Nolan Richardson Court. 
Those are the moments, the ones we have gained, not those we have lost, that will endure and remain etched in the hearts and souls of Razorback Nation. There is no doubt that COVID-19 and its impact will always be a footnote in our history. But that is where it will remain, a footnote.
We celebrate all that we enjoyed together and now we must turn the page to what is next. Coach Sam Pittman has brought revived optimism to our football program. We look forward to seeing what Coach Pittman, his staff and our team can do once they return to the field. Soccer and women's cross country will be looking to defend SEC titles in the coming year. Men's cross country will be looking to build on the momentum from an indoor title. Volleyball will look to take another step in its continued growth.
What will the new year bring? We can't be quite sure on or off the field. And while the unknown is a daunting proposition in many respects of our lives at the moment, when it comes to the Razorbacks, the promise of things to come is what we remain focused on.
Until then, we say goodbye to those moments that have gone even before they came. Yet, we eagerly anticipate those memorable moments in the near future that will have Razorback fans together again, standing in unison to Call those Hogs!
Razorback Road is a column written by Senior Associate Athletics Director for Public Relations and Former Student-Athlete Engagement Kevin Trainor. Trainor is a graduate of the University of Arkansas and has worked for Razorback Athletics for more than 25 years.