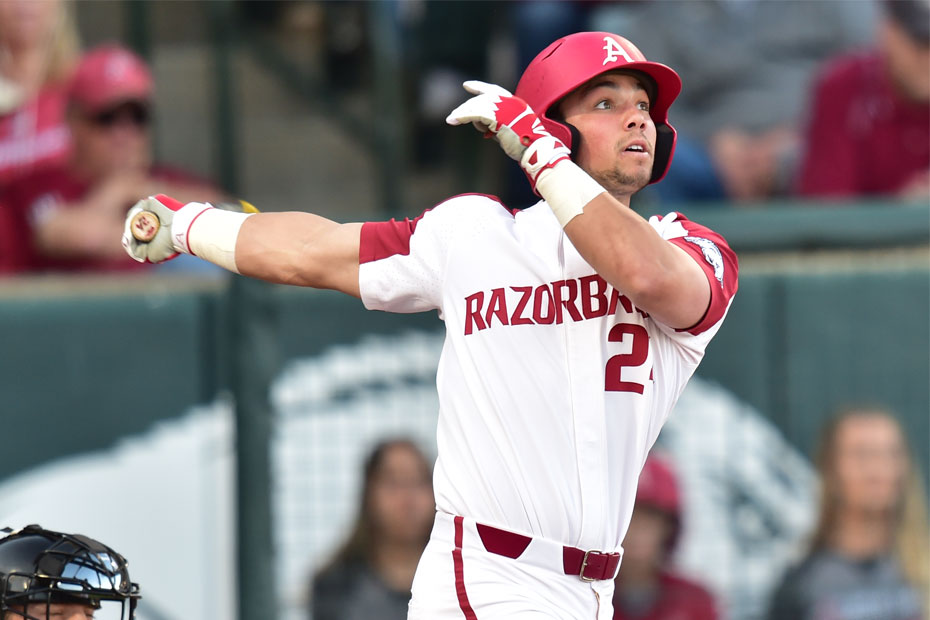 Alabama Up Next For Arkansas At Baum Stadium
FAYETTEVILLE, Ark. – As winners of 15 of their last 16 games at Baum Stadium, the seventh-ranked Arkansas Razorbacks will hope to continue holding home-field advantage this weekend as the Alabama Crimson Tide come to Fayetteville for a three-game series starting on Friday.
With the second half of the conference season well underway, the Razorbacks are well in the hunt for a division title as they sit tied for first in the SEC Western Division at 10-8 with Ole Miss. But, even with 12 conference games remaining for all teams, it's anyone's division as five of the six teams are within one game of each other, while Alabama, which is in last place, is only five games back.
All games this weekend between the Hogs and Crimson Tide can be viewed online on SEC Network+. First pitch between the two clubs on Friday is set for 6:30 p.m.
Arkansas has only lost three games inside the friendly confines of Baum Stadium, including one in conference play and bring in the best hitting offense in the SEC. The Hogs are hitting .307 as a team and are currently one of only five schools in the nation with a .300+ team batting average and a .900+ team OPS, joining Tennessee Tech, New Mexico State, Texas Tech, and Kentucky.
The Razorbacks will keep the same rotation they have had for the last three conference weekends with Blaine Knight leading the rotation on Friday night, followed by Kacey Murphy and Isaiah Campbell on Saturday and Sunday, respectively. Knight is currently one of only two pitchers in the SEC to have not registered a loss this year. At 6-0, Knight has the fourth-lowest ERA (2.24) in the league and is tracking to have one of the lowest ERA's by a Razorback starting pitcher in the last five years.
FOLLOW LIVE
All games this weekend will be available on SEC Network+ via the Watch ESPN app and WatchESPN.com. Brett Dolan (PxP) and Troy Eklund (Analyst) will be on the call.
As always, Arkansas' Sportscaster of the Year Phil Elson will call all three games on the radio for the Razorback Sports Network from IMG. That radio broadcasts are also available on the Razorback Gameday app.
IMPORTANT LINKS (ALL TIMES CENTRAL)
Fri, April 27 – Arkansas vs. Alabama – 6:30 p.m. – LIVE STATS | WATCH (SECN+)
Sat, April 28 – Arkansas vs. Alabama – 6 p.m. – LIVE STATS | WATCH (SECN+)
Sun, April 29 – Arkansas vs. Alabama – 1 p.m. – LIVE STATS | WATCH (SECN+)
PROBABLE STARTERS
FRI: ARK RHP Blaine Knight (6-0, 2.24 ERA, 57 SO, 12 BB) vs. ALA RHP Sam Finnerty (4-2, 4.09 ERA, 23 SO, 9 BB)
SAT: ARK LHP Kacey Murphy (5-3, 2.26 ERA, 42 SO, 6 BB) vs. ALA RHP Jake Walters (2-5, 5.07 ERA, 64 SO, 25 BB)
SUN: ARK RHP Isaiah Campbell (3-4, 4.08 ERA, 40 SO, 20 BB) vs. ALA LHP Garret Rukes (1-2, 2.18 ERA, 21 SO, 11 BB)
RAZORBACK PRIME 9
>> Arkansas will host its second-to-last regular-season home series this weekend when it takes on Alabama for a three-game set starting on Friday.
>> The Razorbacks are fresh off their sixth victory over a top-five team this year after dispatching No. 4 Texas Tech, 5-1, on the backs of 17 strikeouts from the pitching staff, a single-game season high.
>> Arkansas has won 15 of its last 16 home games dating back to March 11 and is averaging 7.9 runs per game. Over that stretch, Arkansas, as a team, is batting .330 and hit 26 home runs.
>> Sophmore Matt Cronin has nine saves on the season, which is currently second in the SEC. He needs just four more to tie the single-season Arkansas record set by Colby Suggs (13) in 2013.
>> Heston Kjerstad (.365, 9 HR) and Casey Martin (.333, 8 HR) are the only Division I freshmen with a .315 average or higher and eight or more home runs.
>> With his RBI-single in the first game of the doubleheader with South Carolina, Carson Shaddy hit the 200-hit mark for his career. Now at 204 hits, he needs just 25 more to crack the Arkansas all-time top 10.
>> The Razorbacks are currently the best hitting team in the SEC with a .307 combined batting average. Heston Kjerstad (.365) and Carson Shaddy (.356) lead the team in hitting and are fifth and seventh in the league, respectively.
>> Arkansas recorded 10 or more hits in a game twice during the Mississippi State series and also on Tuesday against No. 4 Texas Tech. This year, the Hogs have totaled 10 or more hits in 25 of 42 games and are 19-6 in those games
>> After hitting just .190 in his first 17 games of the season, sophomore Dominic Fletcher has had the hot bat, hitting .362 in SEC games (eighth-highest among SEC hitters), including .457 over his last 10 games overall.