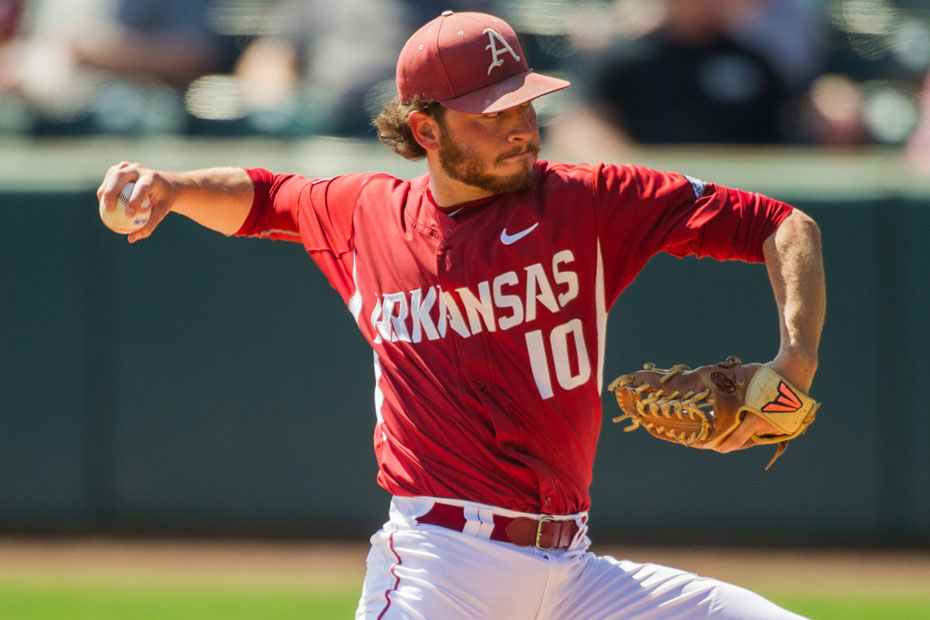 Alberius Goes To Miami In 36th Round
FAYETTEVILLE, Ark. — Senior right-handed pitcher Josh Alberius was the sixth Razorback taken in the 2017 Major League Baseball (MLB) First-Year Player Draft Wednesday afternoon when he was selected in the 36th round, No. 1,079 overall, by the Miami Marlins.
Alberius follows Trevor Stephan, Chad Spanberger, Cannon Chadwick, Dominic Taccolini, and Blaine Knight as the newest Razorback and fifth pitcher drafted over the last three days. Alberius goes the same organization as former teammate Brian Anderson, who was taken by the Marlins in the third round in the 2014 draft, and has reached the Double-A level of the minor leagues.
Out of Little Rock, Arkansas, Alberius spent five years in a Razorback uniform, starting as a position player in 2013 before converting to a full-time pitcher in 2015. Alberius was a key reason the Hogs reached the College World Series in 2015, making 22 appearances out of the bullpen and not allowing a run in 13 of those outings. He finished with a 3.77 ERA that year with 31 innings pitched and also picked up a key save over Oral Roberts in the NCAA Stillwater Regional.
During his junior season, Alberius was one of Arkansas' most effective pitchers, posting a 3-1 record in a career-high 25 appearances with just 14 earned runs allowed over 32.1 innings. In 14 of his first 15 relief appearances he did not allow an earned run.
Last season, Alberius was one of the Razorbacks' most experienced pitchers and contributed heavily, making nine starts, six in conference play, while compiling a 4.55 ERA in a career-high 55.1 innings pitched. Alberius finished the year with 48 strikeouts, one of seven Hog pitchers with 40 or more strikeouts.
He finished his career with 119.1 innings pitched, 108 strikeouts, a 4.15 ERA, and he was one of only four Razorbacks from last year's team to have accumulated 100 or more strikeouts over multiple seasons.
The signing deadline for underclassmen and high school seniors selected in the 2017 First-Year Player Draft is July 7.
For more information on Razorback Baseball, follow @RazorbackBSB on Twitter.